It's Fajita Night!
We are having a "nothing planned" weekend. I love those kind of weekends. Where you get up in the morning without that rushed, gotta get ready for something feeling. It may not be complete and total relaxation (it usually isn't with a 2 and 4 year old), but it's close enough.
Last week, I was lucky to receive a cast iron Fajita Set from Katom Restaurant Supply. We enjoy having fajitas when we eat out, so I thought it would be great to have one of these griddles to use at home! So for our relaxing at home Saturday night, we threw together some really tasty chicken fajitas for ourselves. My brother and his friend stopped by for dinner so the fajitas were perfect for the guys to eat while watching the Orlando Magic game.
The set comes with a sturdy 10×7 oval griddle, a chili red wooden under liner and a festive chili pepper handle mitt. It also comes with user friendly instructions and several recipes to experiment with. It's everything you need to serve hot sizzling fajitas right at your own kitchen table!
Check out Katom Restaurant Supply's website for a huge selection of restaurant and home kitchen equipment. If you like to entertain like I do, there are great serving items that might come in handy for your next party!
Print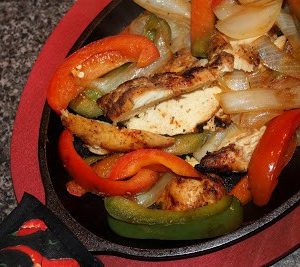 It's Fajita Night!
Author:
Category: Chicken
Method: Oven/Grill/Stovetop
---
Ingredients
For Marinade:
4 chicken breasts
1 TB chili powder
1 TB smoked paprika
1 TB pasilla chili powder
1 TB garlic powder
3 TB diced fire-roasted green chiles (I use these)
salt and pepper
2–3 TB olive oil
2 large red or green bell peppers, sliced
1 large onion, sliced
limes
flour or whole wheat tortillas
Guacamole, optional
Pico de Gallo, optional
Salsa, optional
Sour Cream, optional
Shredded Cheese, optional
---
Instructions
In a large bowl, combine chicken breasts with chili powders, garlic, paprika, chopped chilies and olive oil (I eyeballed my measurements so adjust yours to your liking). Using tongs, toss chicken breasts until completely coated. Cover with plastic wrap and place in refrigerator for at least an hour.
Preheat oven to 425 degrees. Place cast iron fajita skillet onto rack on lowest setting. Keep in hot oven until ready to serve fajitas.
Using a preheated grill or grill pan, cook chicken breasts, approximately 5 minutes on each side (depending on thickness). Once chicken is cooked, transfer to cutting board and let rest before slicing.
In a hot nonstick skillet, with about 1-2 TB olive oil, saute sliced peppers and onions. Season with salt and pepper to taste. Cook for about 8 – 10 minutes, until softened.
Slice cooked chicken breasts into long thin strips. When ready to serve, pull out fajita griddle out of the oven using the hot handle holder and place on wooden underliner. Add a few drops of olive oil to skillet, add chicken, peppers and onions and toss to combine. Squeeze juice of 1/2 lime over chicken and veggies. Ready to serve!
Now if these fajitas got you in the mood for some Tex Mex flavor…you are going to have to go visit my foodie friend Gloria over at Foods and Flavors of San Antonio!

Gloria is celebrating the release of her new cookbook, Foods and Flavors of San Antonio, by throwing a "Texas sized" party on her blog! She will be sharing lots of great recipes contributed by the foodie community as well as giveaways! I was lucky enough to win a copy of her cookbook and can't wait to receive it so I can start cooking my way through it!! Thank you so much for randomly picking my number Gloria…if you want a copy of Gloria's cookbook, check out Amazon.com or Barnes and Noble.
Best wishes and lots of success to you and your new cookbook Gloria!!

Are you following me on Instagram, Twitter, Facebook and Pinterest? If you'd like to subscribe to Aggie's Kitchen and have each post delivered straight to your e-mail box, then please add your email here. Happy cooking!
There are affiliate links in this post. I make small earnings through any purchases made through these links. Thank you for supporting Aggie's Kitchen!