Ellie Krieger's Baked Shrimp with Tomatoes and Feta
Take your seafood to a whole new level with this Ellie Krieger's Baked Shrimp with Tomatoes and Feta dish. A healthy one-pan meal perfect for weeknights!
Click here to Pin this recipe!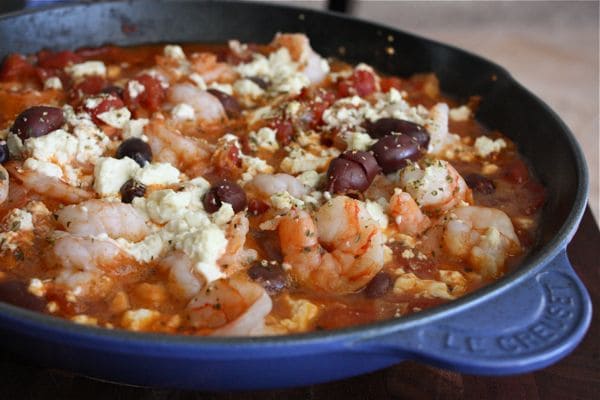 Today is my second week cooking up an Ellie Krieger recipe as part of the Craving Ellie in my Belly group. I am so happy to have finally bought this cookbook (and joined this group!), it's full of recipes that I would make any day, and knowing that they are good for me and delicious makes them even better.
This week's chosen recipe is Baked Shrimp with Tomatoes and Feta chosen by Pamela over at Cookies with Boys. I loved it. The recipe calls for using canned tomatoes but I had some really nice tomatoes my grandfather brought me from his Farmer's Market so I used those instead. I did find that there was still a little too much liquid after it was all cooked up, so next time I will cook it on the stove longer to try to evaporate most of the liquid before putting it in the oven to bake. I also added some kalamata olives, not to my husbands liking, but I couldn't help myself.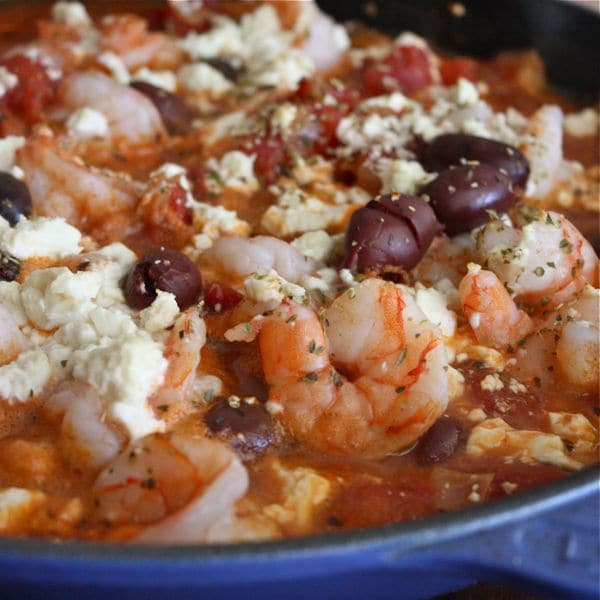 I served the baked shrimp with some whole wheat orzo (very excited to find whole wheat orzo!). It was a great light meal and I will definitely be making it again! I am always trying to find new
fish
and seafood recipes to try (especially with
shrimp
).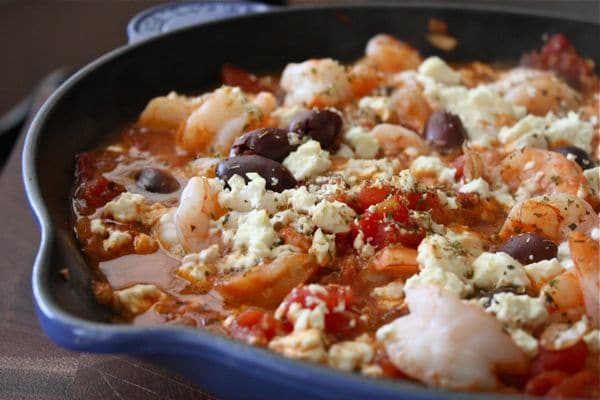 If you enjoy shrimp recipes like I do try this Shrimp Avocado Pasta,  Garlic Shrimp with Quinoa and Easy Ginger Lime Roasted Shrimp Recipe
Baked Shrimp with Tomatoes and Feta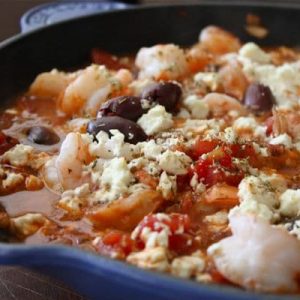 Ingredients:
1 tablespoon olive oil
1 medium onion, diced (about 1 1/2 cups
2 cloves garlic, minced (about 2 teaspoons)
2 (14.5-ounce) cans of no-salt-added diced tomatoes, with their juices
1/4 cup finely minced fresh flat-leaf parsley
1 tsp dried oregano
pinch of red pepper flakes
1/4 cup kalamata olives
1 1/4 pounds medium shrimp, peeled and deveined
1/4 teaspoon salt
1/4 teaspoon freshly ground black pepper
2/3 cup crumbled feta cheese (about 3 ounces)
Directions:
Preheat the oven to 425 degrees F.
Heat the oil in an oven proof skillet over a medium-high heat. Add the onion and cook, stirring, until softened, about 3 minutes, then add the garlic and cook for 1 minute. Add the tomatoes and bring to a boil. Reduce the heat to medium-low and let simmer for about 5 minutes, until the tomato juices thicken.
Remove from the heat. Stir in the parsley, dried oregano and shrimp and season with salt and pepper. Sprinkle the feta over the top. Bake until the shrimp are cooked through and cheese melts, about 12 minutes.
Serve with orzo or pasta.
Today is my little girl's 2nd birthday!!
I can't believe how fast time goes by…she is growing up right before our eyes!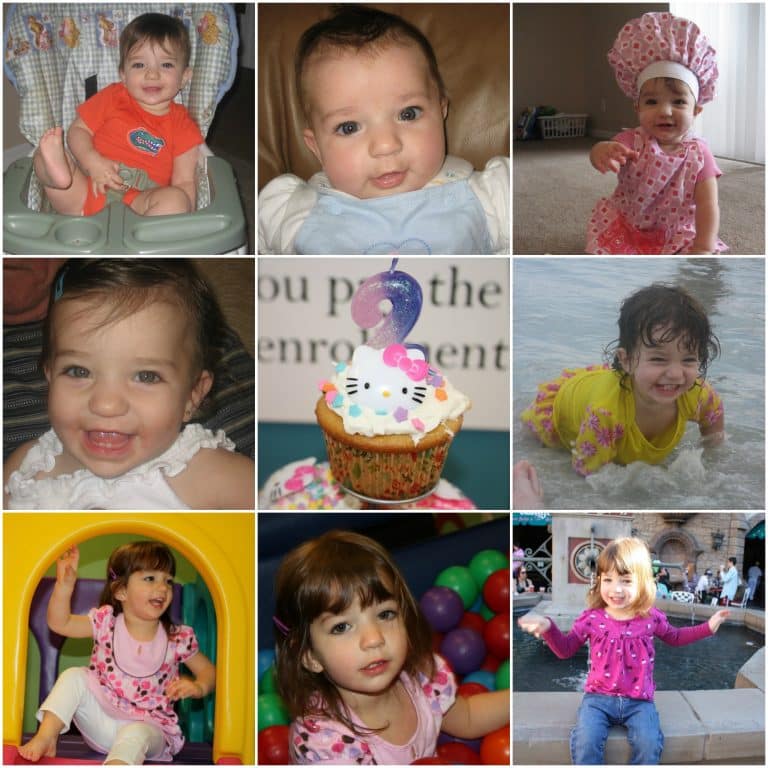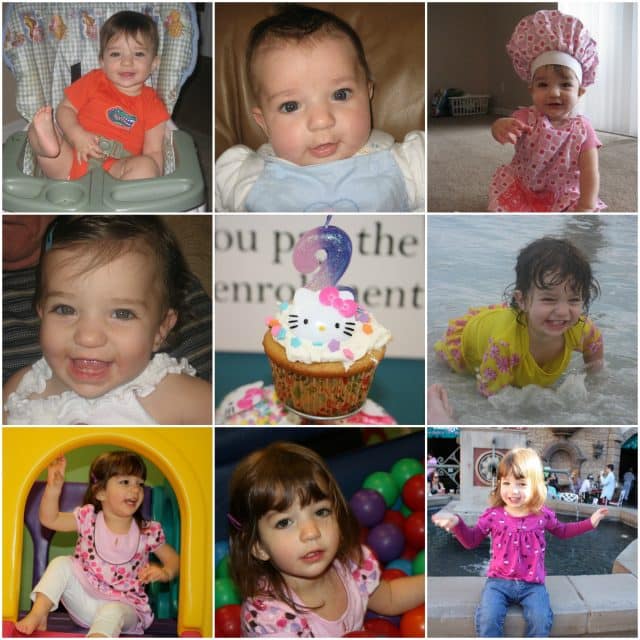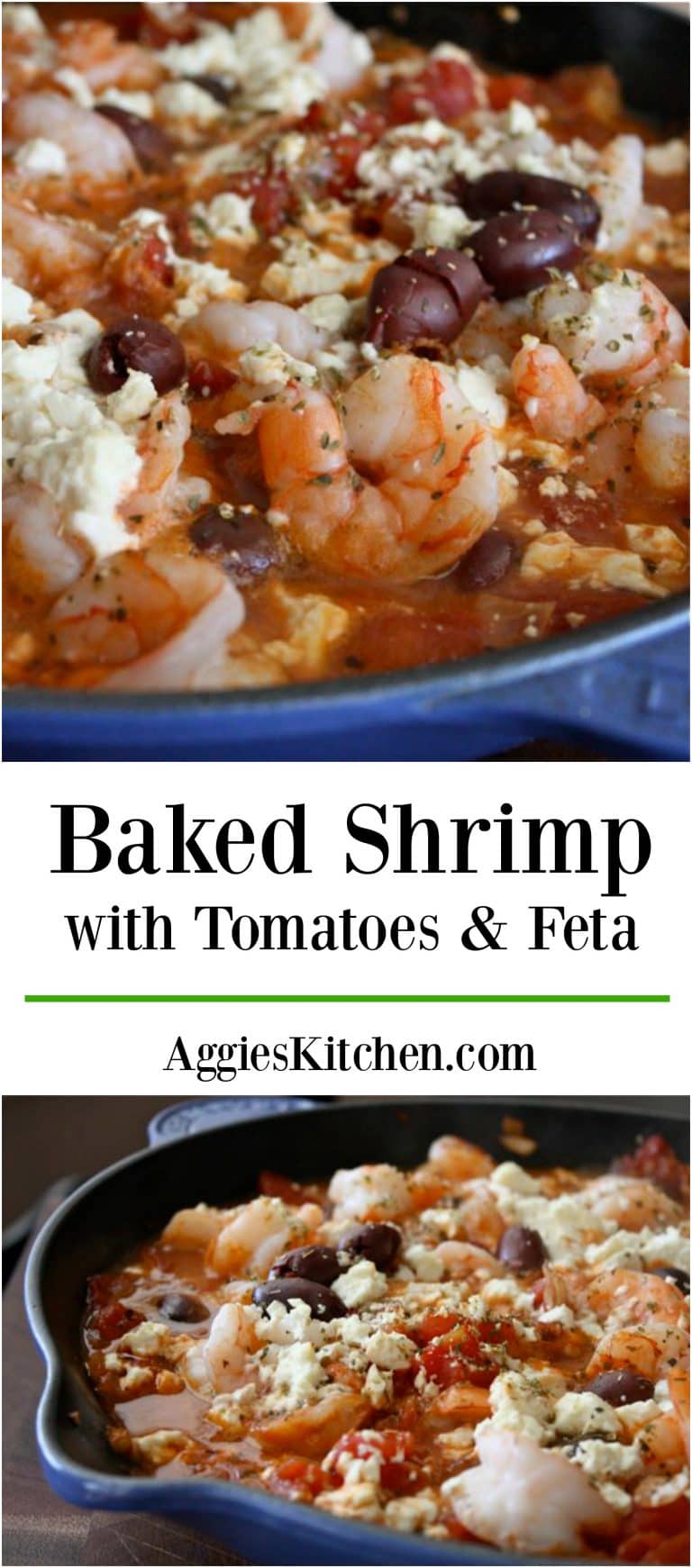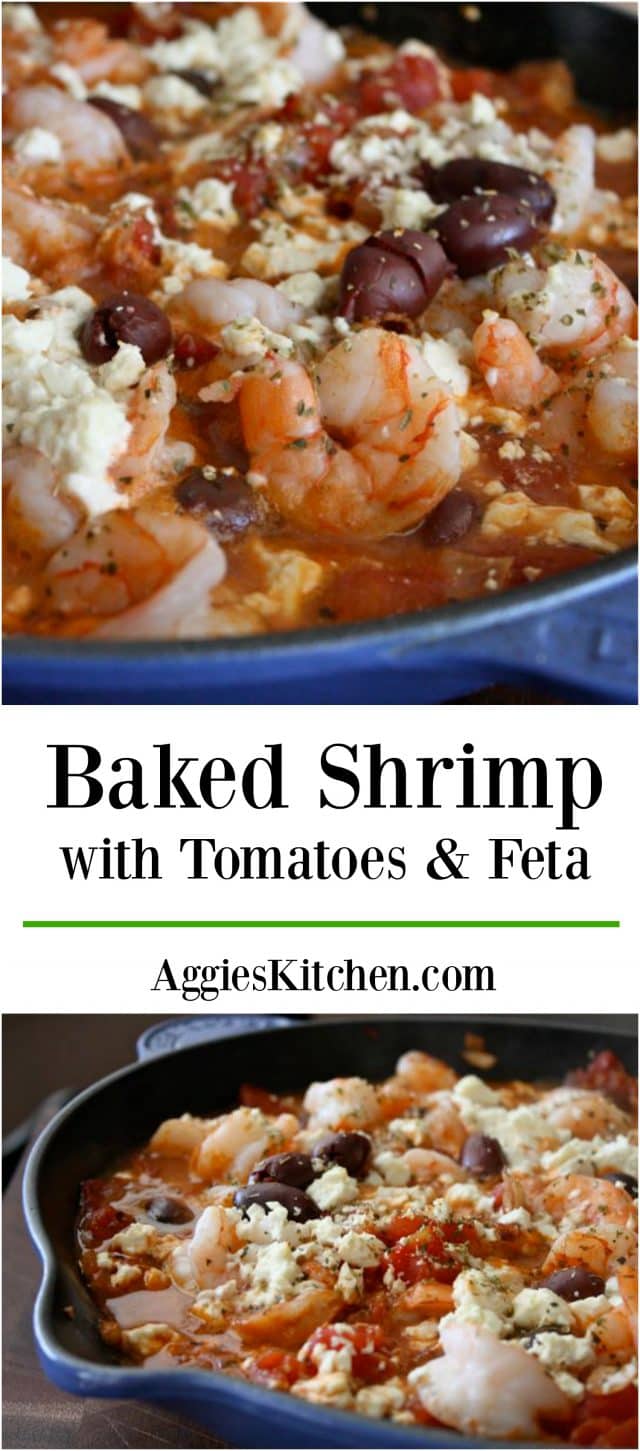 Are you following me on Instagram, Twitter, Facebook and Pinterest? If you'd like to subscribe to Aggie's Kitchen and have each post delivered straight to your e-mail box, then please add your email here. Happy cooking!
There are affiliate links in this post. I make small earnings through any purchases made through these links. Thank you for supporting Aggie's Kitchen!