Herb Garden Revival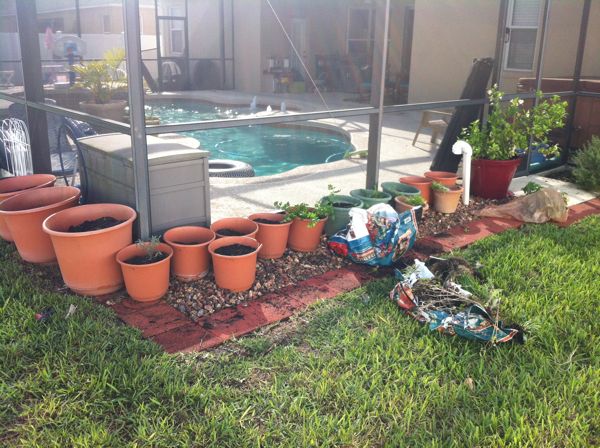 It has officially hit me. I have Spring Fever. I've been waiting for it, and was starting to get concerned that it wasn't coming actually. I usually get it in February, but February was a bit of a blur and our weather never really settled into normal (high 90 degrees one day, high 65 the next). I really try not to complain about our weather…EVER…because I know some of you are buried in snow right now. Hope you enjoy all the green in this post today.
My herb garden revival started at Lowe's this morning after I dropped off the kids. This was not the plan today…but something told me that I needed some time out in the fresh air playing in the dirt. Here's what I went home with: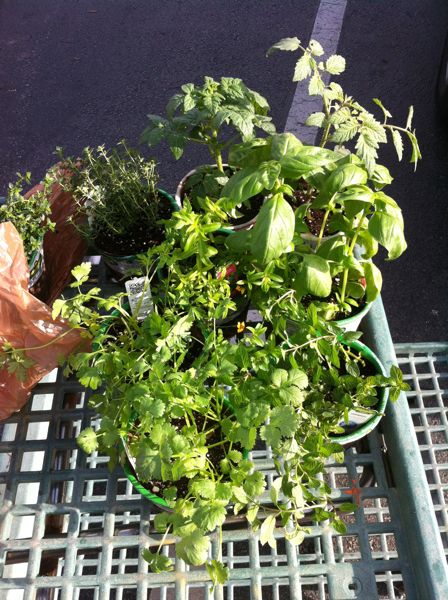 pictured: flat leaf parsley, cilantro, basil, tarragon, thyme, peppermint (that one was an accident!), and one grape tomato and one cherry tomato plant.
The goal today was to assess the winter damage, spruce up the survivors, clear out the dead stuff and weeds and plant our new friends.
Let's talk about our survivors. I've got to give it to these guys, every year, they show me unconditional love. I have neglected them for the last few months, not even a hello or a glance…and yet, they still love me and give me hope for a tasty spring.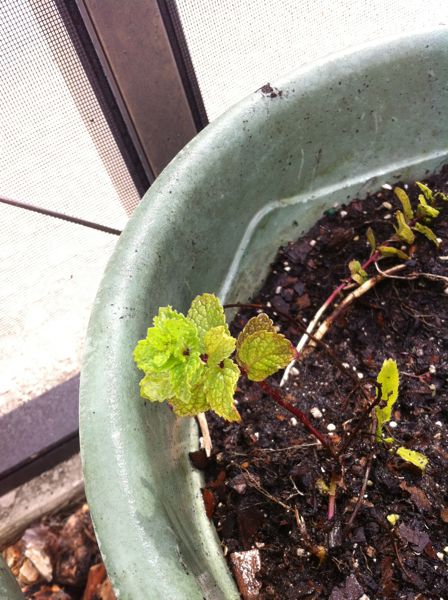 Hello mint…it is impossible to kill mint, it disappears and you feel bad that it died, but then it starts popping up again – everywhere. Can not wait for mojito season.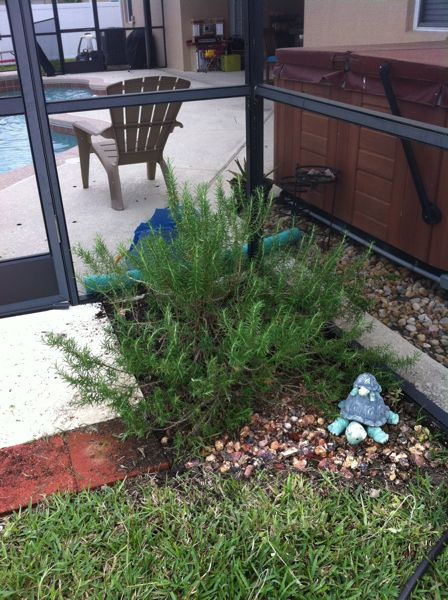 Rosemary. Goodness gracious does it need a trimming. I've had this rosemary bush for YEARS and it does just fine during our mild Florida winters in the ground. I do nothing for it, but today I did give it a nice trim and am going to dry out the branches I took off and turn it into dried rosemary (will be a first time for me).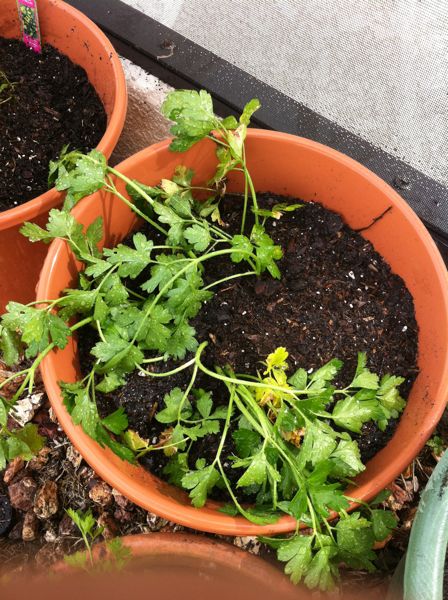 I found this nice bunch of parsley growing in the ground in a random location actually…moved it to a pot and am hoping it continues to thrive.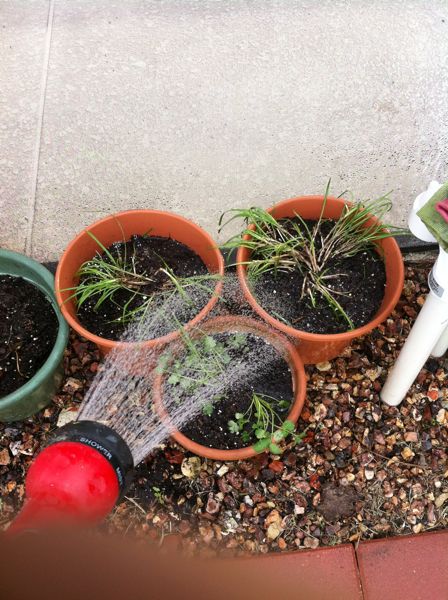 I have an enormous chives plant that I had to carefully turn into two plants. It's another plant I've had for several years and it had overgrown its pot probably 2 years ago. I think I actually heard it take a deep breath and thank me this morning.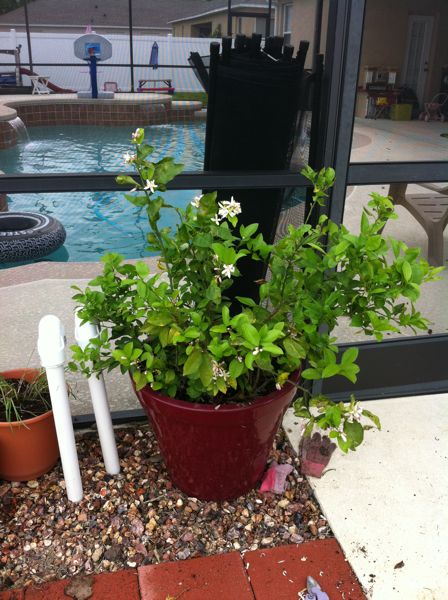 I was surprised to see flowers on this guy, this is my key lime/meyer lemon tree that I've had for about 3 years now. I really hope I see fruit on it one day. Grow baby grow!!
Another survivor, but one I didn't snap a picture of, is culantro. This culantro was given to me by a neighbor when I moved in my house 6 years ago. Culantro is very much like cilantro, but with more of an intense flavor. The leaves are more like blades, and if constantly harvested, grows like crazy. If you find it, pick it up, it is perfect for homemade salsa.
Tomatoes, sage and basil…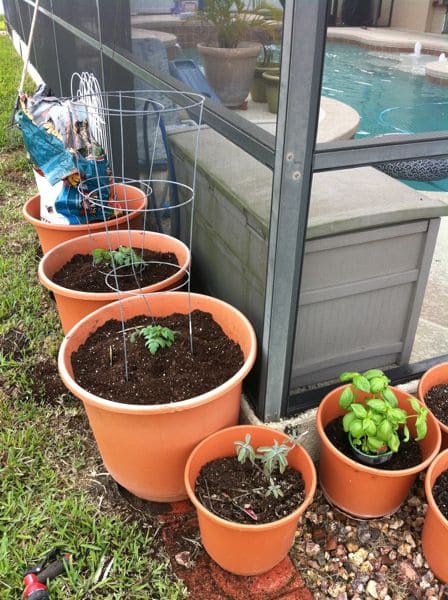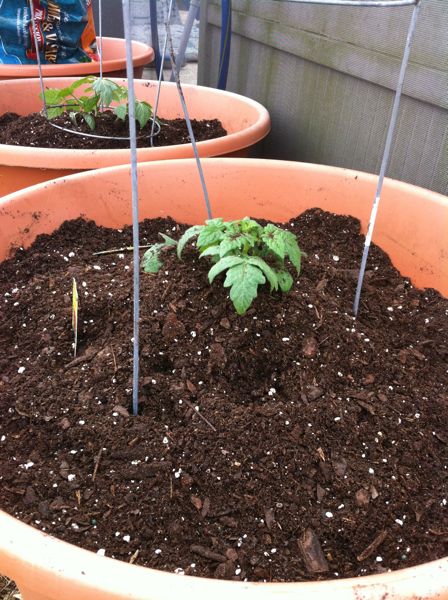 I find that small varieties of tomatoes (like grape and cherry) do very well in LARGE containers. If you are just starting a garden and would like to keep it in containers, I highly recommend you try out a small tomato plant like one of these. You'll want to get a very big pot (the biggest one you can find in the plastic pot section) and fill it with dirt. Dig a nice hole in the center and place your tomato plant down in it so that it is 80% covered in dirt…yes, there will be leaves under the dirt, this is ok. It needs to start down deep, it will grow best this way. Also pick up a tomato cage and put it on now, while it's small. It is not fun to try and get them on later when they've grown some.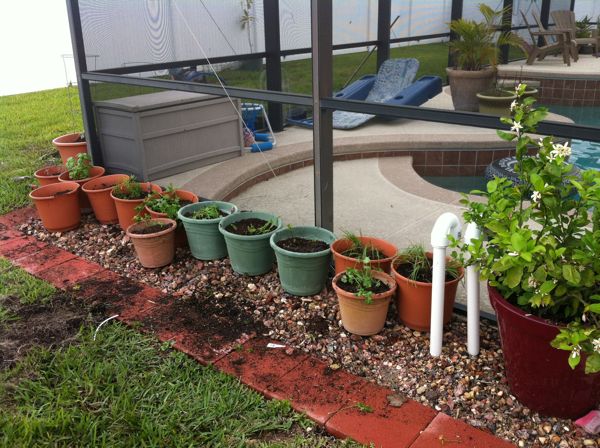 All done for today.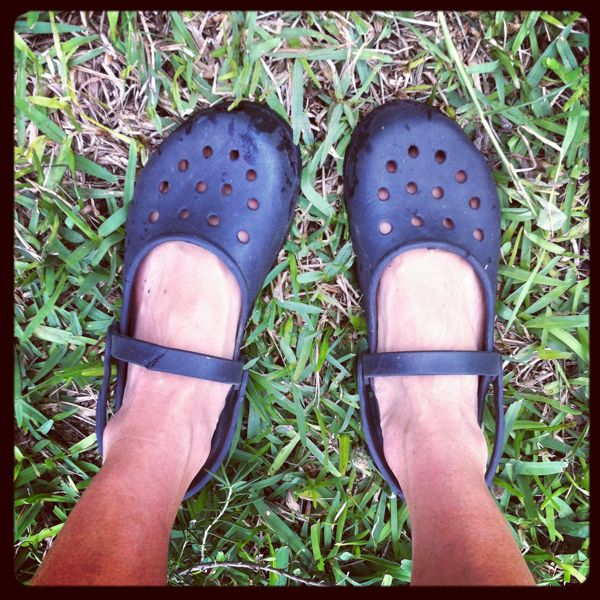 Up next on the gardening agenda: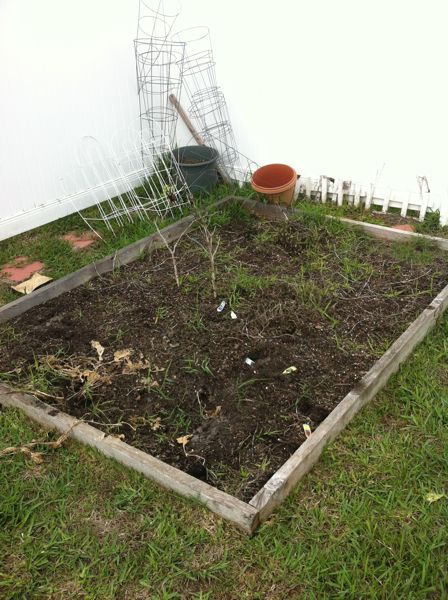 Last year's gardening posts:
The Backyard Garden
Gardening Tour and Questions
Are you following me on Instagram, Twitter, Facebook and Pinterest? If you'd like to subscribe to Aggie's Kitchen and have each post delivered straight to your e-mail box, then please add your email here. Happy cooking!
There are affiliate links in this post. I make small earnings through any purchases made through these links. Thank you for supporting Aggie's Kitchen!