Healthy Habit: Empty The Fruit Bowl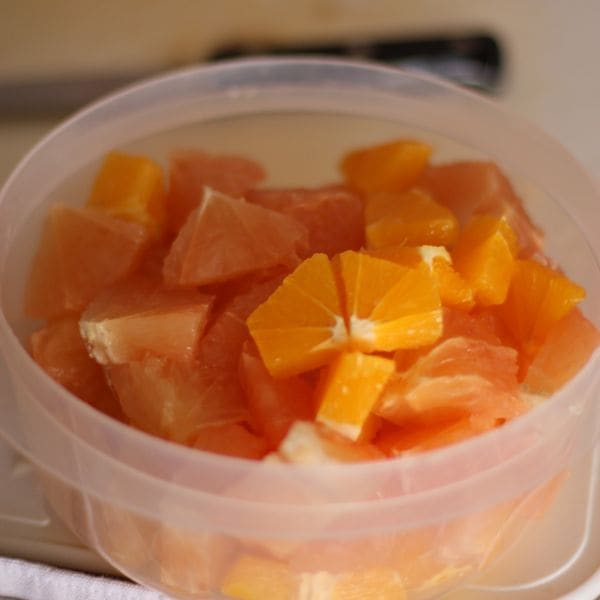 How many of us have a beautiful bowl full of fruit sitting on our counter…that never gets eaten?
My fruit bowl is always full. It's overflowing usually. Depending on the season and what's on sale you can almost always find apples, oranges, bananas, lemons, limes, tomatoes and an avocado or two. (the rest of the fruit I buy gets stored in the fridge…pears, peaches, grapes, berries, etc). I tend to go overboard when I'm in the produce department apparently.
Lately I have been buying a ton of citrus, oranges and grapefruit to be exact. My family LOVES oranges and when clementines were popping up on sale in the stores we were going through those little guys like candy…the fact that they are super easy to peel makes it that much better. Now that we are past the clementine season, I am finding that my family (and I) are still craving our citrus, but someone (Mommy) has to do some work for anyone to eat it. I realized that it all fell on me the other night when it was after dinner, the kitchen was cleaned up and we were settled in to watch American Idol and my son asked for an orange. I groaned. I did not feel like peeling and slicing up an orange at that point in my night so I just asked him to go get another snack…and it may or may not been as healthy as a piece of fruit.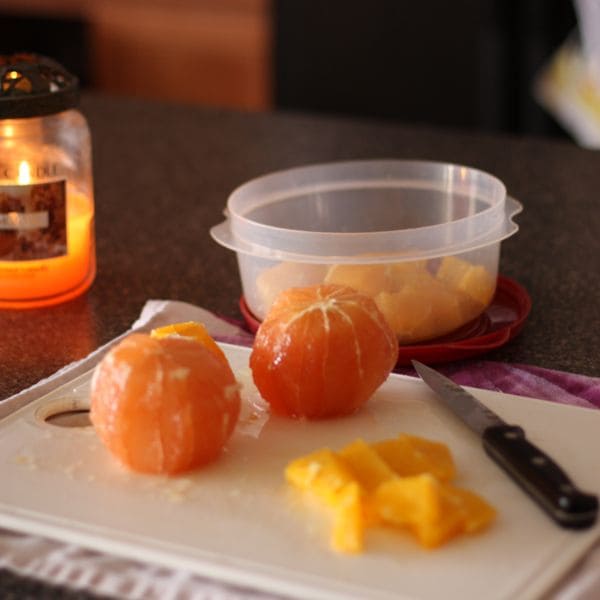 So here's my solution. I took about 5 minutes the next morning and peeled and cut up a big bunch of grapefruits (who are only enjoyed by me by the way) and oranges and put them in tupperware containers in the fridge. We've been picking at them the last couple of days, they've made it to lunch boxes, and it only took me one quick cutting session to put a big dent in that fruit bowl. How I like to cut my citrus is by using a sharp knife, slice of both ends of your fruit, then starting from the top, carefully cut the peel down the sides of the fruit following the curve and taking as much as the pith off. I then cut straight down the middle longways, then slice across into a sort of "half-moon" shape.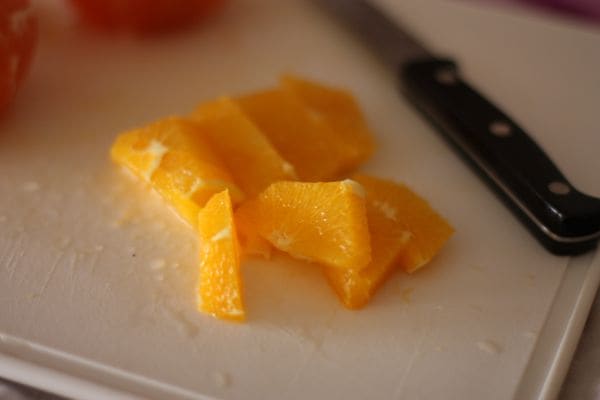 Cutting your fruit in bulk ahead of time is obviously not a new idea…but it's just a good idea that I needed to be reminded of. Sometimes those little reminders make all the difference 🙂
Is there anything you do to make it easier on yourself when it comes to developing healthier habits as a family?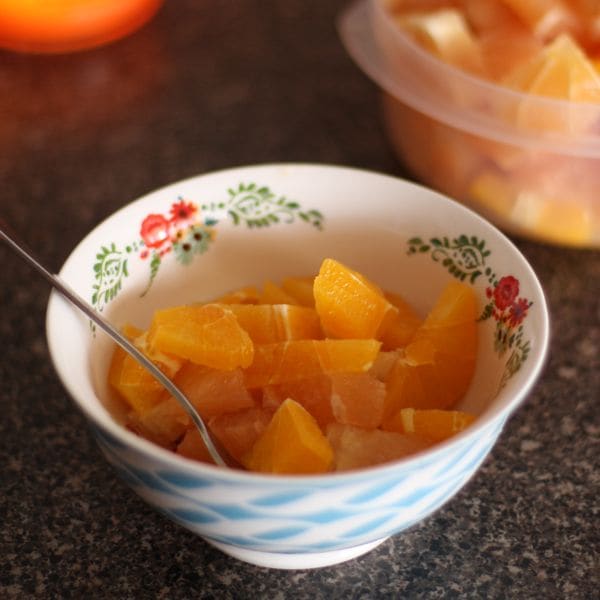 Are you following me on Instagram, Twitter, Facebook and Pinterest? If you'd like to subscribe to Aggie's Kitchen and have each post delivered straight to your e-mail box, then please add your email here. Happy cooking!
There are affiliate links in this post. I make small earnings through any purchases made through these links. Thank you for supporting Aggie's Kitchen!