Grilled Veggie Naan Pizza with Pesto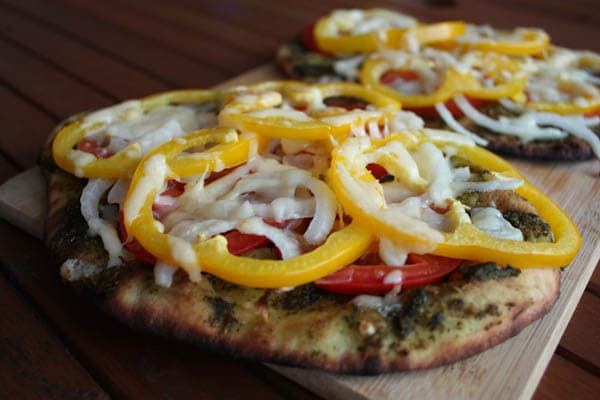 Is summer flying by or what? The first part of our summer seemed so slow and lazy…but then July kicked in and phew…it's almost over!  School is starting here in less than 3 weeks. Craziness!
If I had to pick a favorite meal this summer…it might be this pizza. I made it a couple times last week with some naan bread I took out of the freezer and some leftover pesto I had in the fridge. I used what I had which happened to be yellow bell peppers, vidalia onions and tomatoes for toppings. And freshly grated Parmesan cheese.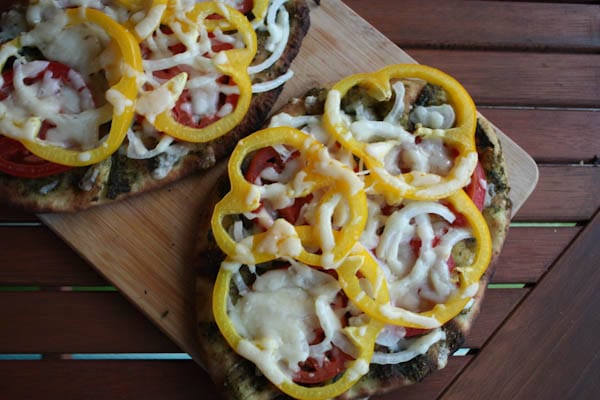 Not much to this pizza…pretty much what you see is what you get and it's obviously full of veggie goodness. The process of grilling the naan bread was pretty simple. I heated up the grill and brushed some water (you can use oil too) on one side of the bread. I put the bread on the hot grill for a few minutes until I saw light grill marks and it was slightly crisp. At that time I pulled the bread off the grill onto a cutting board and brought it inside to "top". Once all the toppings were on the already grilled side of the bread, back out to the grill the pizzas went where they cooked for a few more minutes under a closed top grill.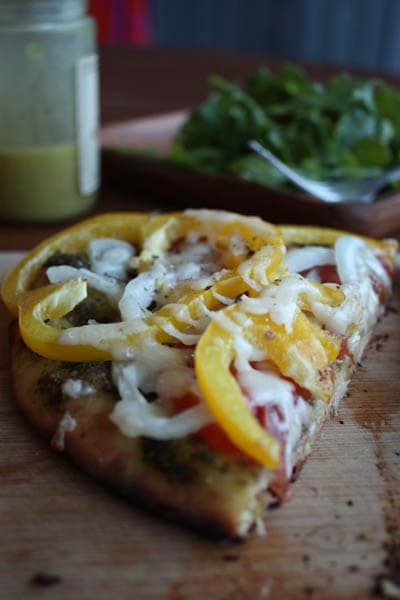 I served the pizza alongside a simple arugula salad with mustard vinaigrette. Perfection.
Enjoy!
Grilled Veggie Naan Pizza with Pesto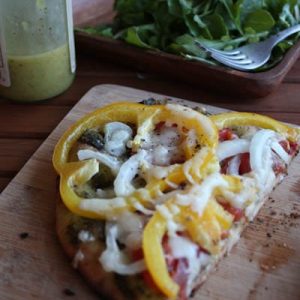 Ingredients:
2 Naan Flatbreads
4 tablespoons pesto (preferrably homemade for best flavor)
1 large yellow bell pepper (red or orange will be just fine), sliced wide into rings
1 large tomato, sliced
1/2 large vidalia onion, sliced into rings
freshly shredded Parmesan cheese
fresh ground pepper
red pepper flakes, optional
Directions:
Preheat grill to medium hot. Brush one side of bread with water or olive oil and place onto hot grill rack. Grill for a few minutes until bread has light grill marks and is slightly crisp. Carefully take off grill and set aside, grilled side down.
Spread 2 tablespoons of pesto on to each of the non-grilled sides of the bread. Top with pepper rings, tomato slices, vidalia onion rings and Parmesan cheese. Sprinkle with fresh ground pepper and carefully place back on hot grill. Close grill and let cook for about 4-5 minutes, checking for melting cheese.
Once cheese is melted and bread is crisp, take off grill, slice and serve.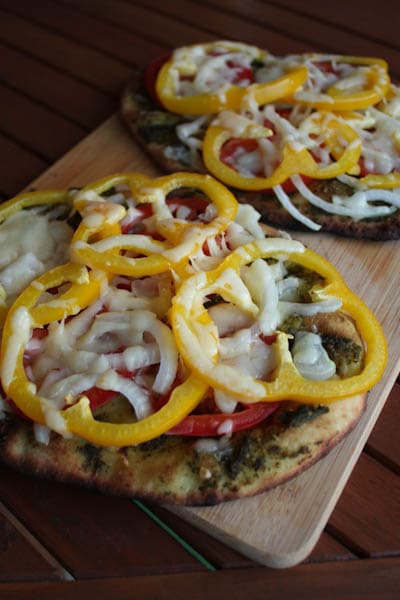 Check out my Pinterest board for more pizza recipes.
Follow Aggie's Kitchen's board Pizza & Flatbread on Pinterest.
Are you following me on Instagram, Twitter, Facebook and Pinterest? If you'd like to subscribe to Aggie's Kitchen and have each post delivered straight to your e-mail box, then please add your email here. Happy cooking!
There are affiliate links in this post. I make small earnings through any purchases made through these links. Thank you for supporting Aggie's Kitchen!