Sesame Tofu Noodle Bowl with Peanut Sauce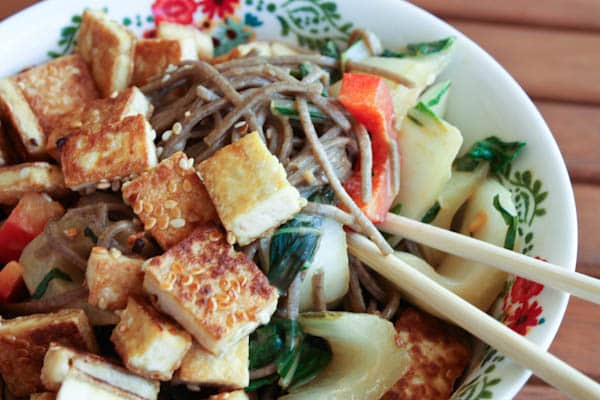 Do you love a good noodle bowl?
I know I do…I made this Sesame Tofu Noodle Bowl for dinner recently and have to tell you it was absolutely delicious. I was inspired to make this after seeing this recipe on Eat, Live, Run and couldn't wait to try it myself. It was my first time experimenting (successfully) with tofu at home and it turned out great. I was honestly surprised at how easy it was to make it taste so good!
The tofu takes a few minutes to prep, but other than that it's really easy to work with. My kids actually really liked the tofu itself, coated in sesame seeds and "fried" crisp. The tofu cubes prepared this way would be great on it's own. I only started liking tofu when I tried it cooked more this way, crisp verses not crisp. It's a texture thing for me with tofu.
I've always been intimidated by cooking with tofu, but with a little practice I can see dishes like this being more of a regular thing in my house! Throwing the tofu in a noodle bowl like this was the perfect way to try it at home. It turned out so flavorful and delicious.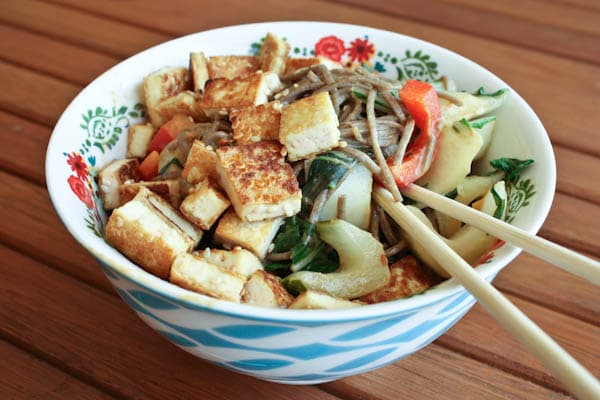 Sesame Tofu Noodle Bowl with Peanut Sauce
Yield: approximately 4 servings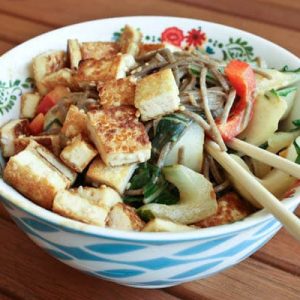 Ingredients:
For tofu:
1 package of extra firm tofu
1 tablespoon sesame oil
a couple splashes soy sauce
2 tablespoons sesame seeds
1 tablespoons canola oil
For sauce:
1/2 cup peanut butter
2 tablespoons rice vinegar
1/3 cup low sodium soy sauce
1/3 cup warm water
2 teaspoons sesame oil
2 teaspoons honey or agave
pinch of red pepper flakes
2 tablespoons minced ginger
For noodles:
1 package soba noodles
2 large red bell peppers, sliced thin
1 large bok choy, sliced thin
handful of chopped fresh cilantro, for serving
Directions:
Take tofu out of package and place on paper towel. Pat dry well. Slice the tofu longways into rectangles, about 1/2 inch thick, then smaller into cubes. Place into a bowl and gently toss with sesame oil, soy sauce and sesame seeds.
Heat oil up a large non stick skillet over medium-high heat. Add tofu to pan and cook until bottom sides are browned. Flip over and continue to cook till all sides are browned and crisp, about 5-7 minutes. Set aside.
While tofu is cooking, make peanut sauce by adding all the ingredients to a blender and combining until smooth, about 30 seconds.
In the meantime, bring pot of salted water to a boil and add soba noodles. Cook according to instructions.
Place red pepper strips and bok choy in a colander. When noodles are ready, pour over vegetables in colander and drain water, while rinsing with cold water at the same time. Doing this blanches the veggies quickly and easily.
Transfer noodles and veggies to a large bowl and add peanut sauce. Gently toss and combine together. Add tofu and cilantro and serve into bowls.
More tofu recipes to try:
Tofu Curry from Well Plated
Orange Sesame Tofu Fennel Salad from Steph In Thyme
Tofu Tostadas from Two Peas and Their Pod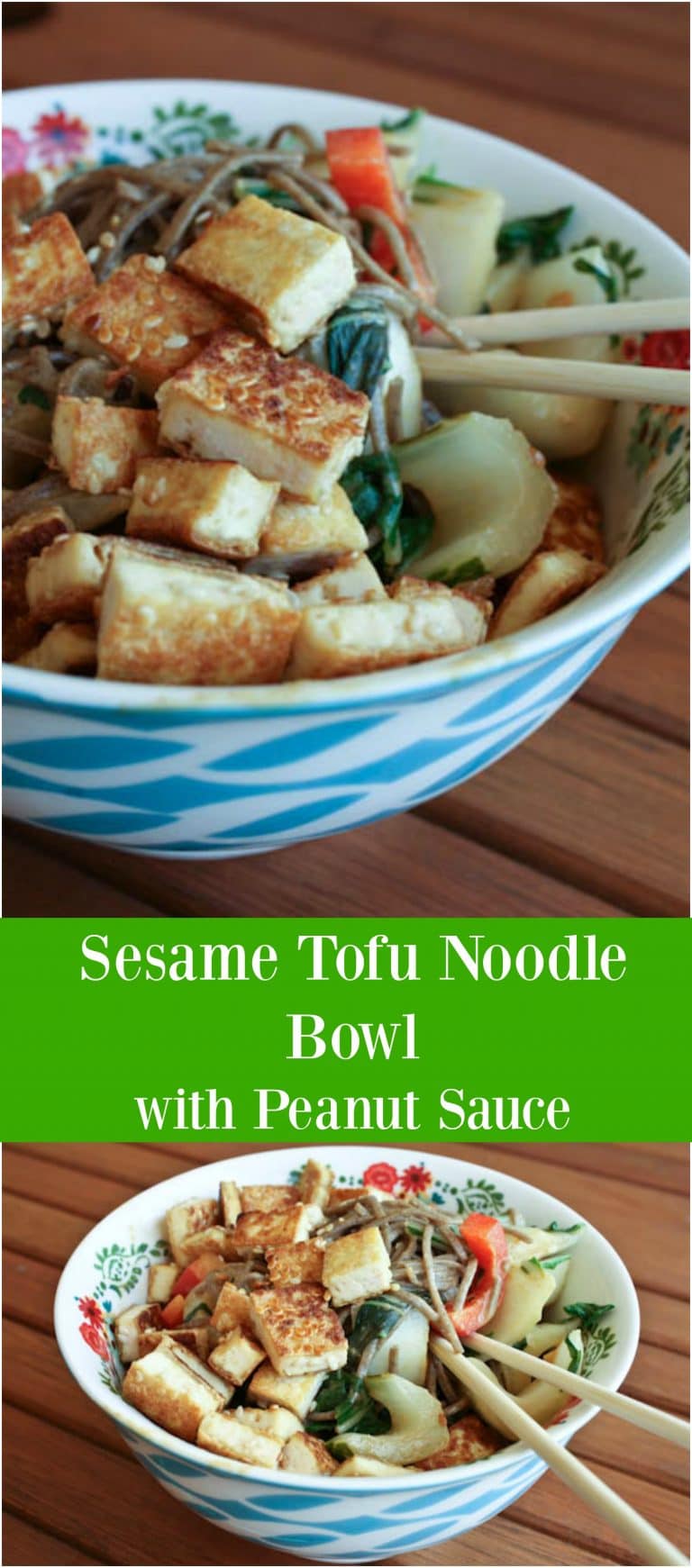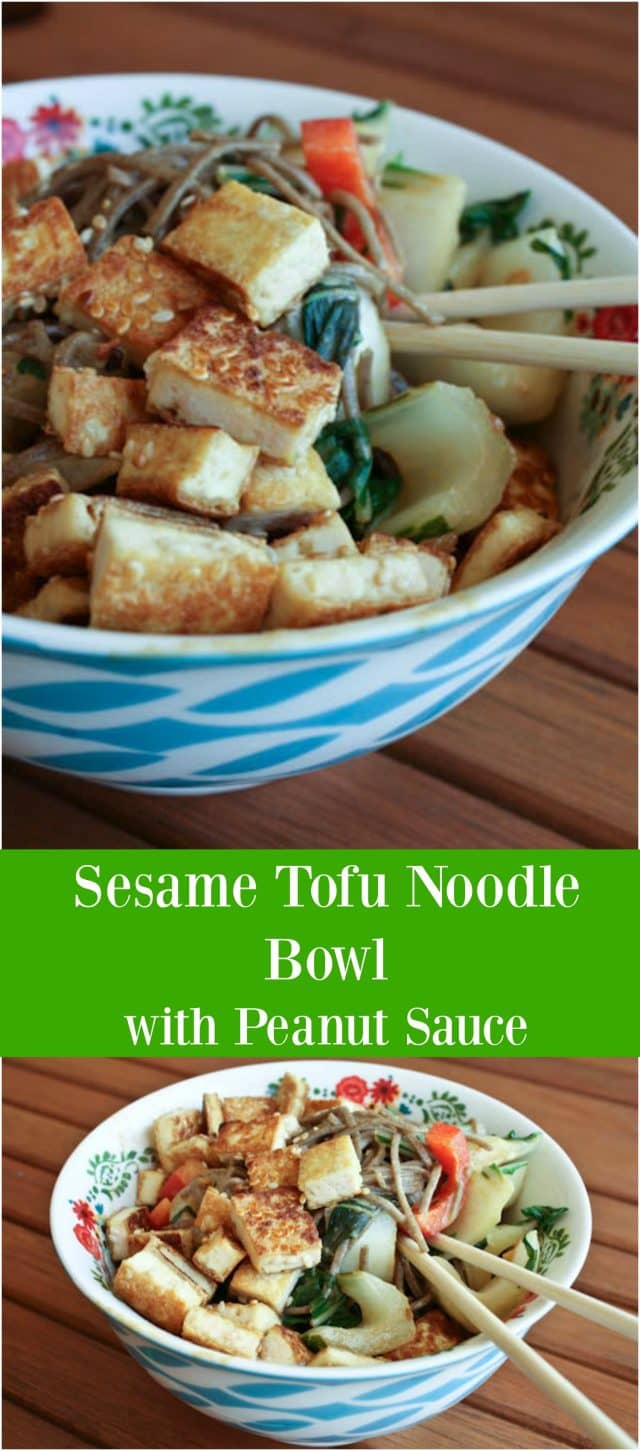 Are you following me on Instagram, Twitter, Facebook and Pinterest? If you'd like to subscribe to Aggie's Kitchen and have each post delivered straight to your e-mail box, then please add your email here. Happy cooking!
There are affiliate links in this post. I make small earnings through any purchases made through these links. Thank you for supporting Aggie's Kitchen!