Green Smoothies…aka Green Monsters…aka Shrek Juice
…whatever you call them, these smoothies are g o o d for you.
I've been hooked on green smoothies for a couple of years now. I discovered them on a couple of healthy living blogs that I follow and after finally getting the courage to try one they have become a permanent member of the breakfast and snack category in this household.
My husband and son enjoy these smoothies as well…the only one who hasn't bought into them yet is my daughter. I offer her one every time I make them and am sure one day she'll come around. Last year, I set up a smoothie bar in my son's PreK class room and was impressed when 18 out of 19 preschoolers voted this smoothie their favorite over a berry smoothie (we made both kinds in the class and had a taste test, then vote). The kids loved them, and their green mustaches too.
Enjoy your green smoothie for breakfast with a hard boiled egg and whole wheat toast, or for a post workout snack. I love having them in the late afternoon to hold me over before dinner.
I've seen them made a couple of different ways, but I pretty much make them the same every time. Fresh spinach is key, and so are ripe frozen bananas. I always have a ziplock full of banana chunks in the freezer…they are perfect for sweetening up smoothies and making them nice and chilled but not watered down with ice. Now, if you don't have any frozen bananas, no worries, just add 2-3 ice cubes to the mix.
Best served immediately. Enjoy!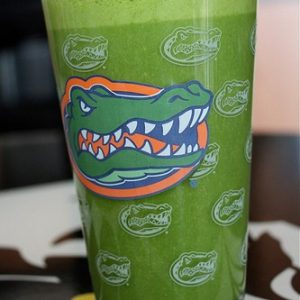 Ingredients:
1 cup plain or unsweetened vanilla almond milk (go with vanilla if you have more of a sweet tooth)
1-2 handfuls fresh spinach leaves
1/2 ripe frozen banana (if your banana is not frozen, add 2-3 ice cubes)
1-2 tablespoons ground flaxmeal
Directions:
Combine ingredients in blender and blend for 1 minute.
Are you following me on Instagram, Twitter, Facebook and Pinterest? If you'd like to subscribe to Aggie's Kitchen and have each post delivered straight to your e-mail box, then please add your email here. Happy cooking!
There are affiliate links in this post. I make small earnings through any purchases made through these links. Thank you for supporting Aggie's Kitchen!