Greek Panzanella
I've mentioned before how much I love Panera's breads and salads…but let me tell you how I love their bread even more so. I had picked up a loaf of their Sesame Semolina bread the last time I was in there for lunch and brought it home for the fam to enjoy with some pasta & sauce the next day. Well, as hard as it was for us (me) not to go through that loaf in one meal, I decided to freeze half the loaf and use it for another meal in the future.
That meal is this. And it's a good one. You do not want to pass this one up.
I know most of you are still experiencing "weather"…but here in Florida, it's been quite lovely. Seriously lovely actually. What comes with lovely weather is lovely produce. I have been picking up Florida grown tomatoes at this little farm stand not far from my home and I can not tell you how wonderful it is to finally taste a real tomato again. They aren't at peak flavor just yet, but when you can sniff your tomato and smell that tomato vine smell…you know it's good. I have been eating them everyday with just about everything, including two days in a row in this salad.
I would have to say though…the star of the show is still the bread. And this is why…
Don't you just want to pick up one of those babies and toss them in your mouth?
I took some of that leftover Panera bread and cut them into cubes, tossed them with a little olive oil, pressed garlic and fresh ground pepper. I threw them in a hot skillet and toasted them till they looked just like that.
Into the party bowl I added those tomatoes I was telling you about, along with some of their friends from the same farm stand, cucumbers, red bell peppers and red onions. Add a little crumbled feta to the mix and splash with red wine vinegar, olive oil and oregano. Oh my heaven.
I repeat. You do not want to pass this up.
Greek Panzanella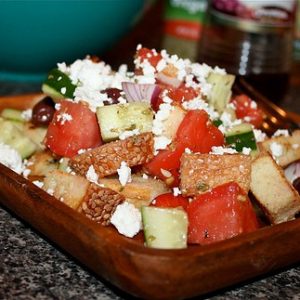 Ingredients:
Cubed "day old" bread (I used Panera's Sesame Semolina)
drizzle olive oil
1 garlic clove, pressed or finely minced
fresh ground pepper
tomato
cucumber
bell pepper
red onion
kalamata olives
crumbled feta
fresh ground black pepper
oregano
red wine vinegar
olive oil
Directions:
In a large bowl, gently toss bread cubes, olive oil, pressed or minced garlic and fresh ground pepper until combined. Add seasoned bread cubes to a hot non stick skillet and toast. Keep an eye on bread and continuously toss around to toast all sides, this will take a few minutes.
Place your toasted bread cubes into your salad bowl. Let cool slightly, then add tomatoes, cucumbers, red bell pepper, red onion, and kalamata olives. Gently toss to combine. Splash red wine vinegar, drizzle olive oil and sprinkle oregano over salad. Top with crumbled feta cheese and enjoy.
Though I am obviously a fan of Panera bread, it's not all I love about the place. I love that it's a place where I can bring my family in for a meal, not spend a fortune and not feel guilty about what we're eating. The food is always fresh, it's quick and most important, it's good.
If you are a Panera lover like I am visit them on Twitter: @panerabread and Facebook!
(Disclaimer:  Panera Bread provided me with compensation for writing this post. My opinions, however, are always my own.)
Are you following me on Instagram, Twitter, Facebook and Pinterest? If you'd like to subscribe to Aggie's Kitchen and have each post delivered straight to your e-mail box, then please add your email here. Happy cooking!
There are affiliate links in this post. I make small earnings through any purchases made through these links. Thank you for supporting Aggie's Kitchen!