Giada's Grilled Eggplant and Goat Cheese Salad
Do you ever see a recipe on a cooking show and just have to make it immediately?
I had to make this salad. I've been thinking about it all week (there I go again, being obsessive about food…)…but you know what I mean right? I know a lot of you are not in grilling weather right now, and to be honest with you it is cold, dreary and rainy here in FL right now. But that wasn't going to stop me, I grilled these babies indoors… if you don't have a grill pan, it is so worth the investment, I use mine all the time.
(Zebra Eggplant from the Lake Mary Farmer's Market…aren't they pretty?…)
I have been craving really fresh and healthy food lately…I think having hamburgers and pulled pork in the same week does that to you…I'll have to plan better next time. This salad definitely hit the spot. The flavor combination could not get any better…grilled eggplant, goat cheese, toasted pine nuts and basil…simply dressed in a little olive oil and balsamic vinegar. So good.
Thank you Giada.
Giada's Grilled Eggplant and Goat Cheese Salad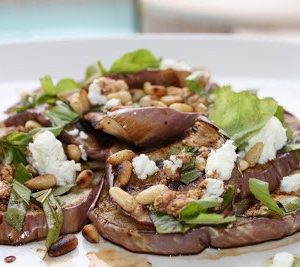 Ingredients:
3 tablespoons olive oil
7 Japanese eggplant, ends trimmed, cut into 1-inch wide slices
1/2 cup toasted pine nuts
3 ounces goat cheese, crumbled
1/3 cup basil, thinly sliced
2 tablespoons chopped mint (I left this out)
3 tablespoons extra-virgin olive oil
3 tablespoons balsamic vinegar
1/2 teaspoon kosher salt
1/2 teaspoon freshly ground black pepper
Directions:
Place a grill pan over medium-high heat or preheat a gas or charcoal grill. Drizzle the olive oil over the slices of eggplant and toss to coat. Grill the eggplants until tender and grill marks appear, about 3 to 4 minutes per side.
Place the eggplants side-by-side on a serving platter. Sprinkle with the pine nuts, goat cheese, basil, and mint. Drizzle with extra-virgin olive oil, balsamic vinegar, salt, and pepper.
Cook's note: Plating the eggplant salad this way allowed the cheese to stay bright white. The salt and pepper showed up on it. The herbs remained green and fluffy. The grill marks on the eggplant were distinct.

Thank you so much to all of you who shared your favorite Asian recipes with me on my last post. Wow!! I have printed most of them and they are on standby…as a matter of fact I'm trying one of the stir frys tonight! Everything sounds delicious!
If are looking for new Asian recipes to try, go check out the comments in the Mongolian Beef post…you will find several to choose from.
Have a great weekend everyone!!

Follow Aggie's Kitchen's board Salads on Pinterest.
Are you following me on Instagram, Twitter, Facebook and Pinterest? If you'd like to subscribe to Aggie's Kitchen and have each post delivered straight to your e-mail box, then please add your email here. Happy cooking!
There are affiliate links in this post. I make small earnings through any purchases made through these links. Thank you for supporting Aggie's Kitchen!