Spinach and Toasted Pine Nut Stuffed Mushrooms ….another stuffed mushroom
A while back I made
stuffed mushrooms
for the first time.
I thought they turned out great. I'm a little weird about mushrooms…I like them, but they are one of those foods I have to be in the mood for. There have been plenty of times, I hate to admit, where I have had to throw out a container of mushrooms because I hadn't been in the mood to cook them. I tend to include them in a lot of my recipes that include a stuffing, like these
stuffed peppers
… I find that when they are chopped up small and mixed with rice or beef they act as a nice filler, adding some texture but helping in keeping the calorie count low.
Yesterday I found myself in the same situation that I usually am in. A small bunch of whole mushrooms on the verge of getting thrown out. My good friend (who is expecting a little boy next month!) mentioned she was craving stuffed mushrooms the other night and asked me if I had a recipe…I sent a link to these…and then got a craving of my own. I decided this time to make them vegetarian, and instead of beef used leftover toasted pine nuts from my grilled eggplant salad.
They were a perfect little side dish for dinner last night. Marialisa…if we weren't 2000 miles away from each other these would totally have been for you. 😉
Spinach and Toasted Pine Nut Stuffed Mushrooms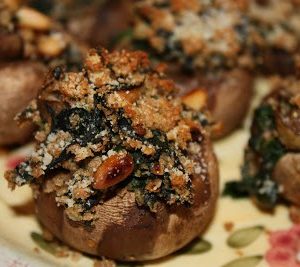 Ingredients:
8 whole mushroom caps (stems removed - save stems for filling)
1/4 cup toasted pine nuts, roughly chopped
1/2 small onion, chopped
1 garlic clove, minced
leftover mushroom stems, chopped
about 2 cups fresh spinach, chopped
1/4 cup whole wheat panko
olive oil
salt and pepper
grated parmesan cheese
Directions:
Preheat oven to 400 degrees.
Place mushroom caps in lightly greased baking dish. Sprinkle salt, pepper and drizzle of olive oil over mushrooms.
In a hot skillet, saute garlic, onion, chopped mushroom stems and chopped spinach in olive oil for about 8 minutes, till all cooked through. Season with salt and pepper. Add toasted pine nuts and combine. Add panko, combine and let cool.
Using a tablespoon, spoon stuffing into each cap, carefully pressing down to fill completely. Top with fresh ground pepper.
Place in oven and cook for approximately 10 minutes, at this time sprinkle mushrooms with grated parmesan cheese. Place back in oven and cook for another 10 minutes or until golden brown. Spoon wine sauce (optional) over each mushroom and serve.
Additional White Wine Sauce
White Wine Sauce
3 cloves garlic, minced
olive oil
1/2 cup chicken broth
1/2 cup white wine
1-2 TB butter
Saute garlic in olive oil till golden. Add chicken broth and white wine. Let simmer for 4-5 minutes. Once reduced a bit, add butter. Simmer for another few minutes. Sauce will be thin.

Are you following me on Instagram, Twitter, Facebook and Pinterest? If you'd like to subscribe to Aggie's Kitchen and have each post delivered straight to your e-mail box, then please add your email here. Happy cooking!
There are affiliate links in this post. I make small earnings through any purchases made through these links. Thank you for supporting Aggie's Kitchen!