Ellie Krieger's Nutty Granola
How could you resist a bowl of goodness like this?
I don't usually get excited about granola when I see it bagged in the store. When I read the ingredients, something always stands out as not so good and I am disappointed. I have found a few favorites, however, I really can't see myself buying anymore after making the easiest batch of granola ever. This stuff is good. Real good.
I have made Barefoot Contessa's Granola before and have loved it too. But it has a lot of ingredients, and oil, so it's not something I tend to make often. This granola is simple, and I truly believe that simple is usually the best.
This Nutty Granola was chosen by Leslie at Lethally Delicious for the Craving Ellie in my Belly group. I just joined the group and this was the perfect first recipe! I made a few minor adjustments…I left out the cinnamon, only because I didn't have any, and added some vanilla. I also subbed raw cashews for walnuts because they are what I had on hand. My kitchen smelled so good this afternoon. Even my son came in and said "Mom, what is that yummy smell?" So good mommy spooned some fresh granola into a small bowl and said "Snack." So we snacked. 😉
(I enjoy my granola sprinkled over a bowl of fresh mixed berries and Stoneyfield lowfat plain yogurt…)
Ellie Krieger's Nutty Granola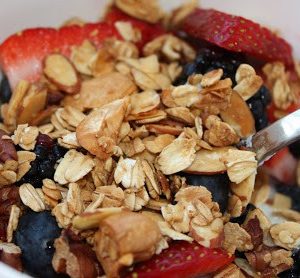 Ingredients:
Cooking Spray
3 cups old-fashioned oats
1/2 cup chopped raw, unsalted walnuts (used raw cashews instead)
1/2 cup chopped unsalted almonds (used sliced)
1/2 cup chopped unsalted pecans
1/2 cup maple syrup (I reduced it to 1/4 cup, and added 1/4 cup agave nectar)
1/4 teaspoon salt
1/4 teaspoon ground cinnamon (didn't have any so I subbed 1 tsp vanilla)
1/2 cup raisins, optional (didn't include these)
Directions:
Preheat the oven to 300 degrees F. Spray a large baking sheet with cooking spray.
In a medium bowl combine the oats, nuts, maple syrup, salt, cinnamon and the raisins, if using. Spread the mixture onto the baking sheet and bake until golden brown, stirring occasionally, about 30 minutes. Transfer the sheet to a cooling rack and let cool completely. Store in the refrigerator in an airtight container.

Follow Aggie's Kitchen's board Breakfast on Pinterest.
Are you following me on Instagram, Twitter, Facebook and Pinterest? If you'd like to subscribe to Aggie's Kitchen and have each post delivered straight to your e-mail box, then please add your email here. Happy cooking!
There are affiliate links in this post. I make small earnings through any purchases made through these links. Thank you for supporting Aggie's Kitchen!