Curried Couscous
Summer has definitely begun for us…though I know not officially on the calendar. The weather is hot, real hot, and the kids are out of school. We have had a busy week visiting with classmates and friends, not leaving me much time for cooking it seems.
Lucky for me, this week's Barefoot Blogger recipe, chosen by Ellyn of Recipe Collector and Tester, was an easy one. I'm not kidding when I say easy. That's what I love so much about couscous, it's ridiculously simple to make and I love flavoring it up by adding veggies, nuts and currants to it…just like Ina did in this recipe.
I made a few adjustments and additions to the original recipe like adding chopped yellow bell pepper and substituting whole wheat couscous. I also decided to leave out the red onion…and as I'm writing this post am realizing that I apparently left out the sliced almonds…oops.
I loved the curry yogurt dressing called for in this recipe…though, next time I will probably double it and use a little extra to keep it from becoming too dry as it sits out. This dish is served at room temperature and would be a great side dish for any barbecue or summer get together.
Curried Couscous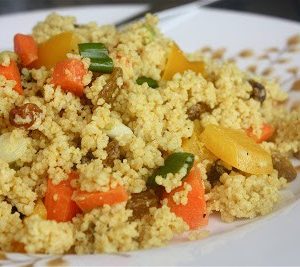 Ingredients:
1 1/2 cups whole wheat couscous
1 tablespoon unsalted olive oil
1 1/2 cups boiling water
1/4 cup plain Greek yogurt
1/4 cup good olive oil
1 teaspoon white wine vinegar
1 teaspoon curry powder
1/4 teaspoon ground turmeric
1 1/2 teaspoons kosher salt
1 teaspoon freshly ground black pepper
2 carrots, small-diced
1/2 cup dried golden raisins
1/4 cup blanched, sliced almonds
2 scallions, thinly sliced (white and green parts)
1 yellow bell pepper
Directions:
Place the couscous in a medium bowl. Melt the butter in the boiling water and pour over the couscous. Cover tightly and allow the couscous to soak for 5 minutes. Fluff with a fork.
Whisk together the yogurt, olive oil, vinegar, curry, turmeric, salt, and pepper. Pour over the fluffed couscous, and mix well with a fork. Add the carrots, parsley, currants, almonds, scallions, and red onions, mix well, and season to taste. Serve at room temperature.
Recipe adapted from Ina Garten, The Barefoot Contessa Cookbook
or find original recipe here on Food Network

Are you following me on Instagram, Twitter, Facebook and Pinterest? If you'd like to subscribe to Aggie's Kitchen and have each post delivered straight to your e-mail box, then please add your email here. Happy cooking!
There are affiliate links in this post. I make small earnings through any purchases made through these links. Thank you for supporting Aggie's Kitchen!