Raspberry and Rhubarb Crumble
Hope everyone is having a nice weekend!! We are headed to the beach today to celebrate my nephew Cody's high school graduation with the family. Before we go though, I wanted to share with you an easy delicious dessert that I put together this past week.
I've been seeing rhubarb all over blog world this week, specifically here and here. I have never tried rhubarb before, am not even sure what it really is…a fruit I assume?? Whatever it is, I was inspired by a recipe I saw in Cooking Light for a Raspberry and Rhubarb pie…I love raspberries so I thought turning the pie idea into an easier and healthier "crumble" would work for me.
This was delicious…tart, yet still sweet. And it really was a breeze to put together. I put it together while preparing dinner, then put it in the oven so it cooked while we were eating. It was smelling good and ready to eat once we were done with clean up!
Congratulations to Peachkins of The Peach Kitchen and Melissa of Alosha's Kitchen for being the winners of the cookbook giveaway!! Using Random.org their comment numbers were chosen. Please email me your mailing addresses so I can get those cookbooks off to you!
Congrats to the gals and thank you all for the kind comments…it means a lot to me to know you all are enjoying Aggie's Kitchen!!
Raspberry and Rhubarb Crumble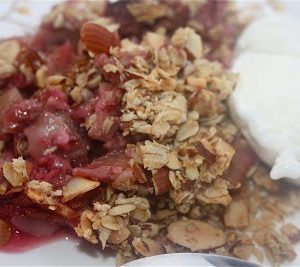 Ingredients:
4 sticks of rhubarb, cut in 1" pieces
1 small container of raspberries
couple splashes of Gran Marnier (or orange liqueur)
1-2 TB turbinado sugar (or regular sugar)
1 cup oatmeal
1/3 cup sliced almonds, crushed
2 TB Smart Balance whipped butter (or regular butter)
Directions:
In a deep baking dish, combine rhubarb, raspberries, Gran Marnier and sugar. Toss gently and let sit for 10 minutes. In small bowl, combine oatmeal and almonds with butter to make crumbly topping. Spread topping over fruit mixture and place in preheated oven. Bake for 30-40 minutes until bubbly and golden brown.
Serve with vanilla ice cream, frozen yogurt or Greek yogurt for a delicious dessert.
Enjoy!
Congratulations Cody!! We are all so proud of you!
xoxo

Are you following me on Instagram, Twitter, Facebook and Pinterest? If you'd like to subscribe to Aggie's Kitchen and have each post delivered straight to your e-mail box, then please add your email here. Happy cooking!
There are affiliate links in this post. I make small earnings through any purchases made through these links. Thank you for supporting Aggie's Kitchen!