Beer Can Chicken
Life is good when you are on vacation!
(Sammy having a blast with his cousins!)
We just shared four fun filled days with my sister in law
Jamie
and her family visiting us from the Panhandle. It was a great time…full of lots of swimming, cooking, eating and relaxing. And best of all is what happens when two foodies are under the same roof…lots and lots of great food!!
(our bird dancing on the grill alongside some sweet potatoes for Grilled Sweet Potato Salad…)
A friend of mine recently told me about her experience making Beer Can Chicken. She told me it turned out wonderfully on the grill and that it was a fun meal for entertaining. I thought Jamie's visit was the perfect time to try it out. Jamie found a recipe in her
How to Grill cookbook
and we went with it…and with fantastic results!! The chicken turned out so moist and flavorful, I can't wait to make it again!
The rub we used for the chicken was simple yet amazing. The recipe makes a large quantity perfect for storing in your spice cabinet for future use. In addition to the whole chicken, we grilled up some chicken breasts seasoned with the same rub. We served the chicken with sweet grilled corn and
Grilled Sweet Potato Salad
… a perfect summer night meal!
The directions for the Beer Can Chicken method can be found here on The Barbeque Bible's website. See below for the great multi-purpose BBQ rub we used also found on the site and cookbook.
Our bird got a little charred while on the grill…what we learned that it's best to keep the burners turned off under the chicken…the heat from the other two burners was more than enough to cook the chicken up nicely. We all got a kick out of checking on the bird…he looked quite happy dancing on that grill…:)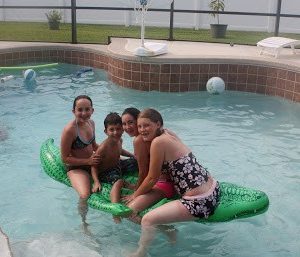 Ingredients:
1/4 cup coarse salt (kosher or sea)
1/4 cup (packed) dark brown sugar
1/4 cup paprika
3 tablespoons freshly ground black pepper
1 tablespoon garlic powder
1 tablespoon dried onion flakes
1/2 to 1 teaspoon cayenne pepper
1/2 teaspoon celery seeds
Directions:
Combine all the ingredients in a bowl and stir or whisk to mix. Transfer to a jar, cover, and store away from heat and light. The rub will keep for several months.

Are you following me on Instagram, Twitter, Facebook and Pinterest? If you'd like to subscribe to Aggie's Kitchen and have each post delivered straight to your e-mail box, then please add your email here. Happy cooking!
There are affiliate links in this post. I make small earnings through any purchases made through these links. Thank you for supporting Aggie's Kitchen!