Carrot Raisin Quinoa Salad
Carrot Raisin Quinoa Salad is a great nutty salad to pair with grilled chicken or fish, or as a light meal on it's own.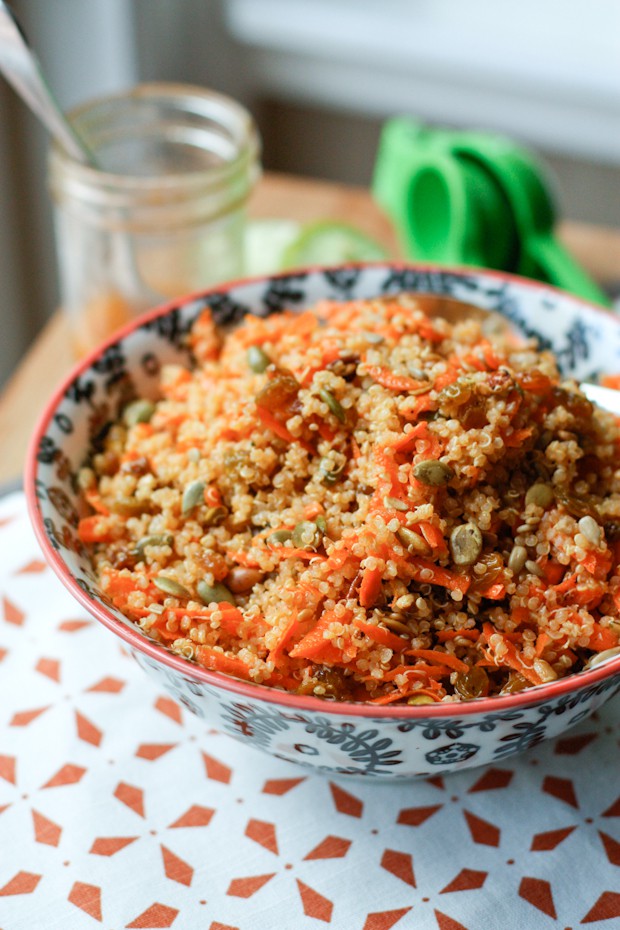 It's been a few weeks since I've blogged and I have to be honest, it feels a bit awkward writing this post. Truth is, I'm suffering from blog burnout, and after just about 6 years of blogging, something I've experienced a couple times. This time feels different though. In my past burnouts I found myself come out of it by looking for inspiration in the kitchen (I wrote a little post about it here a couple of years ago). Right now though, life with 3 kids is just completely full and taking over and I'm in full on survival mode. Cooking has become pushed aside as more of a chore and something I am doing as a necessity, not as a pleasurable activity. My meals are simply thrown together with the priority being quick, nutritious and as effortless as possible (and the less clean up the better). The thought of pulling out a camera during the chaos called dinnertime makes me cringe, and finding the time to write a post is just getting harder and harder. There are just a million other things I'd rather be doing lately, none of them include being on my laptop (except going through my "to print" photos that are piling up at a ridiculous pace – oy vay).  :):)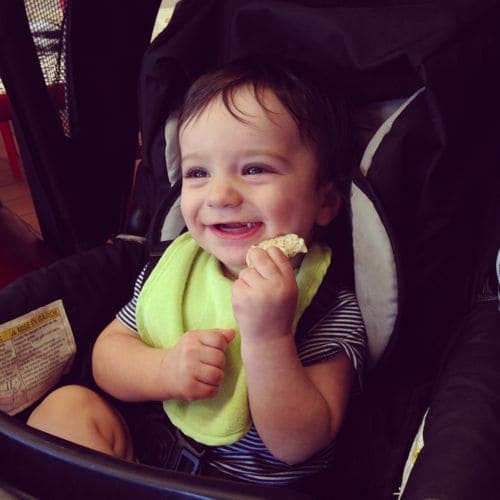 This is real life. I have 2 busy kids finishing up their school year and a 7 month old who is busy exploring his new world. I'm totally embracing it people. (well, trying to 😉 )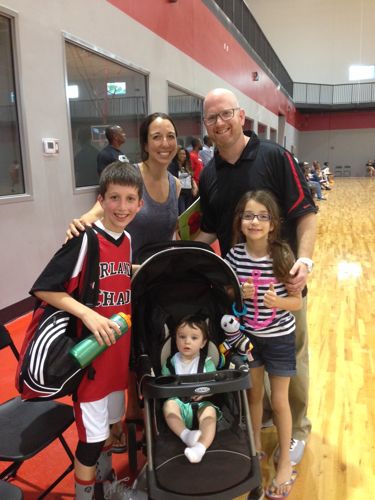 Just when I thought I may never make anything worthy of a blog post ever again…an impromptu late afternoon nap happened while the kids were outside playing with their friends yesterday. I needed to use up what I had to serve alongside some simply broiled salmon for dinner. This came together during that short little nap, and I loved it, as did my husband. It's a perfect summer quinoa salad, one that I will surely be making again.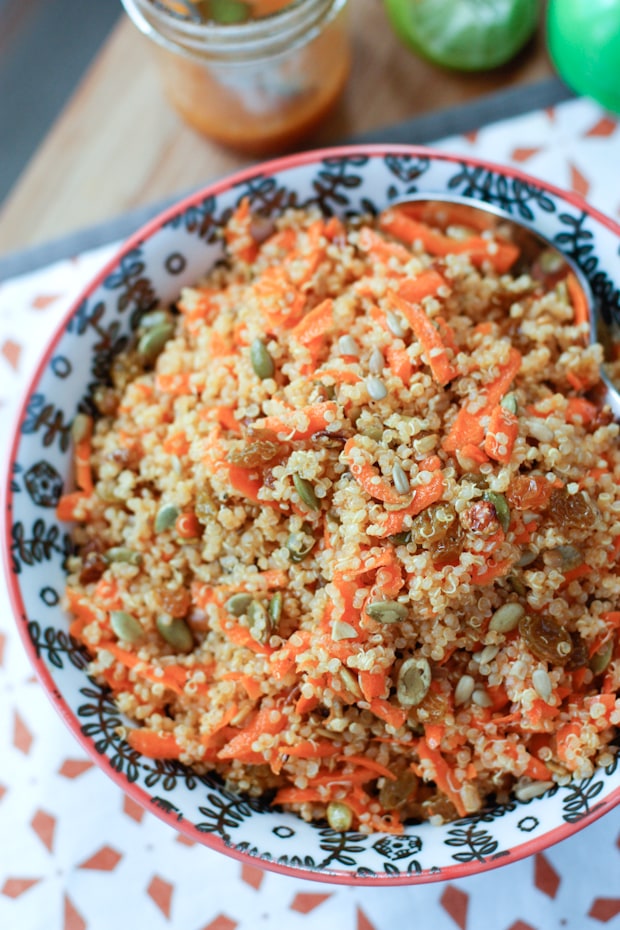 Until next time my friends… xoxo
Carrot Raisin Quinoa Salad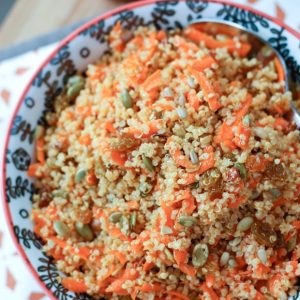 Ingredients:
1 cup quinoa, uncooked
2 large carrots, shredded
1 cup golden raisins
1/3 cup pumpkin and/or sunflower seeds
1/3 cup chopped pecans
2 limes, juiced
1/3 cup olive oil
2 tablespoons honey
1/2 teaspoon smoked paprika
big pinch coarse salt and fresh ground pepper to taste
Directions:
Cook quinoa according to directions, set aside and cool.
In a large bowl combine cooled quinoa with carrots, raisins, nuts and seeds.
In a small jar combine lime juice, olive oil, honey, paprika, salt and pepper and shake well.
Add vinaigrette to quinoa salad and toss to combine. Taste for salt and pepper and adjust. Serve at room temperature or chilled.
Love whole grain salads like I do? Check out these 12 Healthy Whole Grain Salad Recipes including farro, quinoa, wheat berries and brown rice!
Follow Aggie's Kitchen's board Salads on Pinterest.
Are you following me on Instagram, Twitter, Facebook and Pinterest? If you'd like to subscribe to Aggie's Kitchen and have each post delivered straight to your e-mail box, then please add your email here. Happy cooking!
There are affiliate links in this post. I make small earnings through any purchases made through these links. Thank you for supporting Aggie's Kitchen!