Bush's White Bean Chile Verde with Sonoma Pesto
Here's the recipe a lot of you have been asking me for…
After getting back from my trip to Napa, I couldn't wait to make this chili for my family. I convinced my children to try it using an idea I got from my new friend Connie Gutterson…she asks her kids to rate some of the recipes she makes for them…my son totally bought into the "rating game" and ate a nice bowl himself. My daughter, she didn't care so much about the rating part, she just dove in and gobbled up her share. I had to restrain myself from showing too much excitement so they wouldn't get suspicious…
Sammy (age 5) rates this "5 spoons" and "3 thumbs up"!
I added a little quinoa to the chili to make it even more nutritious. My kids think of quinoa as "rice"…whatever works right?!
Another tip I learned from Connie…Be sure to "fry" your sauce before adding in the liquids. What that means is cooking down the roasted pepper and tomatillo puree in a little olive oil along with the onions and garlic until it "pulls away from the pan"…doing this enhances the flavor by concentrating and thickening up the sauce a bit.
Enjoy!
(Oh…and to keep things on the up and up here's a little disclaimer…Bush Beans covered the costs of my trip but does not pay me to say nice things about them.)
Print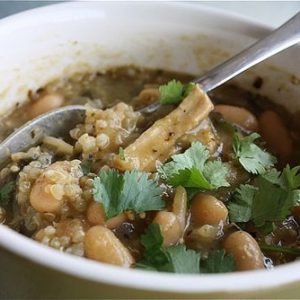 Bush's White Bean Chile Verde with Sonoma Pesto
Author:
Category: Chicken
Method: Oven/Stovetop
---
Ingredients
1 lb tomatillos
1/2 lb poblano chiles
2 tsp olive oil
1 1/2 cups finely chopped yellow onion
1 TB minced garlic
1 tsp Mexican oregano (use regular oregano if you don't have Mexican)
3 cups chicken stock
2 cans (15.5 oz) BUSH's Cannellini Beans, with liquid
2 TB chopped fresh cilantro
2 cups cooked, shredded chicken
4 cups Swiss chard, stemmed, cut 1 inch wide strips
salt and pepper, to taste
* Optional Toppings
Salsa Verde (purchased)
Sour Cream or Greek Yogurt
Sonoma Pesto (see recipe below)
Sonoma Pesto
1 bunch fresh cilantro
1 serrano chile
1 tablespoon pine nuts or peanuts
1 clove garlic
2 ounces olive oil
zest and juice from 1 lime
salt and pepper to taste
---
Instructions
1. Preheat oven or toaster oven to 400°F.
2. Place tomatillos and poblano chiles on sheet pan. Roast in oven until peppers have blistered and tomatillos are soft. Remove from oven. Place tomatillos in blender. Once poblanos are cool enough to handle, remove seeds and skins. Add to blender, blend until smooth.
3. Heat olive oil in a sauté pan. Add onions, cook until caramelized, approximately 5 minutes. Add garlic and oregano, cook until aromatic.
4. Add tomatillo mixture, cook for 10 minutes until slightly thickened.
5. Add stock, beans and their liquid. Bring to simmer, cook for 20 minutes.
6. Add cilantro, chicken and chard. Bring to a simmer, cook for 10 minutes. Adjust seasoning with salt and pepper.
Sonoma Pesto
Combine all pesto ingredients in a blender. Blend until smooth. Adjust seasoning with salt and pepper. Drizzle the pesto on top of the chile verde and finish with salsa verde, as desired.
Are you following me on Instagram, Twitter, Facebook and Pinterest? If you'd like to subscribe to Aggie's Kitchen and have each post delivered straight to your e-mail box, then please add your email here. Happy cooking!
There are affiliate links in this post. I make small earnings through any purchases made through these links. Thank you for supporting Aggie's Kitchen!