Black Bean Quesadillas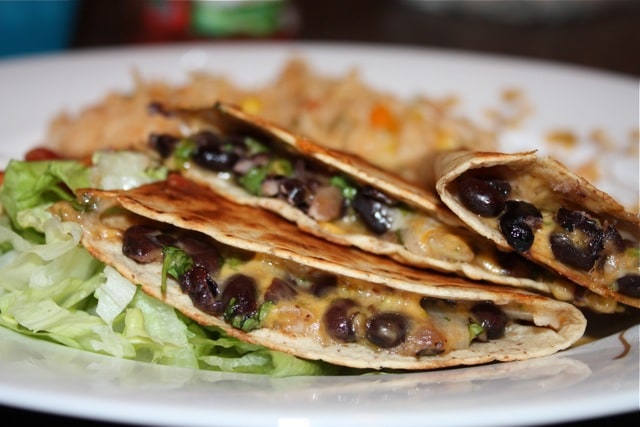 Quesadillas are pretty much my go to meal on nights when I don't feel like cooking much. They are easy, and easy to adjust to please everyone. My kids like theirs with just cheese, my husband likes some sort of meat in his and I love mine just like this…beans, a little veg and cheese, and lots of cilantro.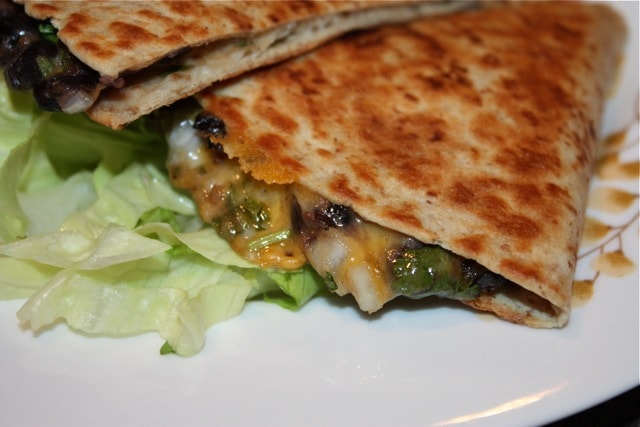 I recently came across this super simple recipe on epicurious.com and I have been craving them ever since. When I made them I served them up alongside a deconstructed salad of romaine, salsa, tomatoes, and sour cream and it was perfect. You can easily please anyone who would like a little meat in their meal by adding in some leftover shredded chicken with the bean mixture before cooking.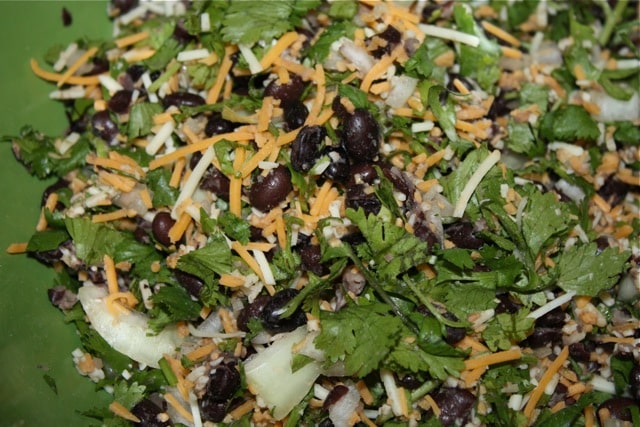 For those of you celebrating Lent, this would be a great meal to serve up on your meatless Fridays.
Enjoy!
Black Bean Quesadillas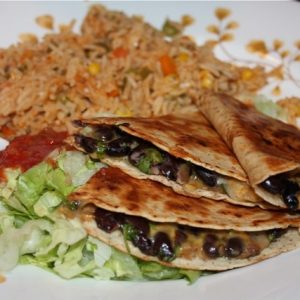 Ingredients:
1 can black beans, rinsed and drained
1 8 oz block monterey jack or cheddar cheese, shredded (or use pre-shredded bag of taco cheese)
1 cup chopped cilantro, roughly chopped
1 white onion, chopped
8 flour tortillas
For serving:
shredded romaine lettuce
chopped tomatoes
salsa
hot sauce
sour cream
Directions:
In a bowl, combine beans, cheese, cilantro and onion. Set aside.
Place tortilla in heated non stick skillet sprayed with non stick spray. Spoon mixture evenly over half of tortilla and fold remaining half over mixture. Lightly press down using your spatula. Cook for a few minutes until bottom of tortilla is golden brown, then carefully flip and cook for a few more minutes until tortilla is golden brown and cheese is melted.
Cut into 3 or 4 wedges and serve quesadillas with salsa, salad and spanish rice.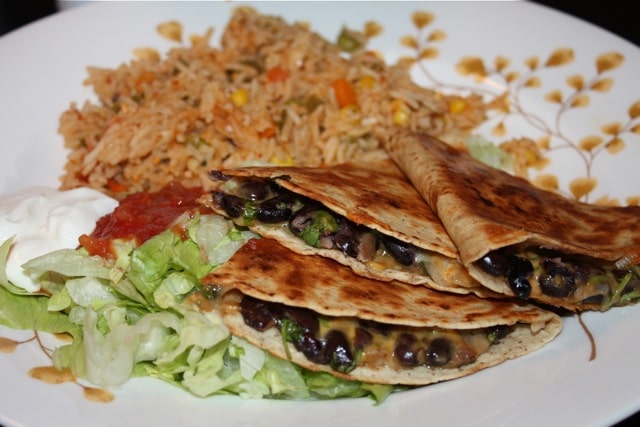 Congrats to Alison and Brooke for winning the "Create your Everyday Escape" giveway from Otria Greek Yogurt Veggie Dips! Thank you to all who entered the giveaway, I loved reading your comments … and it sounds like a lot of us need an escape of some sort. 🙂 Wish I could have given everyone a spa gift card!
Are you following me on Instagram, Twitter, Facebook and Pinterest? If you'd like to subscribe to Aggie's Kitchen and have each post delivered straight to your e-mail box, then please add your email here. Happy cooking!
There are affiliate links in this post. I make small earnings through any purchases made through these links. Thank you for supporting Aggie's Kitchen!