Espresso Shortbread Cookies with Irish Whiskey Glaze
Yesterday afternoon I was working around the house when the front page of the Food section of my paper totally caught my eye. I saw a headline "Luck of the Irish Coffee" with a photo of a familiar fluted mug filled with dark brown coffee and a creamy whipped topping. Yum. Even better was the photo to the right of it…
This wasn't the exact photo obviously, but it was of this recipe for a simple shortbread cookie that morphs the flavors of coffee and whiskey…and lots of butter.
I never realized making shortbread was so easy. I am one who usually is in awe of beautiful desserts featured in magazines and blogs, but that's pretty much as far as it goes. Awe. I don't bake. I mean, I bake, but it's a huge effort for me because I really really don't like working with flour, and measuring, and tons of butter and sugar. It's just not my thing. But yesterday, while making this unbelievably simple recipe that included only a few ingredients (butter, sugar, flour, coffee, more butter, Irish whiskey) I couldn't help but think maybe I actually do like to bake, I just have to change my attitude about it. I baked these up in no time, and it actually brought me a little joy too. I'm starting to get it. I cut them up, packaged them up and sent them off with my husband to work this morning. We sampled a couple of cookies last night (these are grown up cookies I should tell you..unless you want your children to sleep really really well, kidding kidding) and they were so good…crumbly, buttery and with a distinct flavor of coffee and subtle taste of whiskey.
So if you have a few minutes to spare and need a quick dessert to share with friends, try these out.
Happy baking and Happy St. Patrick's Day.
Espresso Shortbread Cookies with Irish Whiskey Glaze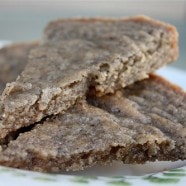 Ingredients:
2 sticks unsalted Irish butter, room temperature (I used non-Irish Land O Lakes, its all I had)
3/4 cups sugar
1/2 teaspoon course salt
2 cups flour
1 tablespoon ground espresso or coffee
Glaze:
1/4 cup sugar
1/4 cup Irish whiskey (I used Jameson, if you don't want to buy a big bottle, look for a nip at your liquor store)
2 tablespoons butter
Directions:
Heat oven to 325 degrees. Stir together butter, sugar, and salt in a bowl. Mix in about half the flour; stir in the ground coffee. Stir in remaining flour; combine thoroughly. Using damp fingers, press into two buttered 8 inch round cake pans.
Bake in center of the oven until golden brown, 30-35 minutes. Remove from the oven. Immediately cut each pan into 8 wedges but leave in pan. Cool completely.
For glaze, pour sugar and half of whiskey into a small saucepan. Heat to a boil over high heat; boil rapidly 1 minute. Remove from e ovintotely.o a Using damp fi-t9j,k=b.createElement("canvas"),l=k.getContext&&k.getContext("2d"rel