Caramelized Onion and Arugula White Pizza
I have a confession to make. I am a daughter of a pizza maker and I can't make dough. I know, pathetic right? Whatever. Thank goodness for Publix bakery is all I have to say. If I lived closer to my parent's place I would be snagging complimentary pizza dough on a regular basis but for now, Publix's dough works for me. What I really need to do is stock up my dad's dough in the freezer….I have to remember that for next time.
Anyway, growing up in a pizza shop family for pretty much my entire life has turned me into somewhat of a pizza addict. I could seriously eat pizza every day. And I like it so many different ways…on traditional pizza dough, on pita bread, english muffins, flat outs… you name it, I'll eat it. I love to get creative with the toppings. I'm not a big meat eater, but sausage and peppers pizza would have to be my favorite meat pizza. Veggie and more veggie is my other favorite.
I made this pizza one Friday night not long ago and it was amazing. This is the kind of pizza I would love to order out, but am always overruled by the fam (cheese and pepperoni always wins). I love the contrast of the peppery arugula on top of the warm pizza, tastes so fresh and gourmet. This was super easy and fun to make at home and I will definitely be enjoying this again soon.
Caramelized Onion and Arugula White Pizza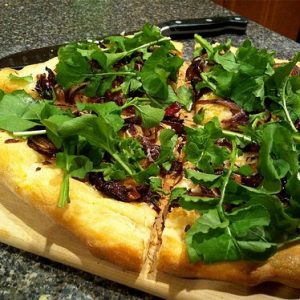 Ingredients:
homemade or store bought pizza dough (I purchase mine from Publix bakery)
drizzle of extra virgin olive oil
kosher or sea salt and fresh ground pepper
caramelized onions (see recipe here)
garlic, minced
freshly shredded mozzarella
freshly grated Parmesan
sun-dried tomatoes
arugula
balsamic glaze, optional
Directions:
Preheat oven to 425 degrees. Make sure your baking stone is preheating in oven.
Drizzle olive oil over your stretched and shaped pizza dough. Sprinkle dough with kosher or sea salt and fresh ground pepper. Sprinkle minced garlic, shredded mozzarella, Parmesan over dough. Add caramelized onions and sundried tomatoes and carefully transfer to preheated pizza stone. (I use a large cutting board dusted with flour when I am preparing my pizza. When pizza is ready to go in oven, I take out hot stone and place on a hot pad near cutting board and transfer on the counter. Just work carefully and patiently.)
Bake pizza in 425 degree oven for about 15-20 minutes or until crust is cooked and bottom is crispy. When pizza is done, transfer back to cutting board and top with fresh arugula. Drizzle with a balsamic glaze if desired.
Check out my Pinterest board for more pizza recipes.
Follow Aggie's Kitchen's board Pizza & Flatbread on Pinterest.
If you want to make your own dough, try Pioneer Woman's recipe for her favorite pizza or  Maria's Whole Wheat Pizza Dough.
Want more pizza?
Spicy Pepperoni Pizza with Caramelized Onions – Two Peas and Their Pod
Margarita Pizza with Ricotta and Prosciutto – Jersey Girl Cooks
Meatball Pizza – Recipe Girl
Spinach, Mushroom & Feta Pizza on Whole Wheat Crust – Recipe Girl
CPK's BBQ Chicken Pizza – Pioneer Woman
Rocky's Spinach Pizza – Aggie's Kitchen
Larry's Italian Stallion Pizza – Aggie's Kitchen
Grilled Stinger Naan Pizza – Aggie's Kitchen
Roasted Vegetable Pesto Pizza – Aggie's Kitchen
*********************************************************************************************
Don't forget to enter my "Create your Everyday Escape" giveaway ($75 SpaFinder gift card and Otria Greek Yogurt Veggie Dip goodies!). Giveaway ends Friday, March 4 at midnight (EST).
Are you following me on Instagram, Twitter, Facebook and Pinterest? If you'd like to subscribe to Aggie's Kitchen and have each post delivered straight to your e-mail box, then please add your email here. Happy cooking!
There are affiliate links in this post. I make small earnings through any purchases made through these links. Thank you for supporting Aggie's Kitchen!