Just wanted to wish my sister in law Jamie a very Happy Birthday today!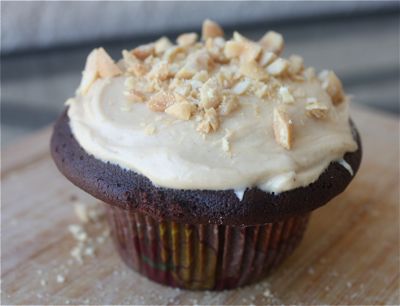 The family is getting together today to celebrate and meet a new addition to our growing family…baby Brady is the 2nd great grandchild and one of 16 cousins – Welcome to the family Baby Brady!!  It also happens to be Jamie's birthday (as well as Brady's parent's 5th anniversary!  Big congrats!) and since I know how much she loves PB and Chocolate (something we have in common!) I wanted to surprise her with some of these cupcakes!  I've been eying them in Ina's Barefoot Contessa at Home cookbook for sometime now and this was the perfect occasion for them.  Unfortunately I am not making it to the family get together, but have sent the cupcakes up with the husband and kids!  And I forgot to leave one home for myself!!  I did get to taste a piece of cupcake and frosting separately and that was really really good…can't imagine what I'm missing not having an entire cupcake to enjoy all to myself with a glass of milk!  Maybe Jamie will let us all know if they are as delicious as they look…
Here is a copy of the recipe on Food Network's site!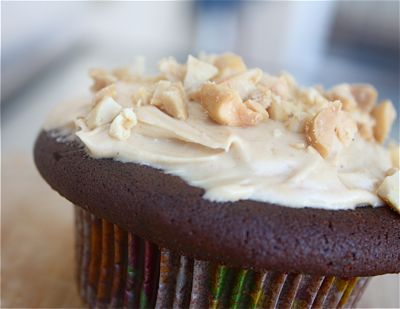 Enjoy your birthday Jamie…and your cupcakes!  Big birthday hugs to you!
Also…congratulations to the Beef. It's What's For Dinner giveaway…I drew a number using random.org and Cindy from FarmgirlCyn is the winner!  Your gift bag is on its way Cindy!  Thank you to everyone for entering!
PS…thank you all so much for the nice comments on my new design!  I am really excited about it and want to extend a BIG thank you to Hannah from Sherbert Blossom for all of her hard work in creating Aggie's Kitchen's new look!  It's still a work in progress on my part, but I hope you will find it easy to navigate and resourceful!  Stay tuned for an organized recipe index…