Whole Wheat Spaghetti with Chickpeas and Spinach
Sometimes you just look in the fridge or pantry and need to make a meal. This is one of those recipes you can count on to use simple ingredients like pasta, chickpeas and spinach you will most likely find in your pantry and fridge. You will never miss the meat in the vegetarian pasta dish. Whole Wheat Spaghetti with Chickpeas and Spinach is hearty, healthy and delicious!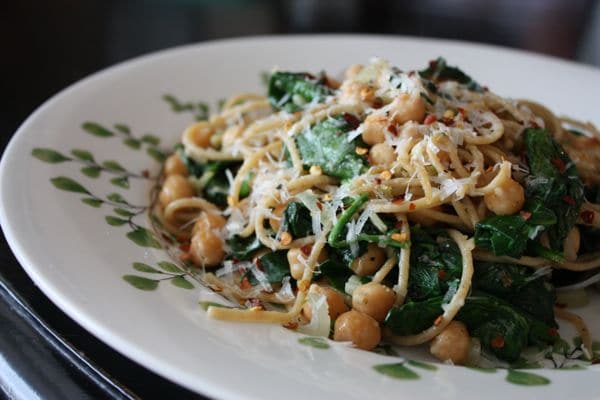 This Whole Wheat Spaghetti with Chickpeas and Spinach dish has appeared in my kitchen many a Saturday night.
Why Saturday night?
Well, because on Saturday nights, unless I'm eating out or getting together with friends I'm usually feeling pretty lazy and don't feel like making a huge fuss over dinner.
But because it's Saturday night, I don't want just a bowl of cereal or a sandwich either.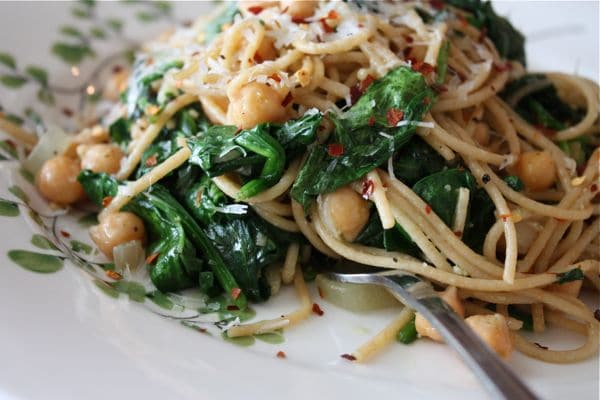 You can pretty much find everything in this pasta dish in my pantry or fridge any day of the week. That's what's so great about it. I've made it plenty of times without the fresh spinach, but I really prefer to have that punch of green on my plate (& its health benefits too). The freshly grated Parmesan and red pepper flakes make it extra delicious. In no time you'll be curled up on your couch with your big bowl of pasta and remote feeling total comfort. You can worry about the dishes in the morning.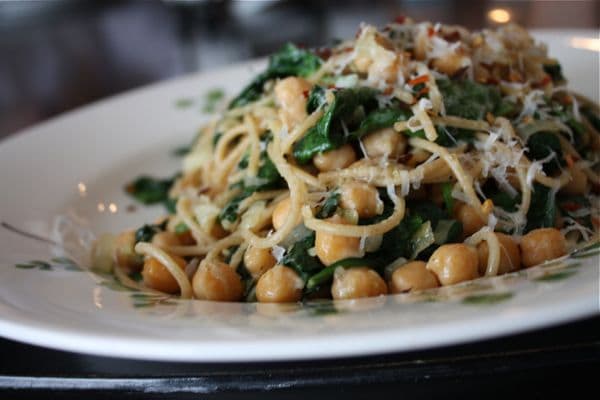 Ingredients you need for Spaghetti with Chickpeas and Spinach:
boxed spaghetti
olive oil
garlic
onion
can of chickpeas
fresh spinach
red pepper flakes
Parmesan cheese
A perfect, no fuss vegetarian pasta dish that you can feel good about.
Print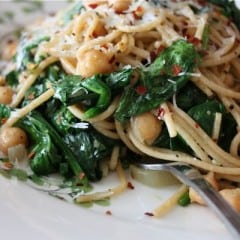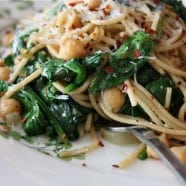 Whole Wheat Spaghetti with Sauteed Chickpeas and Spinach
---
Ingredients
1/2 13 oz box whole wheat spaghetti
2 tablespoons olive oil
2 garlic cloves, minced
1 onion, sliced thin
1 can garbanzo/chickpeas beans (I prefer Bush's Beans Garbanzos), rinsed and drained
2–3 bunches of fresh spinach
pinch of red pepper flakes
salt and fresh ground pepper, to taste
additional olive oil, to taste
freshly grated Parmesan cheese for serving
---
Instructions
Cook pasta according to directions.
While pasta is cooking, heat oil in a large saute pan. Add garlic and onions to pan and cook over medium heat for 5 minutes or until slightly soft, season with salt and pepper. Add chickpeas to onions and saute for another 5 minutes. Drain pasta, reserving about 1/4 cup of pasta water. Add fresh spinach to pan, add cooked pasta and pasta water over spinach and gently toss. Turn off heat.
Before serving add an additional drizzle of olive oil over pasta. Season to taste with salt and red pepper flakes. Serve with freshly grated Parmesan cheese.
More vegetarian pasta recipes:
Ziti and Zucchini with Lime and Herbs
Angel Hair with Zucchini and Tomatoes | Skinnytaste
Creamy Goat Cheese Pasta with Spinach and Roasted Mushrooms | Two Peas and Their Pod
Spicy Roasted Ratatouille with Spaghetti | Cookie + Kate
Are you following me on Instagram, Twitter, Facebook and Pinterest? If you'd like to subscribe to Aggie's Kitchen and have each post delivered straight to your e-mail box, then please add your email here. Happy cooking!
There are affiliate links in this post. I make small earnings through any purchases made through these links. Thank you for supporting Aggie's Kitchen!