Whole Wheat Spaghetti with Broccoli and Cauliflower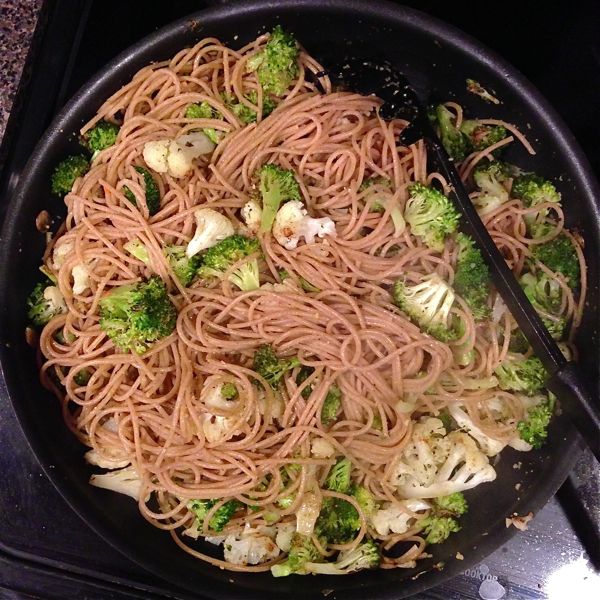 One thing about my college years that I truly miss is time with my friends. Since college life consisted of pretty much classes, work, classes, work and partying, my friends were like family and a big part of my everyday. My good friend Belle and I were pretty inseparable for a good part of my time at UF, and I miss her dearly. We worked together, we lived in the same neighborhood (and eventually became roommates) and hung out in the same friend circle. We were pretty much attached at the hip, starting off our days watching morning tv with coffee, then hitting the gym for a couple of hours and coming home to make a huge pasta lunch for us (and her roommates) before making our way to the evening shift at work.
Our pasta dishes were always a work of art. At least we thought so. I remember we would get so creative in doctoring up jarred sauce with tons of dried herbs and spices and Parmesan cheese. Because that's all pasta needed in college right?
These days, I still like to consider my pasta dishes pretty special. Though, they are a lot different. White pasta has turned into whole grain pasta, and you'll pretty much always find a vegetable or two included in the pasta party. But what hasn't changed is the feeling of pure comfort a big bowl of pasta brings me. And for some reason, this Whole Wheat Spaghetti with Broccoli and Cauliflower that I made for dinner last night made me think of my friend and our good ole days of college.
What makes this pasta special is that it comes together in less than 20 minutes, is good for you and your family will love it. I picked up a couple of packages of broccoli and cauliflower florets on sale last week and they had to be used up (like now). I kept things simple and didn't bother chopping up any onion or fresh garlic (this was hard for me!) but instead added a good amount of seasoning to make sure it tasted special.
Whole Wheat Spaghetti with Broccoli and Cauliflower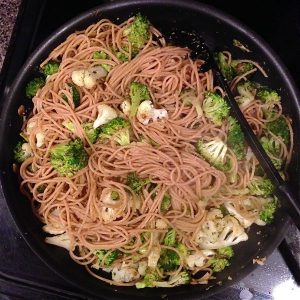 Ingredients:
1 13 oz box whole wheat spaghetti
2 cups broccoli florets, cut small (or 1 package Eat Smart Broccoli Florets)
1 cup cauliflower florets, cut small (or 1 package Eat Smart Cauliflower Florets)
1 teaspoon olive oil, for sauteeing
1/2 cup reserved pasta water
2 teaspoons Mrs. Dash Garlic and Herb Blend (or a mix of Italian seasoning and garlic powder)
2 tablespoons olive oil, for drizzling
pinch salt and fresh ground pepper, to taste
pinch red pepper flakes, to taste
freshly grated parmesan cheese, to taste
Directions:
Cook pasta according to directions.
While pasta is cooking, heat 1 teaspoon olive oil in a large non stick skillet. Add broccoli and cauliflower to pan and gently saute over low to medium heat. Add a couple of tablespoons of pasta water over vegetables to help cook it (see this post on how to water saute vegetables). Season with pinch salt and pepper.
When pasta is almost done, set aside 1/2 - 1 cup pasta water before draining. Strain pasta and add to skillet with vegetables. Add 1/2 cup reserved pasta water to skillet and gently toss to combine.
Add seasoning, salt and pepper and continue to toss until water is absorbed. Add more water if necessary.
Drizzle pasta and vegetable mixture with 2 tablespoons olive oil. Serve with red pepper flakes and freshly grated Parmesan cheese.
Are you following me on Instagram, Twitter, Facebook and Pinterest? If you'd like to subscribe to Aggie's Kitchen and have each post delivered straight to your e-mail box, then please add your email here. Happy cooking!
There are affiliate links in this post. I make small earnings through any purchases made through these links. Thank you for supporting Aggie's Kitchen!