What Books To Read On Thanksgiving Break
Is everyone ready for this upcoming long weekend? I know I am. My family and I are changing things up a bit this year and going on a "staycation" – my parents have a couple timeshares in the Disney area and we (my parents, grandparents, siblings and their families) are all going be together for a couple of days relaxing resort-style – meaning, hopefully swimming in a heated pool, "playing" tennis and shuffleboard, hitting the game room and of course, lots of eating. 🙂 The family hasn't all been away together like this in a long time so we are all very much looking forward to it. My grandpa just happily informed me he's making dinner Wednesday night (calzones!) and that he's packing a deck of Italian playing cards – I have a feeling he'll be schooling the little ones on how to play Briscola and Scopa kinda like he and my grandma taught me when I was a young girl. (the fact that I was even able find rules of those games on Google just amaze me…)
You know what else I'm really looking forward to? Getting through this beast of a book:
11/22/63 by Stephen King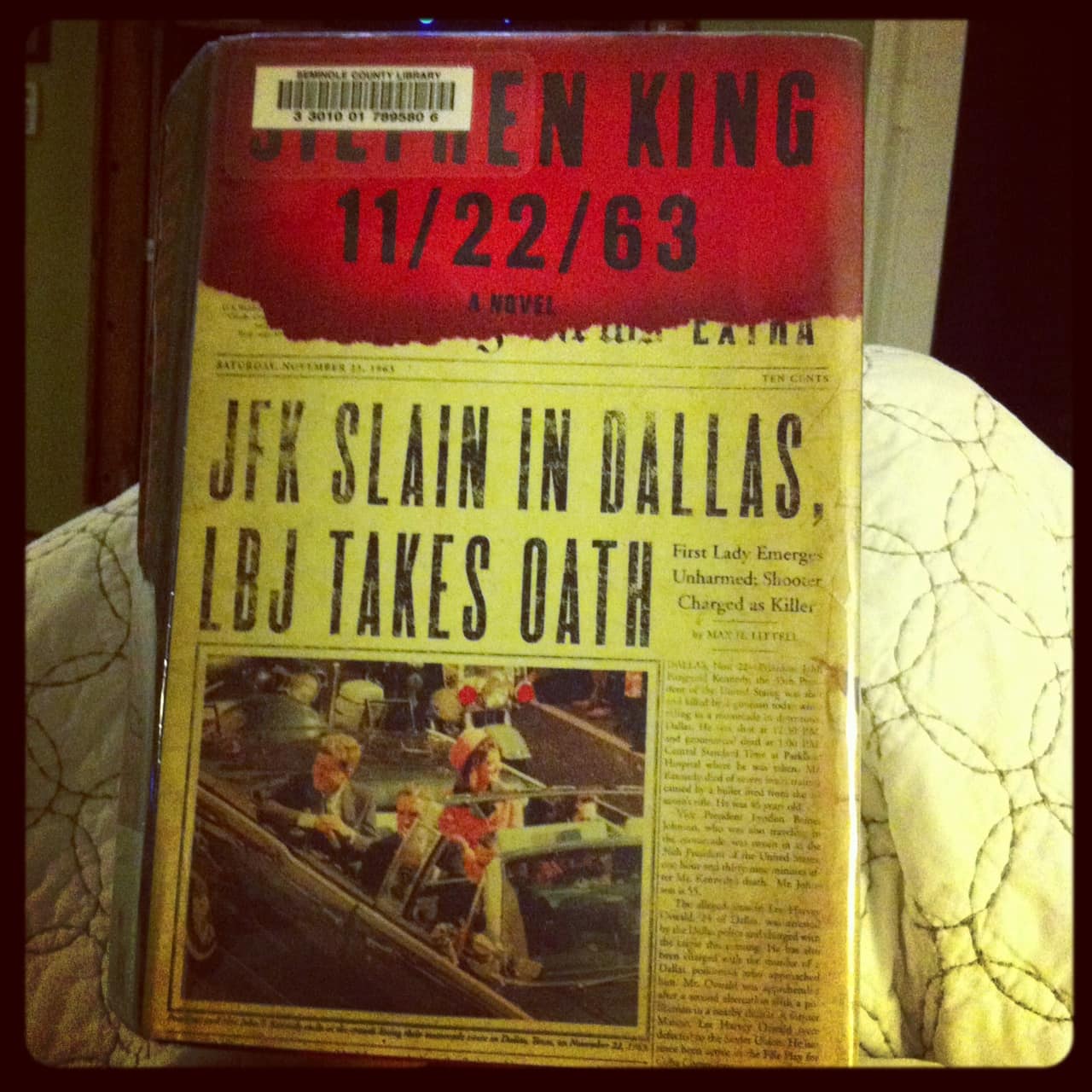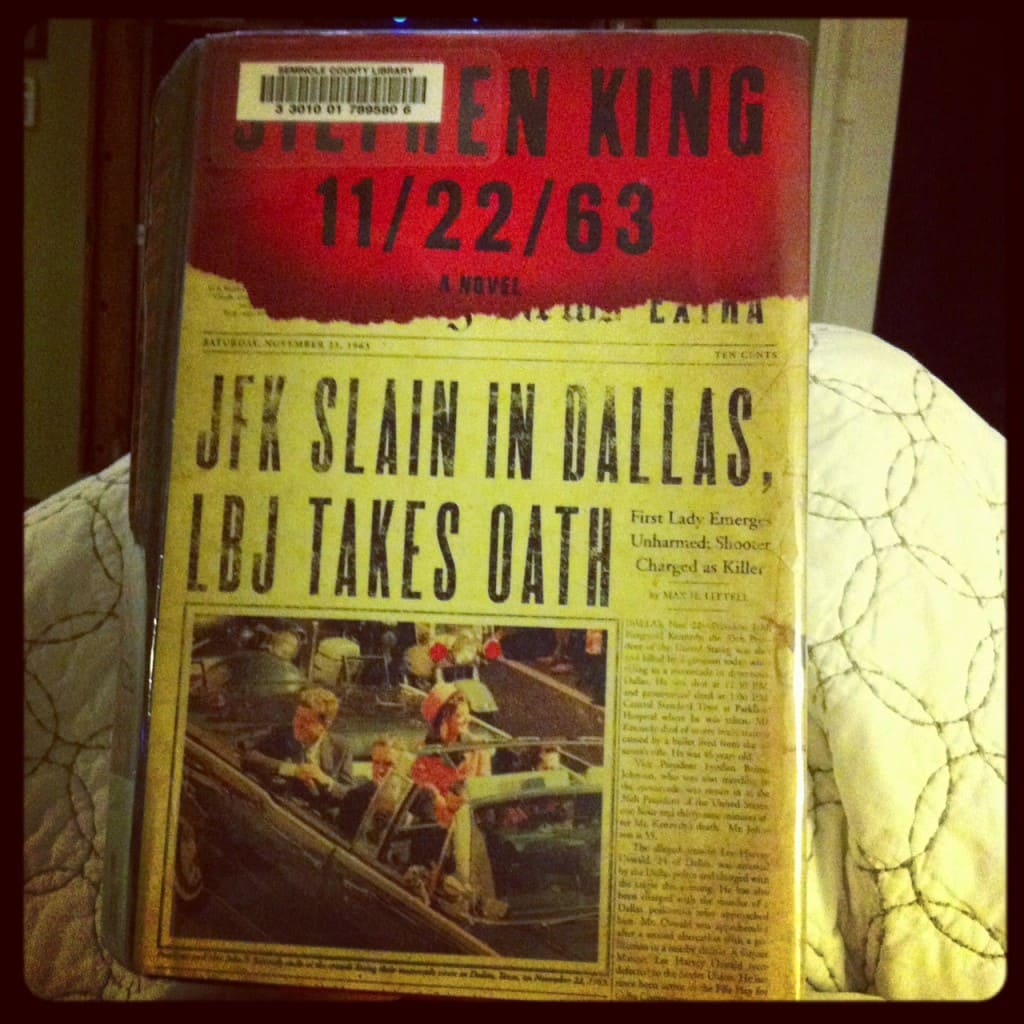 Yep, all 849 pages of it. People, I can't put this book down. My friend Kristen recommended it to me last month and I was thrilled when it popped up in my ready-to-pick-up queue at the library.
What's it about? Well, I have a hard time explaining it but basically it's about a present day English teacher who stumbles onto a secret portal that takes him back to a particular day in 1958. After his first trip back in time, he makes it his mission (obsession) to change history and prevent the Kennedy assassination.
I've personally never been very into time travel stories but I have to tell you this one sucked me right in. I would usually hesitate to pick up such a huge book (though for whatever reason I came home from Costco the other day with a 700+ page book, Lincoln – not really sure what has gotten into me. We'll see if that one gets read any time soon). Everyone that has read this Stephen King book has given me great reviews, and so far I absolutely agree.
If you are looking for something a little lighter, maybe not so big, here are a few reads that have kept me entertained the last few months that are worth starting over the long weekend.

Gone Girl – one of the best books I've read in a long time, I had no idea what it was about going in (other than there was a sociopath involved) and got hooked into the suspensful story immediately. Highly recommend if you haven't already read it.
Where We Belong – an emotional story of a girl who seeks out her birth mother, a good light read that you can get through quickly.
Mrs. Kennedy and Me – I'm a sucker for all things Kennedy. I loved this book written by her Secret Service agent during the Kennedy presidency and assassination. If you are into the Kennedys, presidents or history I think you'll like this one.
The Orchard – another good read recommended by Kristen, this one is a memoir about a family owned apple orchard and farm, relationships, secrets and agriculture. I found it a little sad and an eye opener at the same time – worth a read.
On the side table:
The Sun Also Rises by Ernest Hemingway – After reading The Paris Wife, I decided I was going to read this a couple of his books, starting with this one. I think I may have read it in high school for English class, but I think it's time to read again.
The Innocent by David Baldacci – I have read and enjoyed quite a few books from this author.
Team of Rivals: Lincoln – I love reading books before I see the movie so I'm motivated to get a start on this lofty book. My brother in law read it and enjoyed it so I am going to take the plunge and dive into it…soon.
I think I'm going to have to squeeze in an easy chick-lit type book in between these. 🙂
Want more book recs? Check out Kristen's book review category. You will surely find something to read there. It's always fun to discuss books with friends who love to read as much as you do isn't it? Tell me, what are you reading these days?
Are you following me on Instagram, Twitter, Facebook and Pinterest? If you'd like to subscribe to Aggie's Kitchen and have each post delivered straight to your e-mail box, then please add your email here. Happy cooking!
There are affiliate links in this post. I make small earnings through any purchases made through these links. Thank you for supporting Aggie's Kitchen!