Turkey Chili with Bush's Pinto Beans and Mushrooms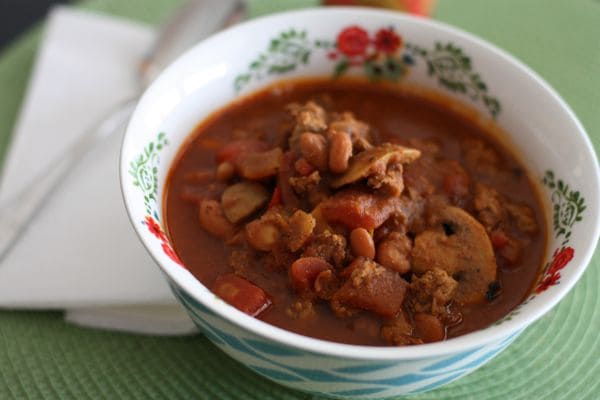 I try to listen to my body when it comes to cravings. I have heard often enough that when your body is craving certain foods, it could mean that maybe it needs or is lacking a certain nutrient that is found in the food you are craving.
Or that could all be baloney and you're really just hungry, obsessed with food, stubborn or all of the above. I choose all of the above (most of the time).
I don't eat a huge amount of meat anymore, so when I find myself craving something meaty, I usually just give in. Like today. All I could think of was chili. It may be because over the weekend I mentioned to my husband that I wanted to make a big pot of chili for our next game day meal. The craving was reinforced even more after talking with a friend who mentioned chili as well. After that conversation the skies got real dark and the air even changed just enough to make me realize…I needed to make chili. For dinner.

My pot of chili usually consists of lots of veggies, dried chiles, a couple different types of beans and sometimes even beer and/or a few squares of dark chocolate. Since this was going to be a weeknight pot of chili, I decided to keep things simple. In the effort to keep things light yet satisfying, I used a lean ground turkey bulked up with sliced mushrooms. It turned out perfect, in just under an hour, which worked out absolutely wonderful for a school night.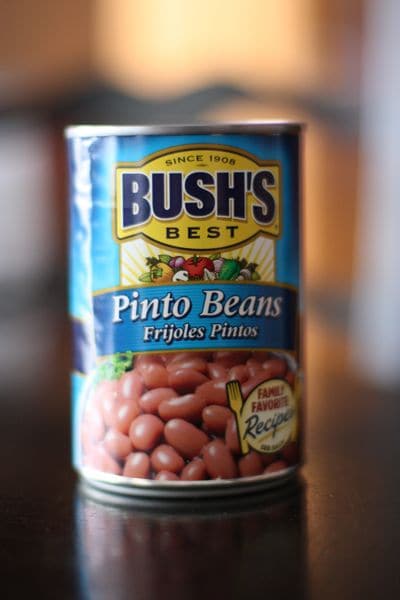 Bush's Pinto Beans, chili spices and canned diced tomatoes are pantry staples, which along with a few fresh ingredients turned this chili a great weeknight meal. With leftovers – bonus!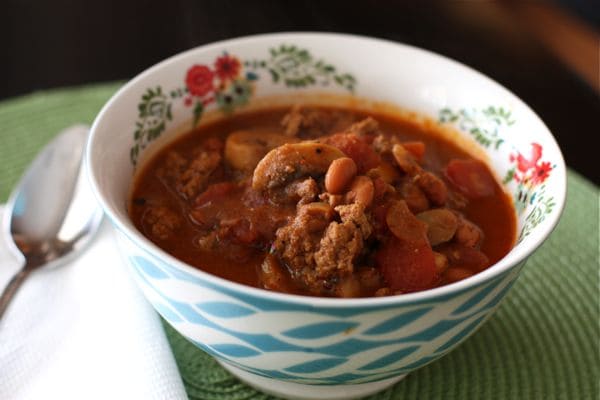 PS…I took these photos immediately after making the chili. After letting it sit at room temperature for a bit longer (while waiting on my husband to come home from work), it thickened up very nicely. As with all chili recipes, the longer it sits, the more thick and delicious it becomes.
Print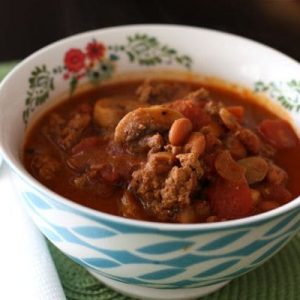 Turkey Chili with Bush's Pinto Beans and Mushrooms
Author:
Category: Ground Turkey
Method: Stove
---
Ingredients
1 teaspoon oil
1 sweet onion, chopped
1 large bell pepper of choice, chopped (I used a bunch of mini yellow and orange peppers, but use whatever you prefer)
1 8 oz container of sliced mushrooms
1 lb lean ground turkey
2 15 oz cans diced tomatoes
2 15 oz cans Bush's Pinto Beans, drained and rinsed
1 15 oz can of water
2 tablespoons chili powder
1 teaspoon smoked paprika
1 teaspoon cumin
1 teaspoon garlic powder
1/2 teaspoon onion powder
1 teaspoon dried oregano
salt and pepper to taste
---
Instructions
Heat 1 teaspoon oil in large heavy bottomed pot over medium-high heat. Add chopped onion, peppers, and mushrooms. Saute for about 5 minutes until softened. Add ground turkey and break up into small pieces using a wooden spoon. Season turkey and vegetable mixture with spices and a small pinch salt and pepper and continue to cook until ground turkey is browned and cooked through, about 10 minutes.
Once turkey is cooked through add beans to pot and gently stir. Cook for about 3-4 minutes. Add tomatoes and water (I filled 1 tomato can full of water) to pot and bring to a boil. Reduce heat to low, cover and let simmer for about 25-30 minutes. Take cover off pot toward end of cooking time to allow chili to thicken up. Taste for salt and pepper.
Serve as is, or with your favorite fixings.
Note: Go easy on the salt when you are preparing chili. Taste as you ago and adjust along the way. When using pantry items such as canned tomatoes or beans it's hard to know how much salt you need until you taste it.
Disclosure: I am in a working relationship with Bush's Beans. All my opinions are my own.
Are you following me on Instagram, Twitter, Facebook and Pinterest? If you'd like to subscribe to Aggie's Kitchen and have each post delivered straight to your e-mail box, then please add your email here. Happy cooking!
There are affiliate links in this post. I make small earnings through any purchases made through these links. Thank you for supporting Aggie's Kitchen!