Tangy Tuna Salad Wraps…and a 17 Day Diet recap
So it's been a few posts since I mentioned the 'diet'. Ugh. That word still makes me cringe. So I did it, I played with the diet for 2 weeks (almost 17 days). I ate well, I detoxed my body, I felt good, I was cranky, I lost 7 pounds, I'm drinking less wine, I re-developed good eating habits, I rebelled a little, I lost the holiday bloat, I moved on. I am no longer on a 'diet'. Ugh. Thank goodness.
It was a good thing for me to do though (not going to complain about losing 7 pounds that's for sure!!). It got me disciplined again. When I start to lack discipline in my life things start to go a little haywire. I am learning this. And it's not just when it comes to discipline in my eating habits. It works in all aspects of my life…exercise, social media, spirituality, daily routine…my life runs better when I practice discipline in all these areas. For instance…obviously, because of what I do here on this blog and over on Babble, I am entrenched in the world of social media. I love it… I love the interaction, the chatter, being so involved in something I am so passionate about, it's my livelihood…but when it comes down to family/life/work balance, I have got to practice discipline in how much social media is in my world. So I recently took the Facebook and Twitter applications off my phone. I just had to do it. It keeps me from getting distracted when I'm with my kids, keeps my mind from being 'too plugged in' and just keeps me happy. This is an experiment I've played with a few times over the last year, and I am a much happier, more tuned in mother, wife and person when I practice 'social media discipline'. Does any of this make sense or am I totally rambling here?
Ok, so enough about all that. Let's talk about these tuna salad wraps that I've been making for my lunch the past few weeks. I started making it because of the 'diet' and I'm going to continue to eat it as part of my 'lifestyle'. It's good. It's good because it's light, easy to make, low on the carbs, full of protein and um…it just tastes good. It's not your everyday tuna salad either…there are a few secret ingredients that make it so good…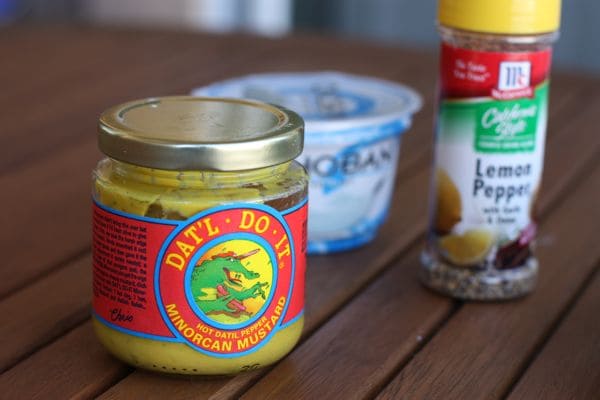 Yep, mustard, Greek yogurt and lemon pepper seasoning. Just a little bit of all 3 of these things and you've got yourself some good tuna salad for lunch.
If you can find that mustard up there, please, buy it. It's SO good. But if you can't, then find yourself a fun mustard to try…dijon would be fine here, but I really love trying all kinds of mustards so play around with this one.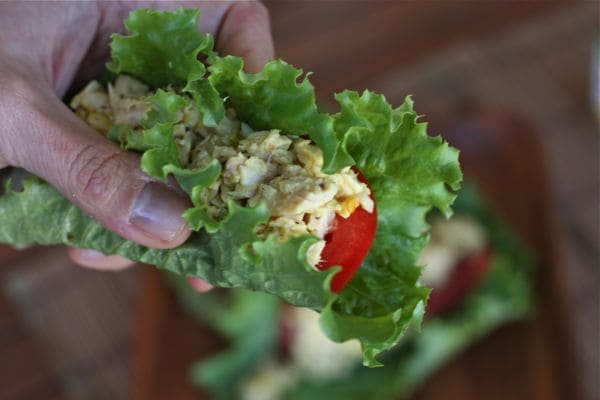 Easy peasy. Enjoy!
Print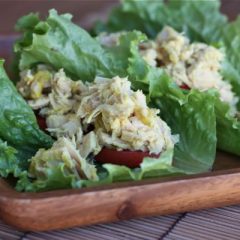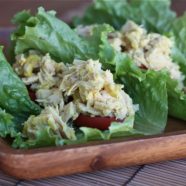 Tangy Tuna Salad Wraps
Author:
Yield: serves 1
Category: Fish
---
Ingredients
1 can albacore tuna in water, drained well
1 tablespoon plain non-fat Greek yogurt
1 tablespoon mustard (find a good mustard for this!)
a couple of pinches of lemon pepper seasoning
3 leaves of lettuce (I like green leaf lettuce for these, but use what you have)
thinly sliced tomatoes
---
Instructions
In a bowl, combine tuna, yogurt, mustard and lemon pepper. Set up your lettuce leafs as boats and top with sliced tomatoes and tuna.
Are you following me on Instagram, Twitter, Facebook and Pinterest? If you'd like to subscribe to Aggie's Kitchen and have each post delivered straight to your e-mail box, then please add your email here. Happy cooking!
There are affiliate links in this post. I make small earnings through any purchases made through these links. Thank you for supporting Aggie's Kitchen!