Szechuan Shrimp and Vegetable Stir Fry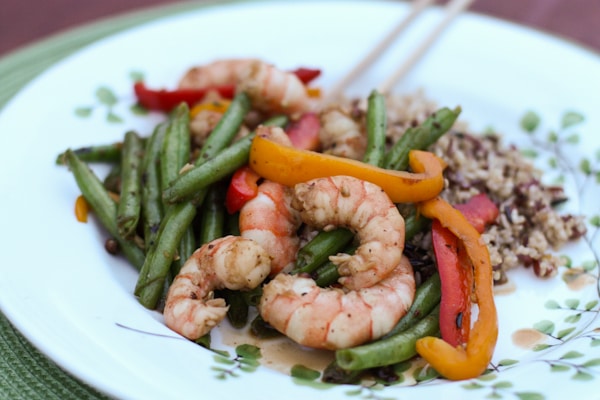 Stir fry is definitely the way to go if you are looking for fresh, fast and good for you at dinner time. I mean, just look at that plate of food. I could eat that plate up several times a week with no complaints.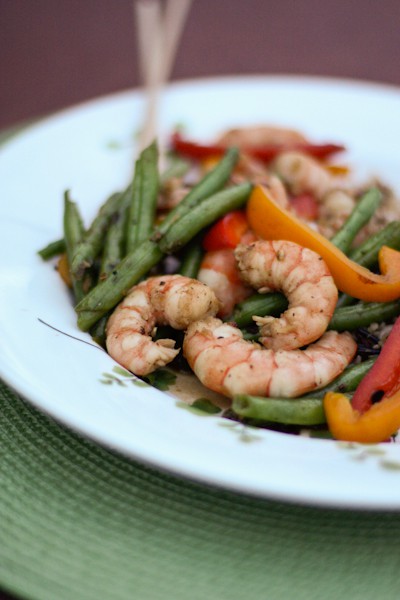 The key to a successful stir fry is to make sure you have all of your ingredients prepped ahead of time. Cut and clean your shrimp and vegetables ahead of time and make sure they are dry before putting them in the pan (the water on wet veggies takes away from the crisp and dry part of stir frying). Also, get your aromatics (garlic, ginger, spices) ready because those are a big part of the cooking process. Stir fry is quick and beyond satisfying if you do it right.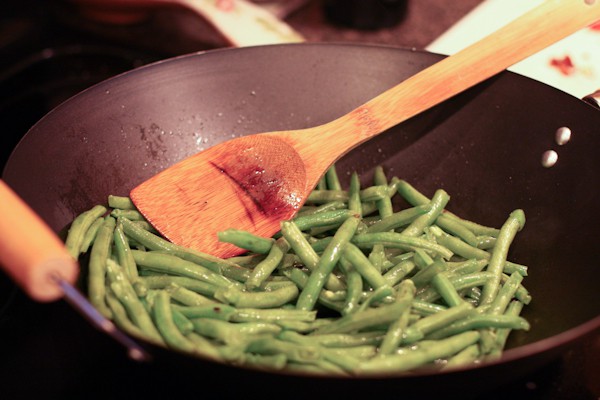 For the most part, my stir fries are very basic – protein, veggie, ginger, garlic and soy sauce. For this shrimp and veggie stir fry I added a special ingredient – szechuan peppercorns (by the way, szechuan – or sichuan – is not a pepper like you might think, it's very aromatic and not spicy at all!). I learned of them years ago and finally picked up a jar on a field trip to my favorite spice store Penzey's recently. Don't be intimidated by them, challenge yourself to try something new – I think you'll be pleased. I know I was.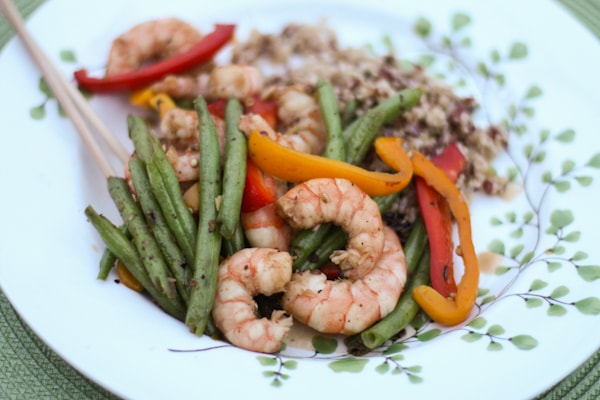 Szechuan Shrimp and Vegetable Stir Fry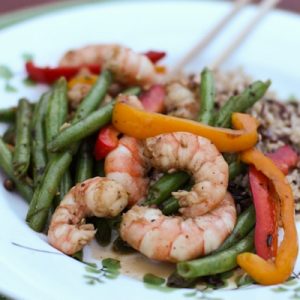 Ingredients:
1 lb shrimp, peeled and deveined
salt and pepper, to taste
1 lb fresh green beans, trimmed
1 red or yellow bell pepper, cut into strips
2 teaspoons vegetable or canola oil, divided
1/2 teaspoon red pepper flakes
3 cloves garlic, minced
1 inch ginger, peeled and minced
1 1/2 teaspoon whole szechuan peppercorns, toasted then crushed (this video shows you how to do this easily)
3 tablespoons soy sauce
Directions:
Heat 1 teaspoon oil in wok over medium high heat. Add shrimp, season with salt and pepper and stir fry for 3-4 minutes until shrimp are pink. Take shrimp out of wok and set aside in a dish.
Add additional teaspoon of oil into wok and add red pepper flakes and crushed szechuan peppercorns, stir for 10 seconds. Add minced garlic and ginger to pan and stir for about 10 – 20 more seconds, until fragrant. At this time, add green beans to wok and stir fry for up to 2 minutes. Add pepper strips to green beans and stir fry for another 1-2 minutes. Add shrimp back into pan and pour soy sauce over shrimp and vegetable mixture. Gently toss for another minute, then serve hot over prepared rice.
Notes: I serve my stir fry with this sprouted rice and quinoa blend I recently discovered at Costco – I love this stuff!!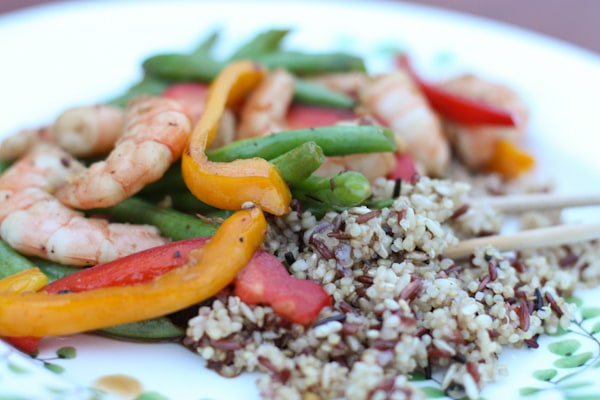 Are you following me on Instagram, Twitter, Facebook and Pinterest? If you'd like to subscribe to Aggie's Kitchen and have each post delivered straight to your e-mail box, then please add your email here. Happy cooking!
There are affiliate links in this post. I make small earnings through any purchases made through these links. Thank you for supporting Aggie's Kitchen!