Super Salad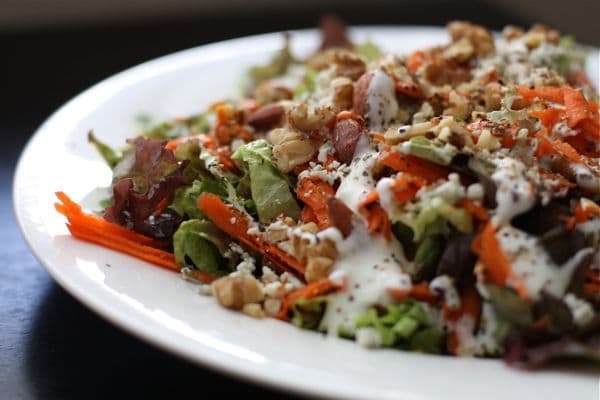 Don't laugh, but ever since I titled this post earlier this morning I have not been able to get the song Super Bass out of my head.
Moving on…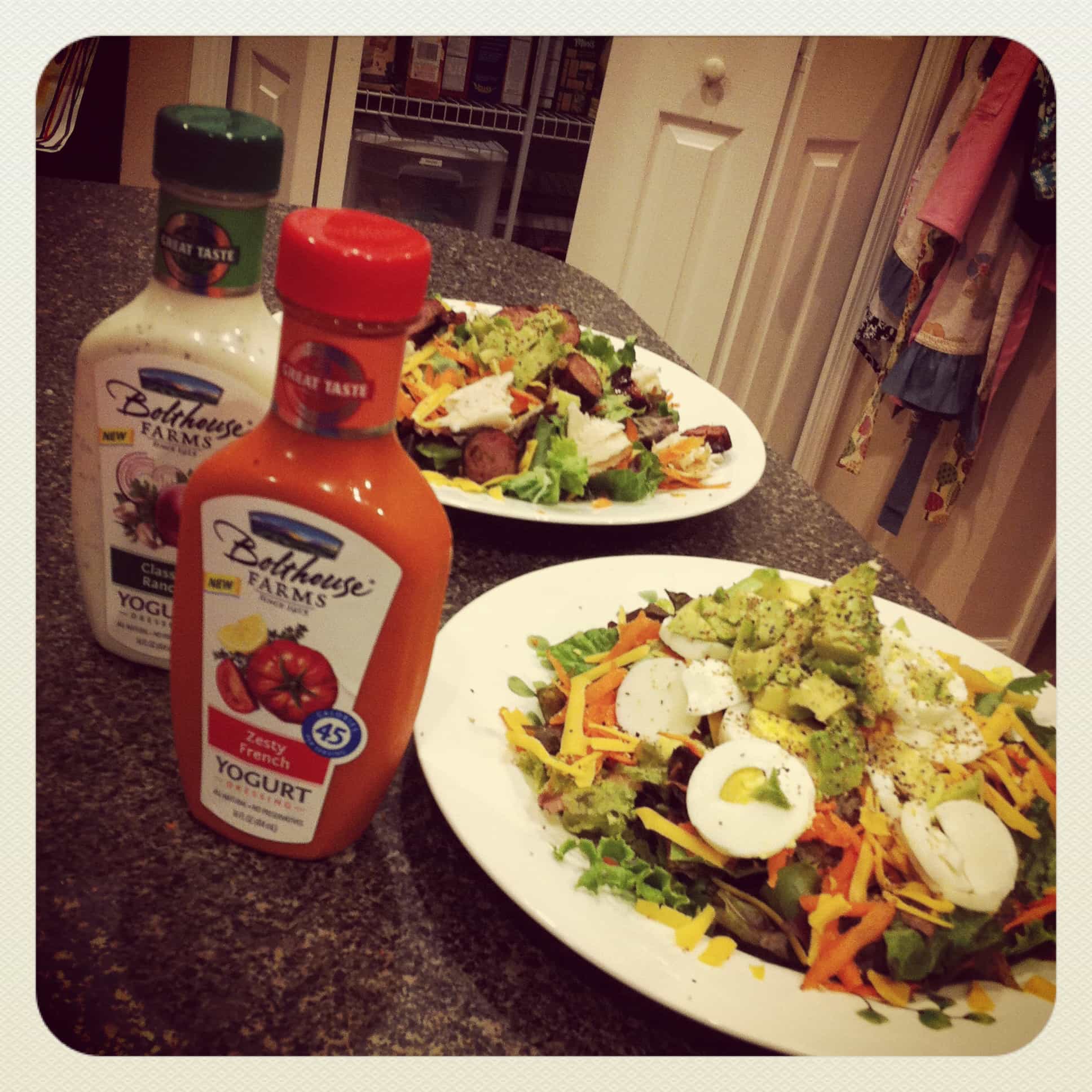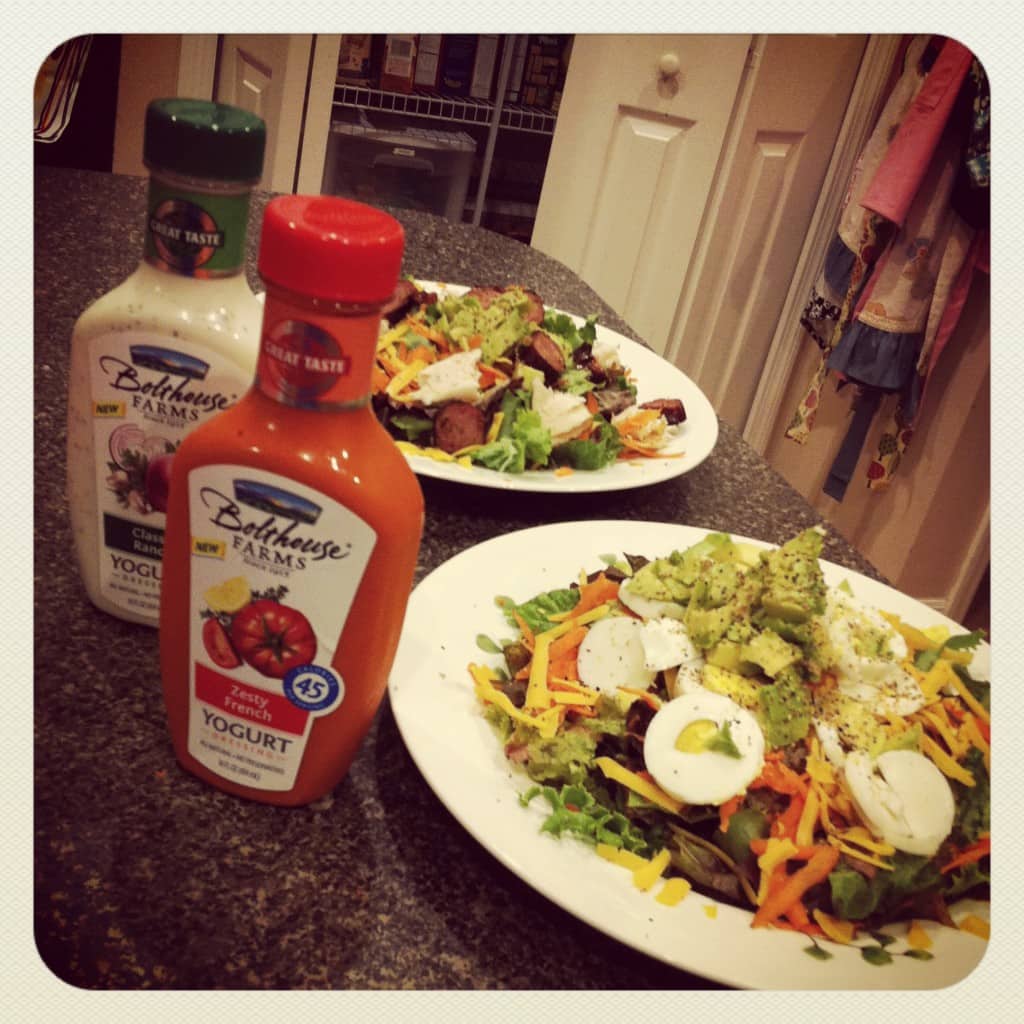 I have been eating a big salad every single day for the past week. I know this because I posted the picture shown above on Instagram exactly a week ago…not realizing how huge of an impact those two new salad dressings I randomly picked up that day were going to be on my eating habits this past week. I'm not kidding when I say HUGE salad either. The salad shown above has evolved since first photographed.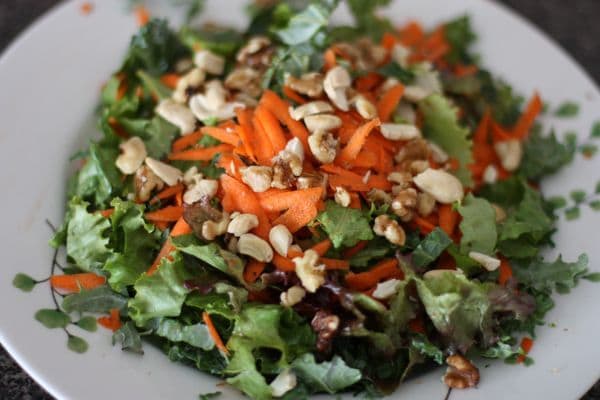 Since that night I have added all kinds of goodness to my salad plate…each salad has been consisting of a ton of greens – including my new favorite salad green in the world, Red Russian Kale (thank you Kayln for that suggestion!!) – 2 shredded carrots, nuts or hard boiled egg or avocado, some sort of shredded or crumbled cheese and the secret ingredient, lemon pepper seasoning.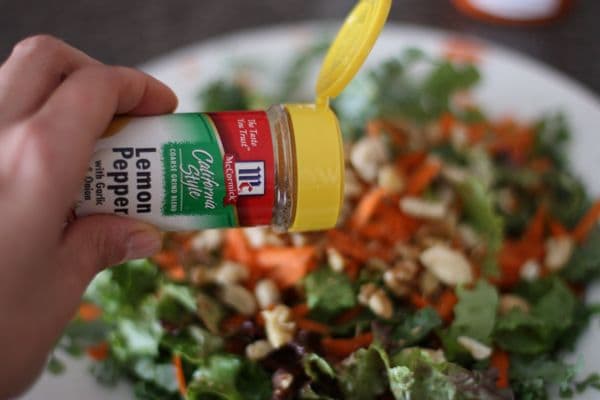 This is not a sponsored post by ANY means. This is a go make yourself a salad post. With these dressings. And this lemon pepper seasoning. Call me crazy, but I've been looking forward to my Super Salad every day.
I can finally say that I am out of my salad rut.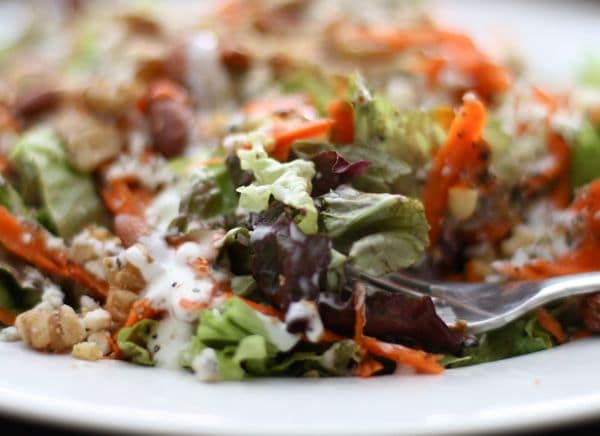 Make your own super salad. Here's what you need:
Mixed Lettuces and Greens – I know those bagged salad mixes are tempting to buy, but I swear, they are the reason why I got in a salad rut to begin with. They made sad salads in my opinion. Buy yourself heads of lettuce. Try something new…green leaf, red leaf, butter lettuce, kales. Wash them when you get home. Fill your (clean) sink with cold water and take the leaves off (whole) and place them in the cold water. When you are done, set them out to dry for a bit on the counter on dish towels. Once they are completely dry, place them in large ziploc bags with 1 folded paper towel to absorb any moisture) and store in the fridge. When you are ready to make your salad, all you have to do is pull out a bunch of different leaves, and tear them up right into your plate. So fresh, you will never buy bagged salad mix again.
Carrots – Carrots are good for you. I have been spending the extra 20 cents and buying organic carrots because they taste SO much better (I don't buy a lot of organic, so I'm really not just saying that for the sake of preaching organic) and because I never bother peeling my carrots so I feel better knowing they are organic. Take your box grater (clean of course) and place it right on your salad plate over your mess of greens. Grate those carrots. Yes, you'll have a pile of them, so just gently toss them up with your greens to spread them around. You've got yourself a nice bulky salad base now.
Protein – Add your protein of choice now. If you've got leftover grilled chicken, dice it up and throw it on. I like to use chopped hard boiled eggs, avocado or nuts. I picked up some raw walnuts and cashews last week and have been using them for crunch (and protein) along with some salty smoked almonds.
Cheese – Cheese is a treat. Cut yourself up piece of cheese off the block (for portion control) and shred it right on there just like the carrots. I've been using Cracker Barrel 2% cheddar and it's been pretty great. I also love crumbly gorgonzola. Have fun with this part of your salad, but don't go overboard…it's pretty obvious why right?
Dressing – I have always been an oil & vinegar/vinaigrette girl. Right now, I'm obsessed with those Bolthouse yogurt dressings (only 40 something calories a serving! and it tastes good!) so I'm riding the creamy salad dressings out for a while. I find myself not being able to decide between French and Ranch lately, so I do half and half. It's your salad, do whatever you want.
Lemon Pepper Seasoning – get the California Style if you can find it. I love the stuff.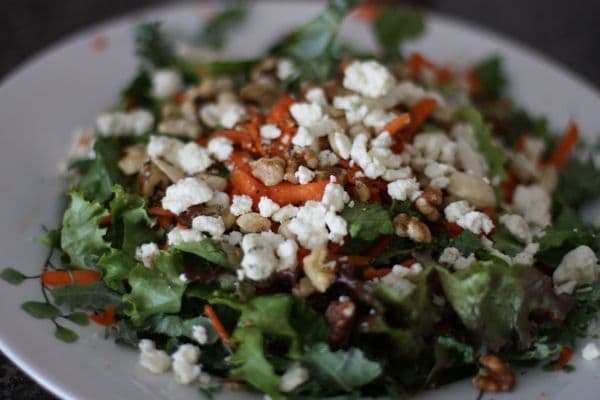 So there you have it.
The Super Salad. Enjoy.
Are you following me on Instagram, Twitter, Facebook and Pinterest? If you'd like to subscribe to Aggie's Kitchen and have each post delivered straight to your e-mail box, then please add your email here. Happy cooking!
There are affiliate links in this post. I make small earnings through any purchases made through these links. Thank you for supporting Aggie's Kitchen!