Summer Vegetable Soup with Pesto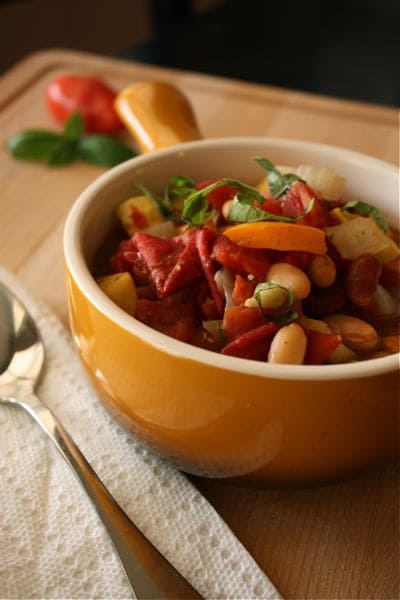 So yes I know it's summer and I'm posting about soup. It just doesn't seem right does it? But after being away from home for almost a week (and after eating lots of good food and drinking lots of good wine and of course let's not forget the not so good stuff that goes along with travel), all I wanted when I got home was a big comforting bowl of vegetable soup.
If you follow me on Facebook, you probably have heard me mention "detox soup" quite often. This soup would definitely fall in the detox soup category. It's one of those soups that is nothing but good for you, full of clean veggies and protein and if you are feeling a little "off" will get you back on track in no time.

It's kind of funny how I was inspired to make this soup. Part of the reason for the craving is that last week when I was in the airport waiting to board my plane for Utah, I was catching up on some blog reading. I stumbled upon this recipe for Garden Vegetable Chili on Make and Takes written by Lindsey of Cafe Johnsonia. Although it was 6:30 in the morning and I was sitting in an airport, I instantly got a craving for a bowl of this soup. I kept thinking, when I get home, I am making Garden Vegetable Chili. So, fast forward a few hours…I am finally in Salt Lake City walking in late to Helene of Tartelette's Food Photography workshop (put on by foodiecrush) and who do I see sitting at one of the tables? Lindsay of Cafe Johnsonia. I just thought that was kinda cute and funny.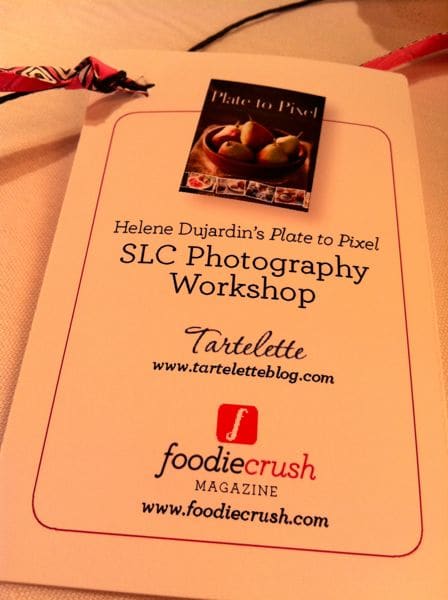 So technically I really didn't follow the recipe for Lindsay's soup…but it definitely did inspire me to make my own version when I got home. I ended up going a different route and adding homemade pesto to the vegetables before I cooked them down to give it a little extra flavor. I loved it and so did my whole family! My kids, my husband and I enjoyed this for dinner one night last week…it hit the spot in our bellies and also helped clear out my overflowing produce drawer. Can't beat that.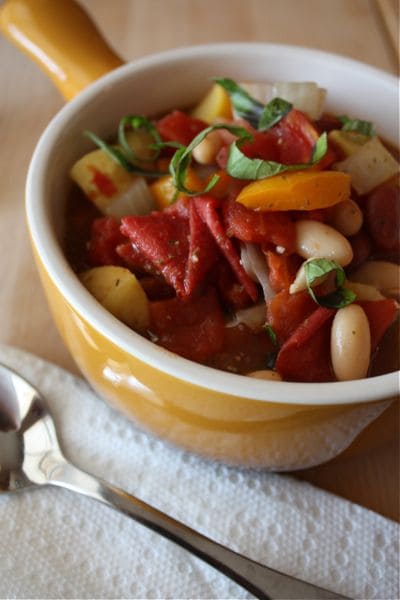 Summer Vegetable Soup with Pesto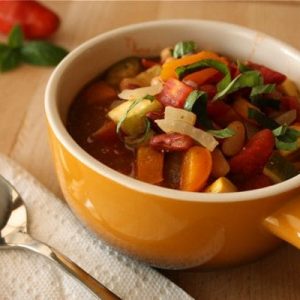 Ingredients:
4 tablespoon pesto (preferably homemade, but store bought is fine)
1 large onion, chopped
2 cloves garlic, minced
1 red or orange bell pepper, chopped
1 large zucchini, chopped
2 summer squash, chopped
1 can kidney beans, drained but not rinsed (I prefer Bush's Beans kidney beans)
1 can cannellini beans, drained but not rinsed (I prefer Bush's Beans cannellini beans)
1 large can of diced tomatoes (I used regular, but Italian seasoned is fine)
1/4-1/2 cup of water (I add water to tomato can and swirl to pick up any additional juice from can)
pinch salt and pepper to taste
julienned basil, for garnish
Parmesan, grated, for serving
Directions:
Add pesto, onions and garlic to large pot over medium heat. Stir with wooden spoon and cook for a few minutes till onions begin to soften. Add bell pepper, zucchini and squash to pot and combine gently until all vegetables are coated in pesto. Cook for a few more minutes until vegetables begin to soften.
At this pointed I transferred vegetable mixture to crockpot. With the vegetables I added the beans, tomatoes, water salt and pepper to crockpot, set it on high and let it cook for 3-4 hours.
If you prefer to leave it on stove top, add beans, tomatoes, water, salt and pepper to pot and bring to a slow boil. Once it's boiling, bring soup down to a simmer and let cook for about 30 minutes. Taste and adjust for salt and pepper.
Serve with grated Parmesan and julienned basil for a light summer dinner.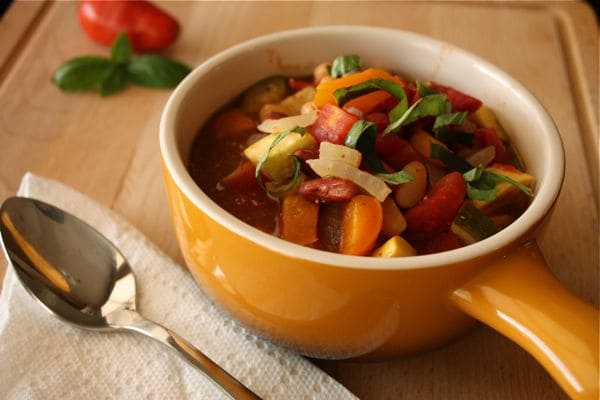 Are you following me on Instagram, Twitter, Facebook and Pinterest? If you'd like to subscribe to Aggie's Kitchen and have each post delivered straight to your e-mail box, then please add your email here. Happy cooking!
There are affiliate links in this post. I make small earnings through any purchases made through these links. Thank you for supporting Aggie's Kitchen!