Spinach and Eggplant Salad and Getting out of a Funk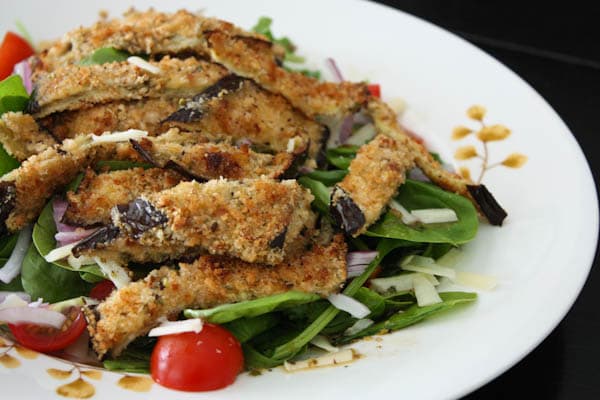 I've been in quite the funk lately. For no reason really, other than maybe I just haven't been treating myself very well…i.e. over-indulging in food and drinks, not enough sleep or exercise, and just too much stinkin' thinkin'…you know the drill. I am at the point in my life where I really know myself and I know when I get in these "not feeling well" funks the only way out of it is changing my way of thinking and discipline. The power of Positive Thinking is no joke…it can really make or break your day whether your mind is in a positive place or not. And as far as discipline goes…for me, just recognizing the things that I know make me feel better, writing them down and putting them somewhere where I can look at them throughout the day really helps change my frame of mind. Also surrounding myself with positive people and quality family time are super important. Sometimes you just gotta know when to feed the soul.
Here's what's on my "What Makes Me Feel Good List" right now (taped to my bedroom mirror):
Take vitamins every day
Swimming
Yoga
Pilates
Running
Lots of Water
Unplugging early in the evening
Getting to sleep before 11
Waking up early
Routine
These are things I know I can accomplish most days…actually, every day. Daily exercise is very important to my mental well-being so rotating my favorites helps to motivate me and keep things interesting. It all sounds very simple…but I think when we get into those "funks" we really have to focus on simple…and before you know it you are feeling like yourself again.
On my quest to "de-funk" my attitude…I'm really trying to eat clean. Lots of fruits, veggies and good protein make me feel good so I'm trying to stick with all things healthy at the moment. I'm starting my days off this week with a Super Juice that I make in my juicer (bunch of kale, 2 celery sticks, 2 apples, 1 cucumber and 1 beet) and sip on it while I get the kids ready for school (and before my coffee!).
Of course, just because I'm eating clean and healthy doesn't mean I won't be eating well. This Spinach and Eggplant salad is one of my absolute favorite salads to eat for dinner or lunch. I can't take credit for this creation, I actually have been ordering it at our local pizza place for some time now and just started finally making it at home.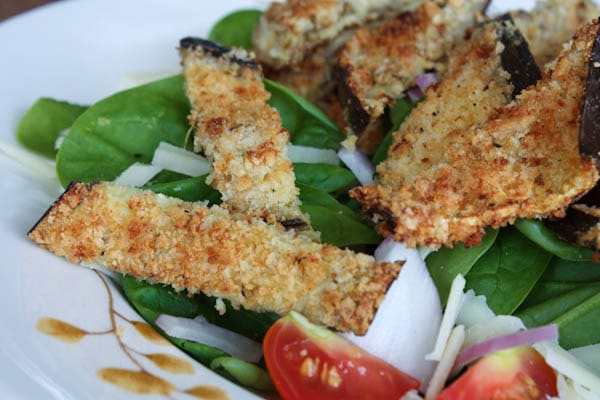 I start with a base of fresh spinach leaves and then pile on the red onions, tomatoes, parmesan or mozzarella cheese and of course strips of the Baked Breaded Eggplant that I love. I make a quick dressing out of red wine vinegar, olive oil, oregano, salt and pepper. If I have some kalamata olives around I add those too.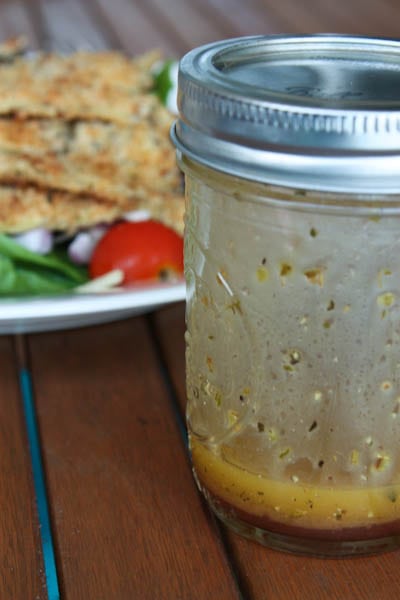 Delicious!!
Print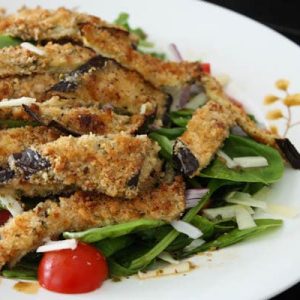 Spinach and Eggplant Salad
Author:
Category: Salad
---
Ingredients
1–2 handfuls of fresh spinach leaves
1 cup cherry tomatoes, halved
1/4 red onion, sliced thin
shredded mozzarella or parmesan cheese
2–3 slices Baked Breaded Eggplant, warmed in oven or toaster oven and cut in strips
kalamata olives, optional
Simple Red Wine Vinaigrette (recipe below)
Simple Red Wine Vinaigrette
2 tablespoons red wine vinegar
2 tablespoons olive oil
1/2 teaspoon dijon
1 small pinch dried oregano
small pinch salt and fresh ground pepper
---
Instructions
On large plate assemble salad starting with fresh spinach leaves. Top spinach with cherry tomatoes, sliced onion, shredded cheese, kalamata olives (optional) and eggplant. Dress lightly with Simple Red Wine Vinaigrette, to taste.
For the Vinaigrette
Combine all ingredients in a jar or air tight container. Shake until well blended.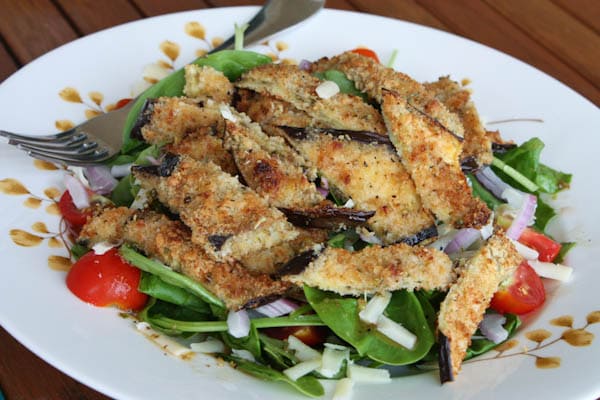 Follow Aggie's Kitchen's board Salads on Pinterest.
Are you following me on Instagram, Twitter, Facebook and Pinterest? If you'd like to subscribe to Aggie's Kitchen and have each post delivered straight to your e-mail box, then please add your email here. Happy cooking!
There are affiliate links in this post. I make small earnings through any purchases made through these links. Thank you for supporting Aggie's Kitchen!