Sicilian Spaghetti with Breadcrumbs…and my favorite meal of the year
Sicilian Spaghetti with Breadcrumbs and Anchovies – part of our Christmas Eve 7 Fishes Feast!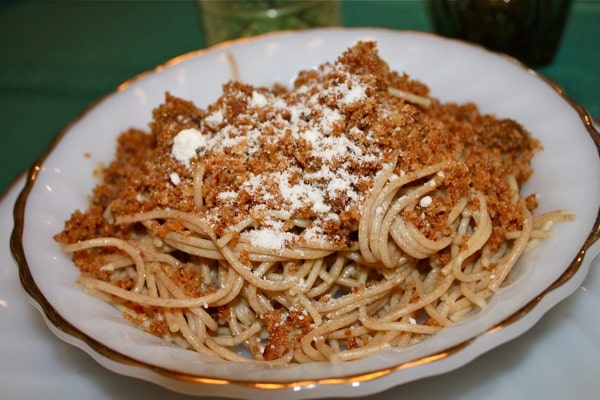 Christmas Eve is by far my favorite meal of the year. For as long as I can remember, we have pretty much eaten mostly the same few dishes (all seafood) every single Christmas Eve and I wouldn't have it any other way. It's a feast I tell you.
I didn't really 'know' this until I was older, but apparently, our Christmas Eve feast is called Feast of the 7 Fishes. For all I knew, growing up, it was just what we did, what we ate on Christmas Eve…I didn't realize it was such a cultural thing until later on. What I love, especially in food blogging world, is seeing other people celebrating Christmas Eve the same way…similar food, similar traditions. It's pretty cool.
These pictures on this post were taken a few years back, I can't believe I am just now blogging about it now. I am shocked it took this long…and that my kids looked like this that year…my babies!!
Sammy was huge into Transformers this year…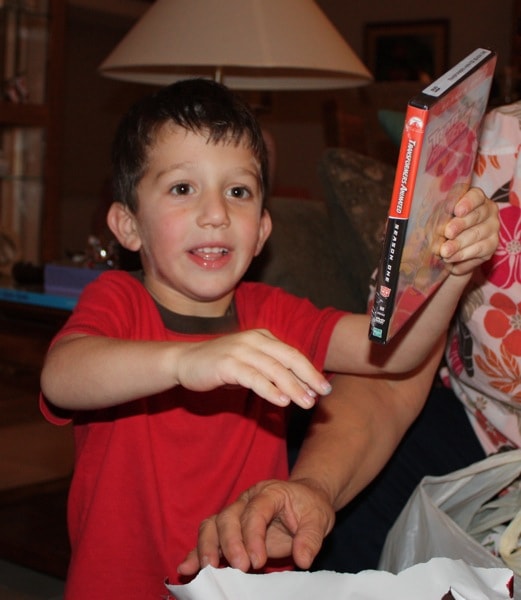 Gosh, I just love the belly on that baby girl…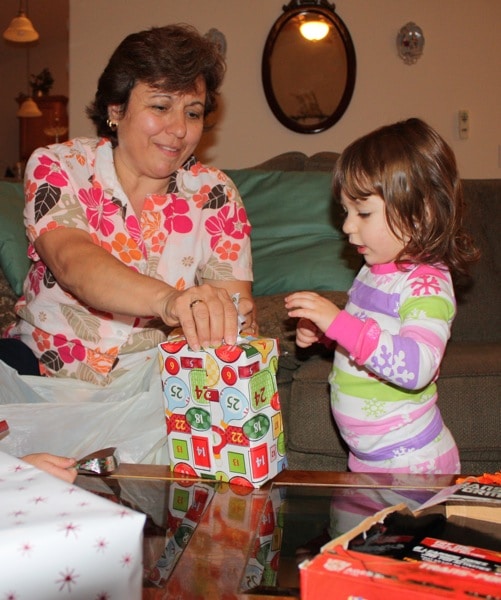 And my sweet grandparents…one of my favorite pictures of them.
Amore!!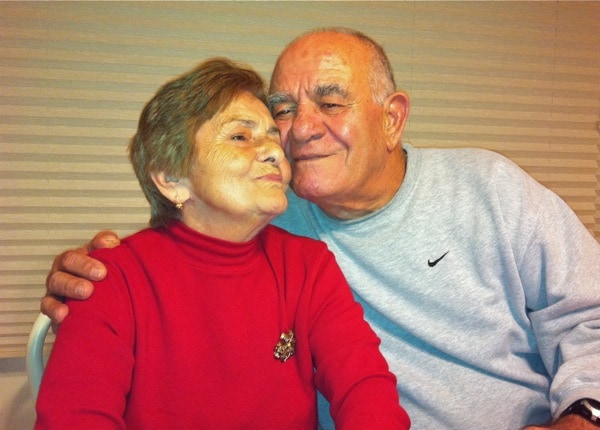 And of course the food…
Here we have simple shrimp cooked in lemon and wine …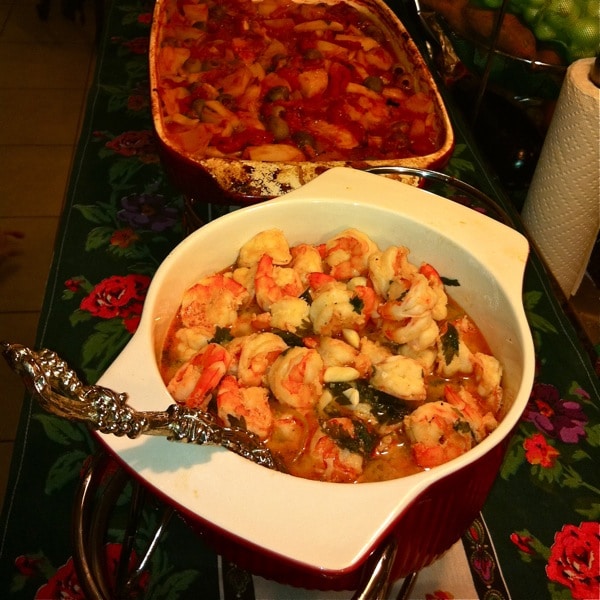 Fish Oreganata (this was my contribution a couple years back)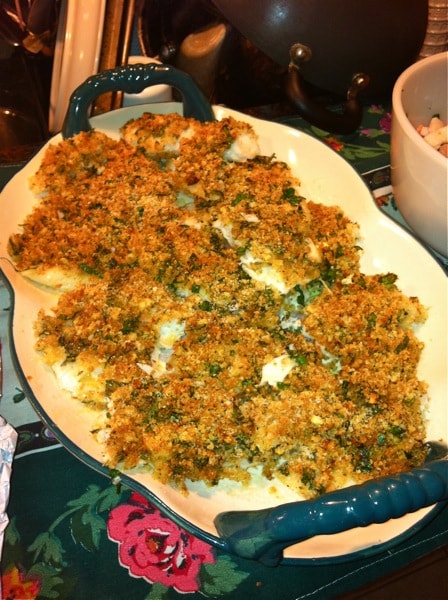 Steamed Mussels with wine and tomatoes (similar to Paula's recipe here)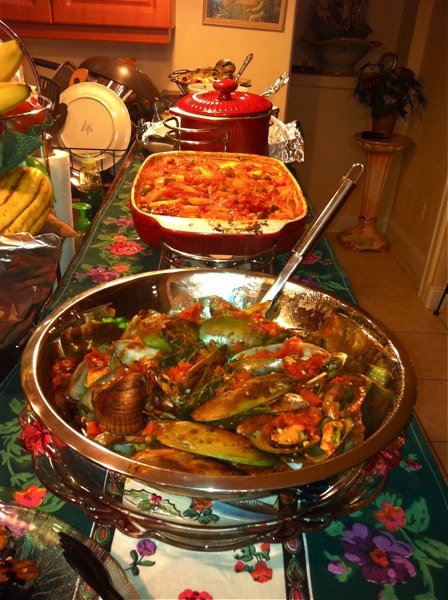 Chilled Seafood Salad… (similar to Gina's Chilled Calamari Salad here)

All seafood…a total feast I tell you.
My absolute favorite is the spaghetti….and the bacala (salted cod fish). I'm going to tell you how we make our spaghetti with breadcrumbs, but I'm going to have to get back to you on the bacala because I need to actually write it down this year while my Nonno is putting it together. It's basically a stew type dish, baked in the oven…salted cod (rinsed many times), tomatoes, celery, onions, potatoes and olives…baked until bubbly and cooked through. Oh so good with crusty Italian bread sopping up the juices. My mouth is watering thinking of it.
Before going in the oven…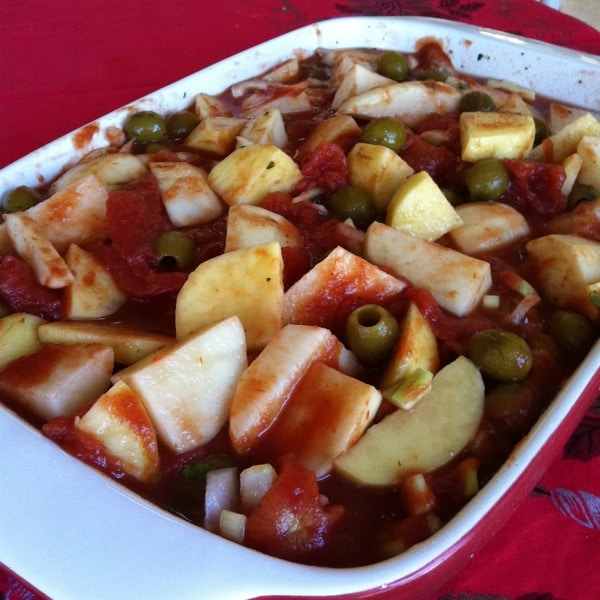 And this spaghetti. We call it Pasta e Muddica. I love saying it and my Nonna always has to correct me because I kinda goof it up sometimes. I love this spaghetti and have NO idea why I don't make it ever on my own. Why do I eat something I love so much only one night a year? I don't understand…
The recipe is one of those 'recipes' that you just follow lightly, there are no measurements, the ingredients are super simple and just perfect in my opinion.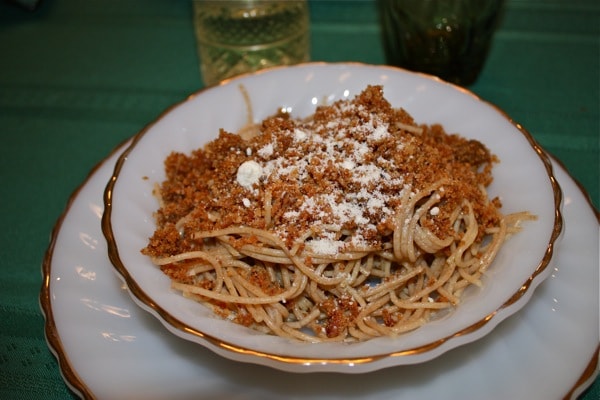 Sicilian Spaghetti with Breadcrumbs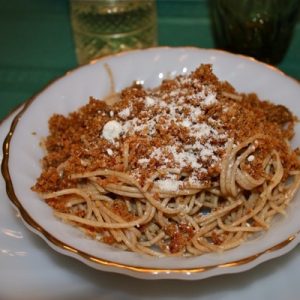 Ingredients:
1lb spaghetti
2 – 2 1/2 cups breadcrumbs (homemade would be best for this recipe, but store bought are definitely okay)
1 tin anchovies, coarsely chopped
3-4 garlic cloves, minced
olive oil
Parmesan cheese
red hot pepper flakes (optional)
Directions:
Cook your spaghetti according to directions, preferably al dente. When cooked, drain and place in large serving bowl, or back in pot. Drizzle a good amount of oil over spaghetti to prevent from sticking.
You will serve your spaghetti in bowls, with additional olive oil and topped with breadcrumb mixture (that can be made ahead of time or while spaghetti is cooking).
To make breadcrumb mixture:
Heat a dry pan over medium-high heat. Add breadcrumbs to hot pan and toast up breadcrumbs till golden brown, careful not to burn.
In a small saucepan, heat a few tablespoons of olive oil over medium heat and add chopped anchovies and garlic. Saute anchovies and garlic for a couple of minutes until anchovies start to melt into the oil and garlic starts to become fragrant. At this time add your breadcrumbs to the anchovies and garlic, with an additional couple of tablespoons of olive oil. Stir together till it becomes crumbly.
Serve your pasta hot into bowls, drizzled with a little olive oil and your breadcrumb topping. Sprinkle grated Parmesan cheese (and red hot pepper flakes if you desire).
Buon appetito!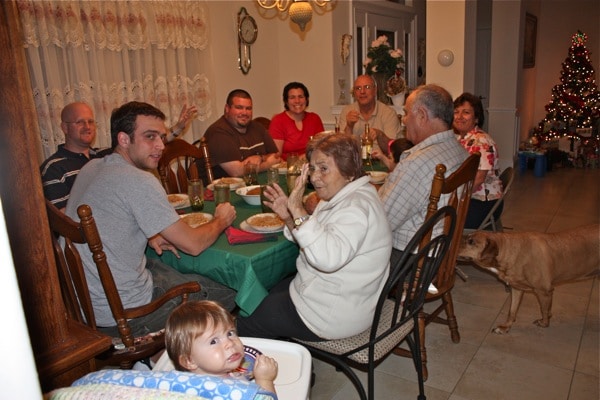 Are you following me on Instagram, Twitter, Facebook and Pinterest? If you'd like to subscribe to Aggie's Kitchen and have each post delivered straight to your e-mail box, then please add your email here. Happy cooking!
There are affiliate links in this post. I make small earnings through any purchases made through these links. Thank you for supporting Aggie's Kitchen!