Seared Sesame Tuna with Orange Sauce
Is anyone starting to get that rushed feeling that you get right before the holidays? We are leaving for a pre-Thanksgiving vacation this weekend and I've been a busy bee trying to get everyone packed up and ready for the trip. Now, most of you know I'm a Florida girl (I was born in NY, but have lived in sunny warm FL for 22 years of my life!), so a trip into the Smokey Mountains is becoming a little overwhelming for me. I'm just not used to being in the cold. I don't know how to dress for the cold, never mind get my little ones prepared as well. But with the help of my more "travelled" friends out there, I think I am finally ready. I really feel for those that live up north…it's a lot of work to live in the cold! I guess I just like to be barefoot way too much to move anywhere that I have to worry about wearing boots or socks all the time! 🙂
No but really, I am so excited to take this trip. I have never been to Tennessee…haven't seen many mountains in my life…and I am so looking forward to seeing some snow! Even more excited for my kids!
This meal has nothing to do with Tennesse or vacations or anything I just talked about. It's just a really good meal that I made recently for my husband and I. I am trying to incorporate more fish into our regular diet and when searching for recipes using tuna (frozen and on sale!) this Cooking Light recipe caught my eye. It was delicious!
I made it more kid friendly by subbing chicken breast tenders for the fish and cooked them the same way. So the kiddies ate Sesame Chicken Tenders while we enjoyed our Sesame Tuna.
You may prefer the tuna a little more rare, or not. It went great with whole wheat couscous and spinach and roasted broccoli tossed in a little sesame oil and chopped garlic.
Seared Sesame Tuna with Orange Sauce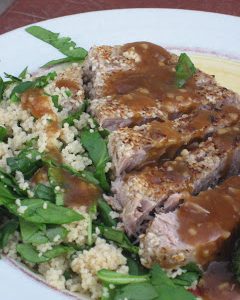 Ingredients:
1 cup water
1/2 teaspoon salt, divided
2/3 cup uncooked couscous
Cooking spray
1/4 cup sesame seeds
1 tablespoon all-purpose flour
1/4 teaspoon black pepper
4 (6-ounce) Bluefin tuna steaks (about 3/4 inch thick)
1/2 cup fresh orange juice (about 2 oranges)
1 tablespoon honey
1 tablespoon low-sodium soy sauce
1 teaspoon dark sesame oil
1/2 teaspoon bottled minced fresh ginger
1/2 teaspoon bottled minced garlic
1 tablespoon water
2 teaspoons cornstarch
Directions:
Bring 1 cup water and 1/4 teaspoon salt to a boil in a medium saucepan; gradually stir in couscous. Remove from heat; cover and let stand 5 minutes. Fluff with a fork. (I added chopped fresh spinach to the couscous and let sit covered.)
While the couscous stands, heat a large nonstick skillet coated with cooking spray over medium-high heat. Combine the sesame seeds, flour, 1/4 teaspoon of salt, and black pepper. Dredge both sides of tuna steaks in the sesame seed mixture. Add the fish to pan, and cook 4 minutes on each side or until desired degree of doneness. Remove the fish from pan, and keep warm.
While the fish cooks, combine the orange juice and the next 5 ingredients (orange juice through garlic) in a small saucepan, and bring to a boil over medium-high heat. Combine 1 tablespoon water and cornstarch, stirring with a whisk until smooth. Add the cornstarch mixture to the pan, and cook for 2 minutes or until the sauce is thickened, stirring frequently. Serve the fish with the couscous and sauce.

Are you following me on Instagram, Twitter, Facebook and Pinterest? If you'd like to subscribe to Aggie's Kitchen and have each post delivered straight to your e-mail box, then please add your email here. Happy cooking!
There are affiliate links in this post. I make small earnings through any purchases made through these links. Thank you for supporting Aggie's Kitchen!