Seared Scallop Tacos with Black Beans and Green Chile Chutney
One of the recipes that was shared with us during the Bush's Beans Culinary Event was these delicious scallop tacos.  I will admit, I was not a huge scallop fan until I tried these.  I have ordered scallops a few times out at restaurants and I just wasn't thrilled with the texture or taste.  I never say never when it comes to food, so I was excited to try them again.  Jeffrey Saad created this recipe for us and demonstrated how to perfectly sear the scallops during his presentation.  I learned how important it is that your seafood (or any meat that you are going to sear) is dry before putting it into the hot skillet.  This ensures that the scallop (or whatever you are searing) gets that crisp outer crust that searing is all about…if water is left on the scallop then the result is more of a steamed scallop…and that is not what you want when you are searing.  Make sense?
(touch your food…best way to when to know the scallops are done is when they bounce a bit after being poked.  If they are mushy then they still need more time.  Let them spring back at you a bit…and don't overcook.  Keep in mind they will continue to cook for a bit after you take them off heat.)
I made these the weekend after I got home from my trip for my hubby and a couple of friends.  I think it's safe to say they were a HIT.  They were pretty easy to put together once I got some of the prep work out of the way earlier in the day.  I shredded the cabbage, made the beans, the chipotle sour cream, the green chile chutney earlier that afternoon…which left just searing the scallops and toasting up the tortillas when it was time to eat.  I set it up as an assembly line on the kitchen counter and we all had fun putting our tacos together.  They were DELICIOUS.
(Team Scallop:  Kristen, Sandy, Cheryl and Laura cooking alongside Jeffrey Saad)

The green chile chutney was the star of the show in my opinion.  Wow, I've never tasted anything like it.  I didn't have a jalapeno so I substituted a red onion to balance out the heat with more sweet.  It was amazing.  During the cooking event, I picked Jeffrey's brain about pickling and chutneys so I was excited to try this out.  Once made it can be kept in the fridge for up to 3 weeks…it would make a great topping for just about anything…sandwiches, eggs, salads, rice….seriously anything.
If you watch Cooking Channel then you may have seen that Jeffrey has a fun new show coming out…United Tastes of America actually premieres today!  I'm excited to watch as he explores food on a whole other level!
BUSH'S® Seared Scallop Tacos with Black Beans and Green Chile Chutney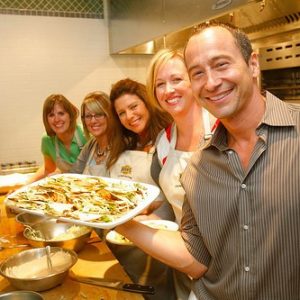 Ingredients:
For Scallop Tacos:
8 large sea scallops
Salt and pepper
1 Tbsp  canola oil
½ cup  cabbage, shredded
6 each  corn or flour tortillas
For Black Beans:
1 clove  garlic, chopped
1 can (15 oz)  BUSH'S® Black Beans, drained and rinsed
½ cup  chicken broth
1 tsp  smoked paprika
For Green Chile Chutney:
6 each Anaheim green chile
1 tsp  cumin seed, toasted and ground
2 tsp  oregano, toasted and ground
¼ cup  apple cider vinegar
¼ cup  sugar
½ tsp  kosher salt
1 each  red onion, chopped  (original recipe uses jalapeno)
For Chipotle Chile Sour Cream:
1 can (7 oz) chipotle peppers in adobo sauce
½ cup sour cream
½ tsp kosher salt
¼ cup fresh lime juice
Directions:
To roast peppers:
Blacken Anaheim chiles over an open flame (holding chiles with tongs) or broiler.  Place chiles in small bowl and cover with aluminum foil to allow skin to steam loose.  After 10 minutes, wipe off skin with fingers.  Seed and chop into ½" pieces.
For Scallops:
Pat scallops dry and remove rubbery lip from side of each scallop.  Season with salt and pepper.
Add oil to medium sauté pan over medium high heat.  Once oil is hot (you see a haze coming off the oil), add scallops to pan.  Sear until you have a nice golden crust.  Flip scallops over and continue cooking until you see the side of the scallop go from translucent to opaque.  Remove from pan and set aside.
For Black Beans:
Add garlic to the same sauté pan.  Stir briefly just to soften then add beans, chicken broth and paprika.  Turn to low and cook 5 minutes.  Set aside to cool.
For Green Chile Chutney:
In a medium size skillet (non-stick is ideal) over medium high heat add cumin and oregano.  Toast for 1 minute just until you can smell the cumin and oregano.  Immediately add vinegar, (don't breathe in as the vapor of the vinegar rises) sugar and salt.  Bring to a boil.  Add Anaheim chiles and red onion (or jalapeno) and simmer until a thick sauce consistency (about 8 minutes).  The chutney will thicken as it cools so stop cooking when the chutney is still saucy (easily flows from side to side as you tilt the pan).  Using a rubber spatula move chutney into a small bowl and let cool. The remaining chutney will last for three weeks in the refrigerator.
For Chipotle Chile Sour Cream:
Puree chipotle peppers in adobo sauce in a blender or food processor.  In a medium bowl mix together 1 teaspoon of chipotle puree, sour cream and salt.  Squeeze in lime juice and mix well. (Tip: store rest of chipotle puree in small ziplocks in freezer. I portioned out 2 tablespoons into snack size baggies.)
Toast tortillas over an open flame (using tongs), in a non-stick pan or under the broiler and lay on plate.
Place three tablespoons of black beans across each tortilla.
Cut the scallops into rough ½" pieces and lay on tortilla.
Top with the chutney, cabbage and chipotle chile sour cream mixture and serve.
Good luck with the new show Jeffrey!
All of these fantastic culinary event photos were taken by Faith Echtermeyer of St. Helena, CA.  Thank you so much Faith!
Are you following me on Instagram, Twitter, Facebook and Pinterest? If you'd like to subscribe to Aggie's Kitchen and have each post delivered straight to your e-mail box, then please add your email here. Happy cooking!
There are affiliate links in this post. I make small earnings through any purchases made through these links. Thank you for supporting Aggie's Kitchen!