Quickie Meatless Enchiladas
There are some nights where I just have no idea what to make.  As much as I've tried to be that person with a meal plan each week, it just doesn't happen for me.  My moods and tastes for food change on the spur of a cooking show, blog post or conversation.  So that makes the planning part kind of difficult.  I've come to just accept it.
Because of my spur of the moments meals, I've learned it's best to always have some staples on hand.  In this case, tortillas, refried beans and enchilada sauce saved the night.  I wanted a quick, healthy meatless dinner for my husband and me so with the help of those staples, I just added whatever fresh (or frozen) veggies I had on hand, which happened to be green pepper, tomato and corn.  Trust me, there would have been some onion in the mix but unbelievably so…I had NO onions in the house.  That had to have been a first.  I did momentarily get excited about some green onions I found, but after some quality control inspection, they just didn't make the cut.  And as much as I hate waste, they just had to go.
The veggies were first quickly sauteed in a little olive oil and garlic, then cooled slightly before I added them to the enchiladas.  I layered the refried beans, a little shredded cheese and the veggies over the tortilla before rolling them up.  Baked at 375 for about 25-30 minutes (until bubbly) and dinner is served.
Don't forget the hot sauce.  Makes great leftovers for lunch!
Quickie Meatless Enchiladas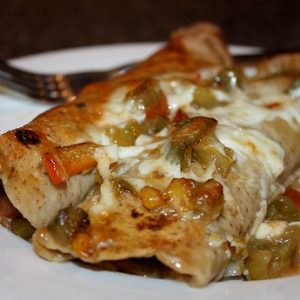 Ingredients:
vegetarian refried beans
tortillas (I love La Tortilla Factory's Low Carb/High Fiber Whole Wheat tortillas)
can verde enchilada sauce
1 tablespoon olive oil
2 cloves garlic, minced
2 med green peppers, chopped
1 onion, chopped (wasn't included this time but will be next time!)
1 tomato, seeded and chopped
1/2 cup frozen corn
2 tsp cumin
salt and pepper
shredded monterey jack cheese
Directions:
Preheat oven to 375 degrees.
Spray a baking dish with non stick spray.
In a nonstick skillet, saute peppers, onions, garlic, tomatoes, corn in a little olive oil until soft, about 8 minutes. While sauteing veggies, season with cumin, salt and pepper to taste. Set aside to cool slightly.
Take tortilla and spread about 2 tablespoons refried beans in the middle.  Sprinkle a little shredded cheese over beans, then top with veggie mixture.  Carefully roll up and place seam side down into baking dish.  Any leftover veggie mixture can be sprinkled over prepared enchiladas in baking dish.  Pour desired amount of sauce over enchiladas (I like mine saucy).  Add desired amount of shredded cheese to top and bake in oven for about 25-30 minutes until sauce is bubbly and top is golden brown.  Enjoy with your favorite hot sauce like Tabasco Green Jalapeno Sauce (not too hot but great flavor)!
Are you following me on Instagram, Twitter, Facebook and Pinterest? If you'd like to subscribe to Aggie's Kitchen and have each post delivered straight to your e-mail box, then please add your email here. Happy cooking!
There are affiliate links in this post. I make small earnings through any purchases made through these links. Thank you for supporting Aggie's Kitchen!