Pumpkin Gingersnap Parfaits
I wish I could tell you I made these beauties myself…instead I was the lucky recipient of them Friday night when my friend Heidi brought them over for dessert.  She found them on The Gourmand Mom via Foodbuzz.  They were amazing…like pumpkin pie in a cup!  I love everything pumpkin so these honestly made me a very happy girl.  Heidi thought they were a bit too much pumpkiny…so be warned if you aren't a big pumpkin fan like myself, Larry and Sammy (who also enjoyed them!).  Thank you to The Gourmand Mom (and Heidi!) for sharing such an awesome treat!
I wanted to leave you with this little treat because I will be away for a few days…I'm heading back to Napa to hang out with my Bush's Beans peeps!  How lucky am I?  Seriously, I just want to pinch myself…I am so grateful.  This time though, not only will I be spending time with the original group from previous trips, but I will be meeting and cooking alongside four other food bloggers and chefs!  I am seriously over the moon with excitement about this trip…I loved being in the CIA kitchens and "playing chef"…not to mention taking in the gorgeous scenery and tasting the local wines.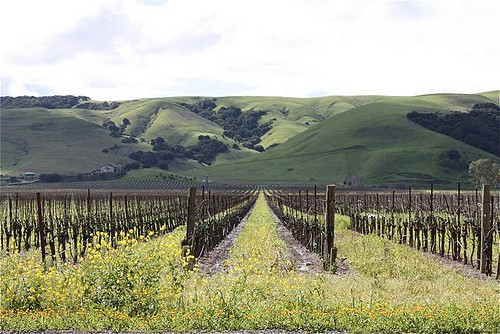 Wine country = total bliss…in my book.  🙂
(Disclosure:  Bush's Beans invited me on this trip and is covering my costs to attend.)
I'll share with you what we cooked up when I get back…in the meantime, go make yourself some dessert.
Pumpkin Gingersnap Parfaits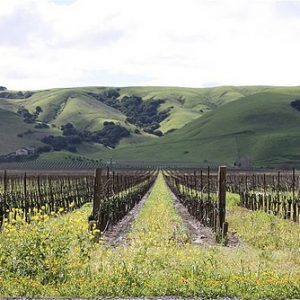 Ingredients:
1 15-ounce can Pure Pumpkin
4 ounces Cream Cheese, softened
2 Tbsp Brown Sugar
1 tsp Cinnamon
1/8 tsp Ginger
1/8 tsp Nutmeg
1 cup Heavy Cream
2 Tbsp Sugar
12 Gingersnap Cookies
Directions:
Crush 8 of the gingersnap cookies. Beat together the pumpkin, cream cheese, brown sugar, and spices until evenly combined. In a separate bowl, beat together the heavy cream and sugar until thickened.
To assemble the parfaits, divide half of the pumpkin mixture into four cups. Sprinkle half of the gingersnap crumbs over the pumpkin. Spoon about half of the whipped cream over the gingersnaps in the four cups. Sprinkle with the remaining gingersnap crumbs. Spoon the remaining pumpkin over the gingersnap crumbs. Top with the remaining whipped cream. Garnish each parfait with a gingersnap cookie.
Enjoy the rest of your week!!
Are you following me on Instagram, Twitter, Facebook and Pinterest? If you'd like to subscribe to Aggie's Kitchen and have each post delivered straight to your e-mail box, then please add your email here. Happy cooking!
There are affiliate links in this post. I make small earnings through any purchases made through these links. Thank you for supporting Aggie's Kitchen!