Post Vacation Eatin': Veggie Cobb Salad with Bush's Red Kidney Beans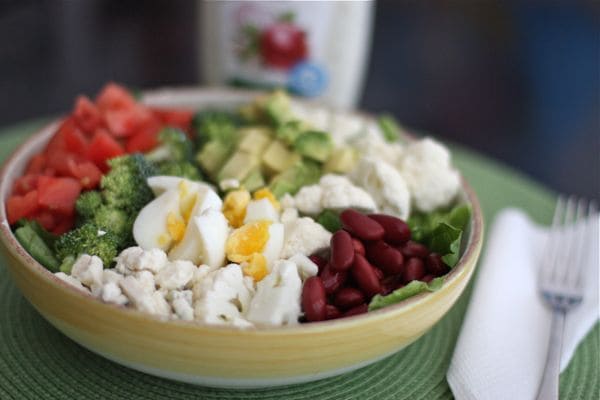 My family and I just got back from spending a glorious week at the beach. We rented a place in Sanibel Island, a tiny little piece of land surrounded by water off the coast of southwest Florida.
Paradise I call it.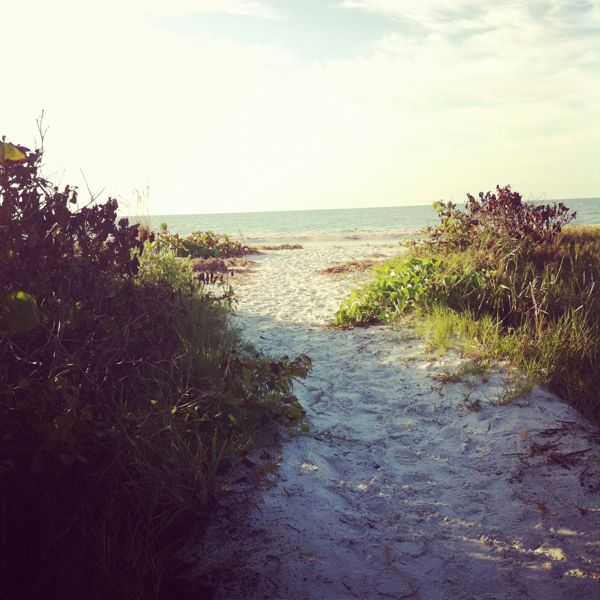 I woke in the mornings to read with a cup of coffee on the porch looking out onto the Gulf of Mexico.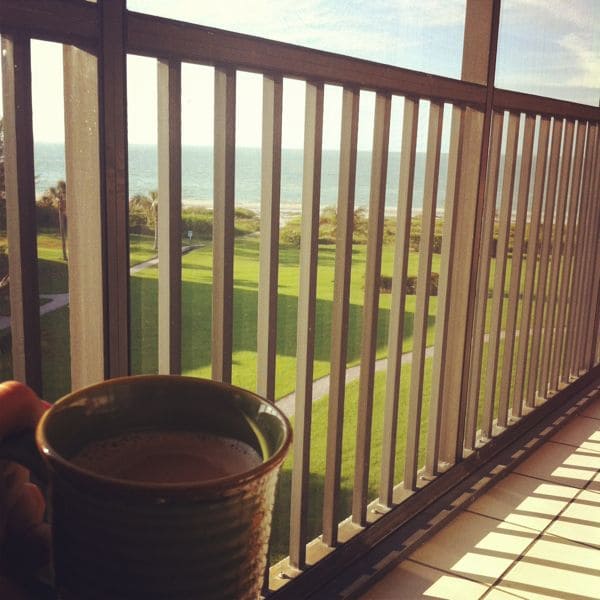 I drank Corona Lights in the afternoon with my toes in the sand while the fam played.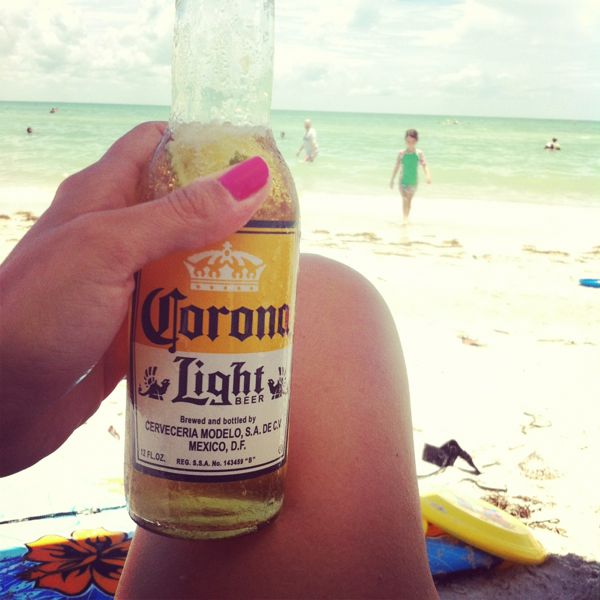 I explored the beach and played with nature.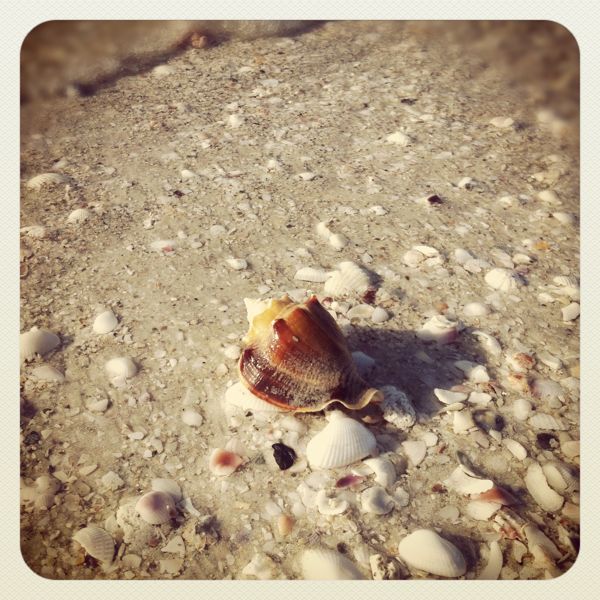 And I ate. I ate a lot. I ate seafood. 4 nights of fresh grouper to be exact (blackened, mesquite grilled, battered and fried in tacos, walnut crusted) …and 1 night of Gulf shrimp and red snapper. Oh yea, I got my fill of some pretty darn good seafood last week. I honestly don't think I can ever get enough.
Along with all that goodness of seafood came lots of fries, chips, ice cream, key lime pie, Bloody Mary's, wine, more beer and oh did I mention chips? (Chips and the beach always go hand in hand with me for some reason). People, we're talking vacation eating at its best.
So now that I'm home, back to the reality of snug clothing, I am craving nothing but this: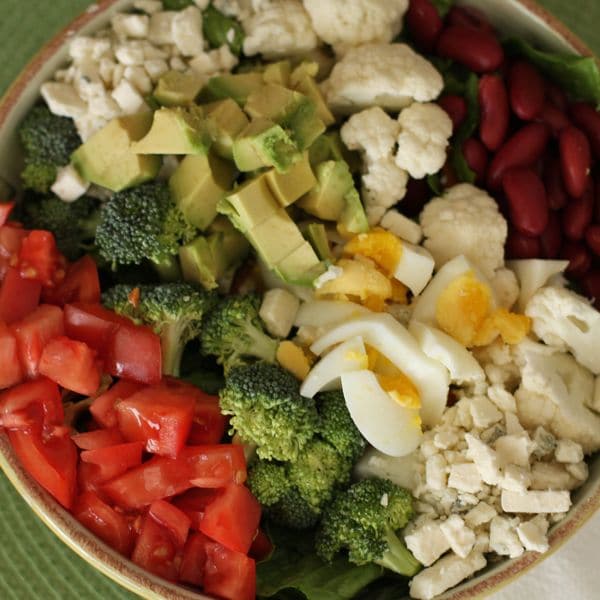 I'm craving big honkin' salads. With no skimping on the veggies. Yep, lots of good stuff – pretty much everything I need – going on in this bowl of goodness.
I'll be eating this exact salad for the next few days while I try to catch up on real life – lucky for me, after a Sunday morning grocery trip and a lot of chopping today, my fridge is like a salad bar just waiting for me to dig in. And the best part is there is absolutely no 'cooking' – unless you call opening a can of beans cooking – involved so that makes it all the better in my book.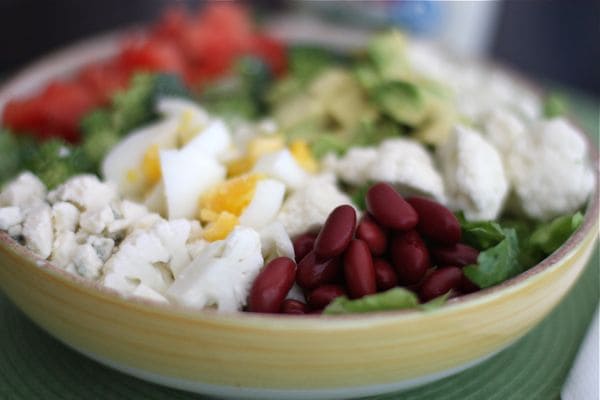 Veggie Cobb Salad with Bush's Red Kidney Beans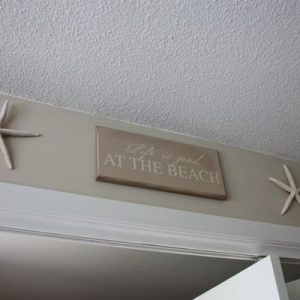 Ingredients:
Romaine, chopped
Carrot, shredded
Tomato, chopped
Broccoli Florets, chopped
Cauliflower Florets, chopped
1/2 cup of Bush's Best Red Kidney Beans, rinsed and drained
hard boiled egg, chopped
1/2 Hass avocado, diced
1/4 cup crumbled blue cheese
couple splashes of red wine vinegar
salt and black pepper to taste
drizzle of ranch dressing, optional
Directions:
Build your salad in a large bowl or plate starting with a layer of romaine. Top with shredded carrot, broccoli, cauliflower, tomato, kidney beans, egg, avocado and crumbled blue cheese. Dress with a few splashes of red wine vinegar, salt, and pepper. Drizzle broccoli and cauliflower with ranch dressing if desired.
Panama Jack and Panama Jane say  "have a great week"!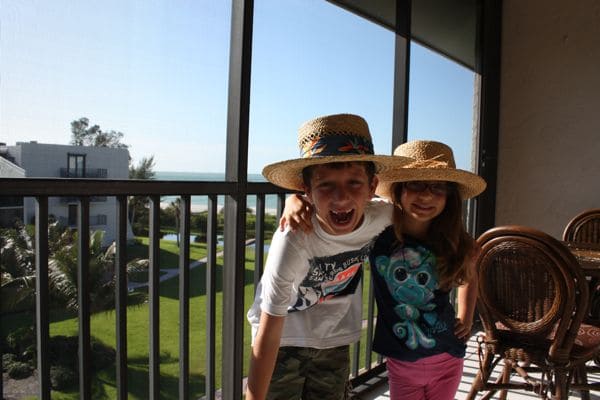 (Disclosure:  I have a working relationship with Bush's Beans where I create recipes using their beans.)
Are you following me on Instagram, Twitter, Facebook and Pinterest? If you'd like to subscribe to Aggie's Kitchen and have each post delivered straight to your e-mail box, then please add your email here. Happy cooking!
There are affiliate links in this post. I make small earnings through any purchases made through these links. Thank you for supporting Aggie's Kitchen!