Pasta Salad Caprese with Roasted Garlic and Balsamic Dressing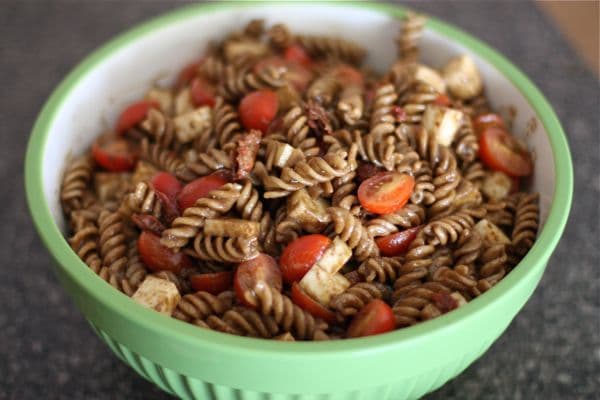 It's always fun to go to a get together where everyone brings a dish. It gives you the opportunity to try out food that your friends and family enjoy cooking (always gives me ideas and inspiration!), and it also sometimes gives me the chance to branch out from the norm and make something that my family wouldn't necessarily eat at home. This pasta salad isn't really a good example of that since (thankfully) we all love pasta, tomatoes and cheese, but you catch my drift, right?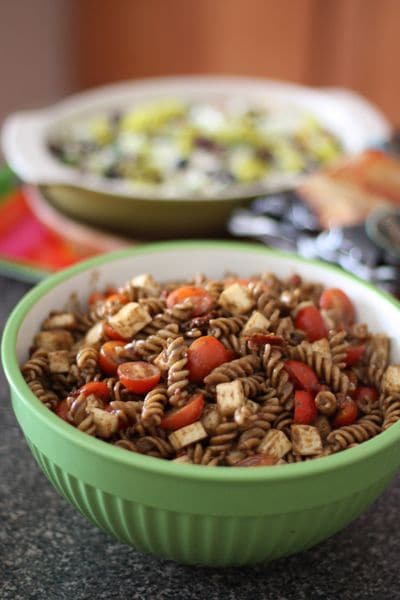 My nephew Ryan turned 20-something this past weekend (26? 27? Ryan? I can't believe I celebrated with you and don't even know!)…let's just say, I think he's about 10 years younger than me, give or take a year. We celebrated in style – pool side, with music (provided by my beloved and talented husband), beverages, games and of course a fired up grill. Ryan asked if I could bring a pasta salad to serve on the side and of course I was all over it.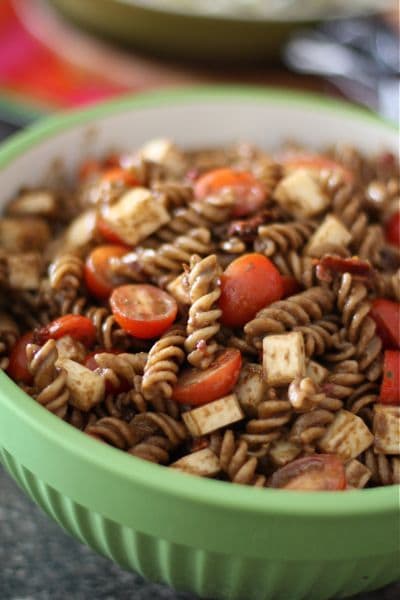 This one came together quick – and quite simply – as most pasta salads do. The only ingredient that you'll have to make a little extra effort for is the roasted garlic, which to be honest, wasn't part of the original plan. When making dressings, I usually use fresh garlic that I crush with a knife before adding into the blender. This time around I wanted to do something different and that something different was sitting in my fridge in tupperware and I didn't even know it. Earlier in the week I roasted a head of cauliflower florets with a lot of garlic…and I mean a lot, like a whole head of cloves alot. It smelled SO GOOD. That smell has been coming at me every time I've opened the fridge for days (please tell me the smell of roasted garlic makes you as happy as it makes me). Since I had a few cloves already roasted I decided to use them instead. It added a more sweet, mellow garlic flavor to the dressing and I now know to make a point of always roasting a few extra crushed cloves of garlic when I am roasting veggies, just so I have them on hand – because you just never know when inspiration to use roasted garlic in a recipe will hit. If you don't have any on hand, no worries, just plan ahead and follow Dara's great how-to on roasting garlic here. It's so worth it.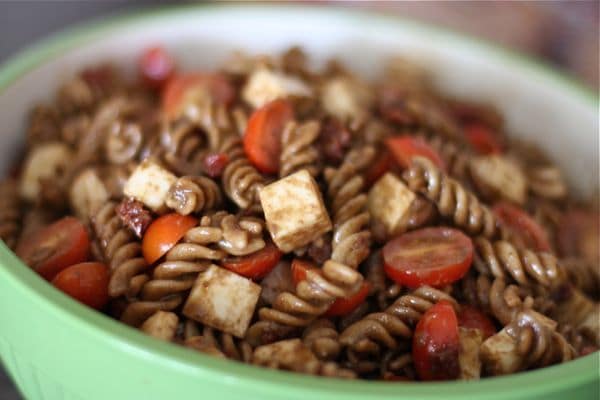 Pasta Salad Caprese with Roasted Garlic and Balsamic Dressing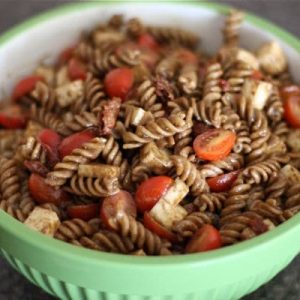 Ingredients:
For the salad:
1 lb whole wheat rotini pasta
1 and 1/2 pint grape tomatoes, halved
1/2 of 3oz package of julienned sun dried tomatoes, rehydrated according to directions (feel free to use entire package if you love sun dried tomatoes!)
1 lb block mozzarella cheese, cut in 1/2" cubes
For the dressing:
1 cup olive oil
1 cup balsamic dressing
1 big handful fresh basil leaves
4-5 cloves roasted garlic (1-2 cloves minced garlic if you don't have roasted)
salt and pepper to taste
Directions:
Cook pasta according to directions.
While pasta is cooking, prepare dressing in a blender or food processor by adding ingredients to container and processing until well blended. Set aside.
When pasta is cooked, drain and put in large bowl. Add 1/2 of dressing and toss to coat well. Place bowl in refrigerator to cool for 1 hour.
While pasta salad is cooling, prep your tomatoes and cheese and set aside in refrigerator until ready to put together.
Gently toss grape tomatoes, sun dried tomatoes, and cubed mozzarella with remainder of dressing. Taste for salt and pepper. Chill pasta salad in refrigerator for another 1-2 hours before serving.
If pasta salad becomes dry, simply splash a small amount of balsamic vinegar and gently toss.
Ryan is also a fellow foodie…always talking food an wine with me, texting me pics of dinner and giving me ideas for recipes. I love it! Check out a few of Ryan-inspired posts here on the blog:
Cedar Plank Grilled Salmon with Tropical Fruit Salsa
Ryan's Graduation Party – cheese plates, bruschetta bar and antipasto salad
Happy Birthday Ryan!
(photo taken in St. Thomas, 2008)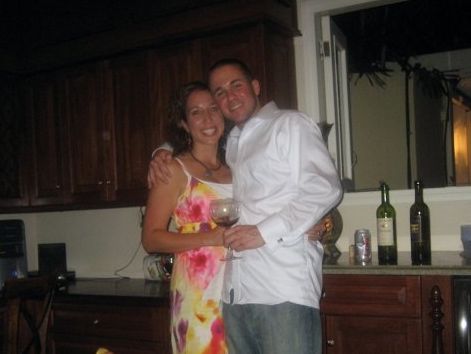 and one more thing…
Come share in the tomato love at the Tomato Love Recipe Exchange, hosted by Gimme Some Oven & Bake Your Day, sponsored this week by BigKitchen Store.  Also visit Recipe for Change to learn more about how to support tomato farmers.
Are you following me on Instagram, Twitter, Facebook and Pinterest? If you'd like to subscribe to Aggie's Kitchen and have each post delivered straight to your e-mail box, then please add your email here. Happy cooking!
There are affiliate links in this post. I make small earnings through any purchases made through these links. Thank you for supporting Aggie's Kitchen!