Mexican Pizza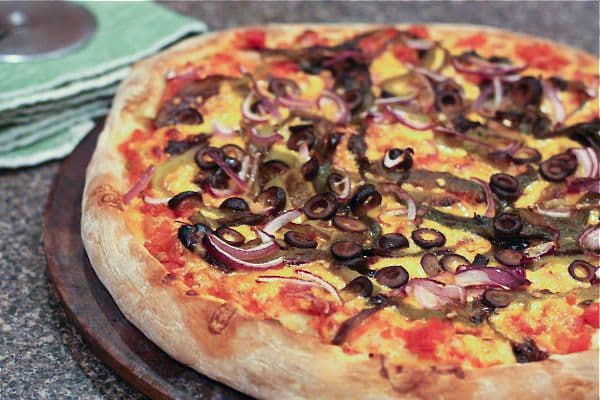 It's Valentine's Day. I have no chocolate or hearts or anything really all that cute for you. Doesn't mean I don't love you though. I do.
I have pizza for you.
Pizza is one of the loves of my life, so in the spirit of the holiday of love, here I am sharing it with you. The other loves of my life and I like to have pizza on Friday nights…sometimes we go out for it, sometimes we take some home, and sometimes we (I) make our own. Our last pizza night was a few weeks ago and I was craving something different. The rest of my crew doesn't usually crave what I crave so I made their traditional standby 1/2 cheese 1/2 pepperoni pie while I experimented a bit with mine based on what I had going on in the fridge and pantry.
Voila.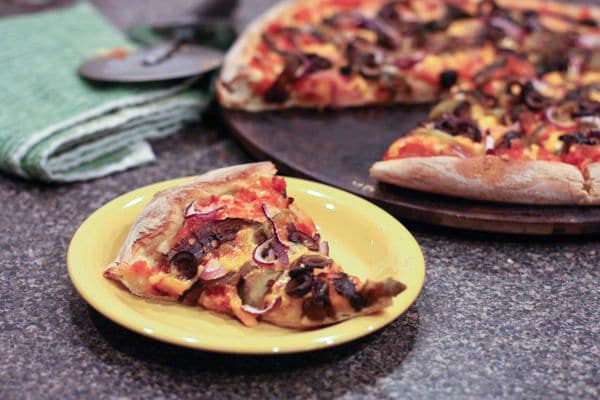 Mexican Pizza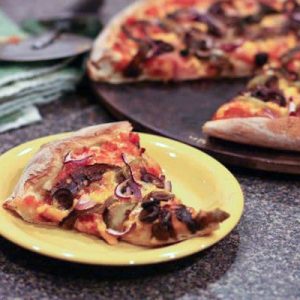 Ingredients:
pizza dough (I wish I could tell you I make my own, but I don't. I am working on that. I buy my pizza dough at my grocery store bakery)
your favorite salsa (I tried out this sweet onion salsa and it was YUM)
shredded Mexican cheese
red onion, sliced thin
black olives, sliced
roasted pobalanos and cubanelles, sliced thin
Directions:
Roast your peppers ahead of time. Here's how I roast my peppers.
Preheat your oven to 500 degrees, I like to preheat my pizza stone or pan at this time too. I find the crust comes out so much better when prepared on a preheated stone (or pan).
Throw some flour on a clean, dry surface and start to prepare your pizza crust by shaping your dough (I find that lightly coating it with some flour first helps). I start by gently using my fingertips and spreading it out into a circle until it looks like a disc. I then take the "disc" and start tossing it back and forth from hand to hand to start loosening it up (I learned this from watching my dad make pizza all my life, it took a while for me to really get it down, so don't expect perfection, have fun with it!). Once you get your pizza spread into the shape you want, pull out your pizza stone or pan and place on a trivet on your counter and transfer your dough to the stone. You may have to work your pizza out a bit once it hits the hot stone, it may start to shrink up, just be careful not to burn yourself!
Now is the easy and fun part. Spread the desired amount of salsa over your dough. Top it with however much cheese you want. Add the rest of your toppings over the cheese and pop it into the oven to bake. Keep an eye on it, but it should be ready in about 15 minutes, or when cheese is bubbly and golden brown.
Are you craving more pizza? If so, I have an entire Pinterest board dedicated to it. Enjoy!
Are you following me on Instagram, Twitter, Facebook and Pinterest? If you'd like to subscribe to Aggie's Kitchen and have each post delivered straight to your e-mail box, then please add your email here. Happy cooking!
There are affiliate links in this post. I make small earnings through any purchases made through these links. Thank you for supporting Aggie's Kitchen!