Marinated Baby Bellas
The year is definitely coming to an end quickly isn't it?  It seems like every weekend there is an activity or an event or a holiday get-together.  And next thing you know it'll be New Year's Eve.  I love this time of year, I love being with my family and driving around looking at lights (with the air conditioner on pretending it's cold) and listening to Christmas music.  I love Christmas shopping (online) and I don't mind wrapping presents.  I really enjoy all of it.  But I will admit I don't always like all the "busy-ness "that comes along with the holidays.  It definitely takes an effort to stop for a second and sloooow down.  You know, enjoy the moment?
So, to avoid the feeling of frenzy and stress I'm trying to keep up with the madness as orderly as possible.  I have rekindled my relationship with my pretty Franklin Covey planner, and am trying to stay organized. I'm keeping up with my to do lists and trying not to lose them.  So far so good.  I'm also trying to plan simple meals, keep my eating clean and really get in some exercise every day…when all of this stuff falls together things just seem to flow better for me…can you relate?
So what I'm giving you today is a super simple, super tasty and can pass as kinda fancy recipe.  You can serve this to guests at a get together or dinner over an antipasto salad, on a bruschetta bar or just as a side dish.  Or you can do what I'm going to do and top it on my salad for dinner tonight.
Sounds good doesn't it?
These marinated mushrooms were inspired as I was looking at my sample shipment of Holland House Premium Vinegars and Cooking Wines and thinking of ways that I like to use vinegar.  Salad dressings immediately came to mind…and pickling next (something I am planning to start experimenting with.)
How do you like to use vinegar?  Do you have a favorite tip to share in how you include Holland House Vinegar or Cooking Wines in your holiday cooking?

If you need ideas visit Holland House's website or Facebook page where you can find recipes, shop for vinegars and cooking wines or sign up for their SPLASH Recipe Club.  Good stuff!
Marinated Baby Bellas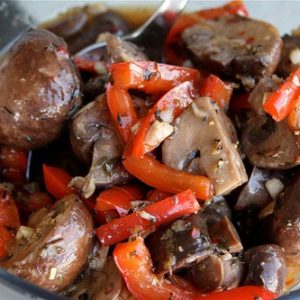 Ingredients:
1 8oz container of Baby Portabella Mushrooms (halved or quartered depending on size of mushroom or your preference)
1 red bell pepper, sliced thin and cut into small pieces
2 cloves garlic, minced
4 tablespoons extra virgin olive oil
1/4 cup Holland House Red Wine Vinegar
1/4 teaspoon dried thyme
1 teaspoon lemon zest
1/8 - 1/4 teaspoon red pepper flakes
good pinch salt and fresh ground pepper
Directions:
Combine all ingredients in mixing bowl. Gently toss to combine. Cover and refrigerate for at least 8 hours, stirring periodically to help blend flavors.  Best if marinated overnight.  Can be served chilled or at room temperature.
(Disclaimer:  Holland  House provided me with a generous sampling of products and compensation.  My opinions, as always, are my own.)
*** *** *** *** *** *** *** *** *** *** *** *** *** *** *** *** *** *** *** *** *** *** *** ***
PS…Thanks to everyone who entered the figgy giveaway!  Loved reading all  your comments and I am definitely craving homemade fig newtons now!
Congrats to Shelby over at Grumpy's Honeybunch for winning the giveaway!
Thank you to the California Fig Advisory Board for providing the prize!

Are you following me on Instagram, Twitter, Facebook and Pinterest? If you'd like to subscribe to Aggie's Kitchen and have each post delivered straight to your e-mail box, then please add your email here. Happy cooking!
There are affiliate links in this post. I make small earnings through any purchases made through these links. Thank you for supporting Aggie's Kitchen!