Cheese Stuffed Figs with Toasted Pecans and Balsamic Drizzle
(This giveaway is now closed.)
I grew up eating figs.  My grandfather has always had fig trees in his yard, and I'm not talking just 1 or 2 either.  At his last house, I may or may not have counted at least 5 fig trees in his little backyard.  I guess you can say, we liked our figs…must be an Italian thing.  And I have to tell you if you like figs, there is nothing like eating a fresh picked fig right off the tree in your own yard.
I'm a big fan of dried figs too.  I love snacking them all on their own, but this little concoction is a nice little treat…especially if you are having some guests over or are headed to a party.  They are super quick to put together and look nice on a plate.  What's also great about this little appetizer is that its different…with each bite you get sweetness from the fig and balsamic, salty from the cheese and a nice crunch from the pecan.  Good stuff.
Cheese Stuffed Figs with Toasted Pecans and Balsamic Drizzle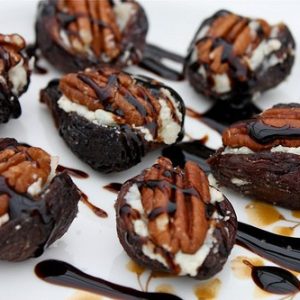 Ingredients:
24 dried figs
1/4 - 1/3 cup crumbled gorgonzola cheese
1/4 - 1/3 cup fresh grated asiago cheese
pinch fresh ground pepper
24 toasted pecans
Balsamic Glaze
Directions:
In small bowl combine combine gorgonzola, asiago and fresh ground pepper. Using a small knife, make slit into side of dried figs (do not cut all the way through, but almost the entire length of fig). Using your hands, stuff fig with about 1/2 teaspoon of cheese mixture (more or less depending on size of fig). Top with toasted pecan and press down. Line up on plate and drizzle with balsamic glaze right before serving.
A few facts about figs:
The fig tree is the symbol of abundance, fertility, and sweetness.
Figs provide more fiber than any other common fruit or vegetable.
Although considered a fruit, the fig is actually a flower that is inverted into itself.
Figs contain natural humectants – properties that extend freshness and moistness in baked products.
Figs are fat-, sodium- and cholesterol-free.
Giveaway:
Last week, The California Fig Advisory Board sent me a very generous shipment of a variety of dried figs along with a nice tote bag, t-shirt and lots of  recipes.  They also want to share a box of goodies with one of YOU.  In order to enter the giveaway all you have to do is leave a comment on this post sharing your favorite way to eat figs, dried or fresh.  Giveaway will end Tuesday, November 30 at 12 am eastern standard time. I will choose a winner using a random number generator and will announce the winner on Wednesday December 1.  Sorry, but this giveaway is open to US addresses only.
Bonus Entries can be earned by:
1. Become a fan of Aggie's Kitchen on Facebook.  "Like" Aggie's Kitchen then come back to this page and leave a separate comment telling me you did so.
2. Follow @AggiesKitchen on Twitter, then come back to this page and leave a separate comment telling me you did so.
3.  Become a fan of The California Fig Advisory Board on Facebook.  "Like" them and then come back and leave a separate comment telling me you did so.
Good luck!
Are you following me on Instagram, Twitter, Facebook and Pinterest? If you'd like to subscribe to Aggie's Kitchen and have each post delivered straight to your e-mail box, then please add your email here. Happy cooking!
There are affiliate links in this post. I make small earnings through any purchases made through these links. Thank you for supporting Aggie's Kitchen!