Kitchen Play – Italian Fish and Potato Stew
This is my first time participating in Kitchen Play's Progressive Party and I'm happy to be be bringing some of this delicious Italian Fish and Potato Stew made with this month's featured ingredient – potatoes.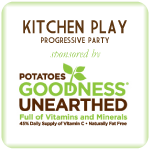 When I initially started thinking about creating a soup with potatoes, I immediately started thinking of creamy soups. I might be in the minority here, but I don't get excited about creamy soups. Then I remembered that most chowders, specifically my favorite type of chowder – Manhattan style – usually have potatoes in them. Ding ding ding! Since I had a nice piece of cod in the freezer already, I picked up some red and white potatoes along with a few other ingredients and put together this comforting, straight forward soup that was enjoyed on a dreary rainy afternoon.
This Italian Fish and Potato Stew is actually inspired by a stewed cod fish dish my grandfather makes every Christmas Eve. It's hearty, and perfectly satisfying. It's chock full of good clean vegetables like potatoes, celery, onion, tomatoes and garlic. I brightened it up a bit with a little clam juice and fresh squeezed lemon. At the end I threw in some roughly chopped green and kalamata olives along with the chunks of fish. It is absolutely delicious, and incredibly good for your health and for your soul.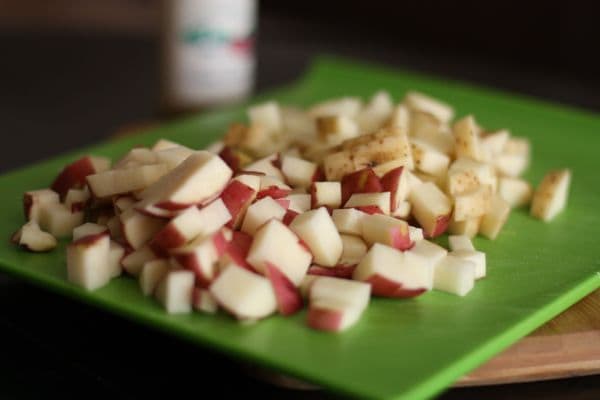 I chose white and red potatoes for the soup because I knew they would hold up well in the hot liquid. I diced the potatoes just small enough so that they would cook up at close to the same rate as the other veggies in the soup. Adding potatoes to a healthy soup like this is a great way to add a little extra nutrition, since they are naturally fat free, high in vitamin C and great sources of fiber and potassium.
Now that is my kind of soup.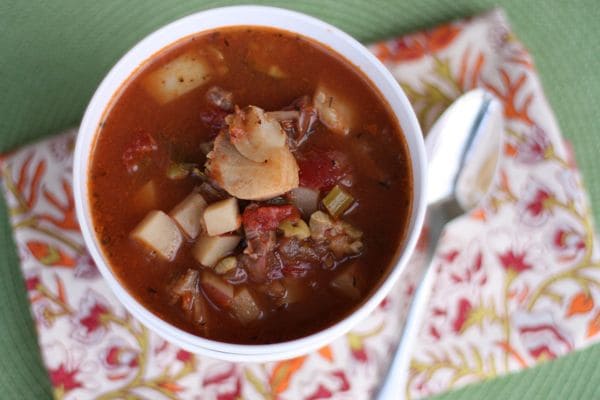 Print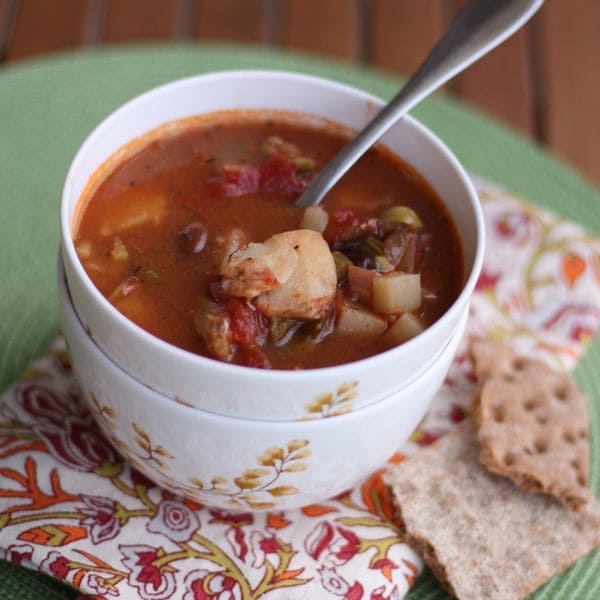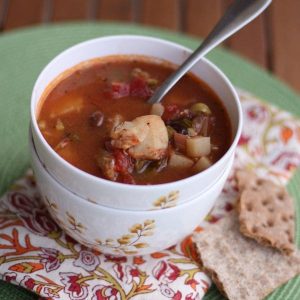 Kitchen Play – Italian Fish and Potato Stew
Author:
Category: Fish
Method: Stovetop
Cuisine: Italian
---
Ingredients
1 tablespoon olive oil
1 onion, small dice
3 garlic cloves, minced
2 celery stalks, small dice
2 red potatoes, small dice
1 large white potato, small dice
1 bay leaf
1/2 teaspoon dried thyme
1 teaspoon dried oregano
pinch salt and pepper
1 28 oz can of Italian diced tomatoes
1 8 0z bottle of clam juice
4 cups of broth (chicken or vegetable – I used 4 cups water swirled from tomato can and added a tablespoon vegetable bouillon)
juice from 1 large lemon
1 1/2 lbs fresh or frozen cod fish (or any other firm white fish), cut in 1″ – 1 1/2 " pieces
handful of roughly chopped green and kalamata olives
additional salt and pepper, to taste
---
Instructions
In a large soup pot, heat oil and add onion, garlic, celery and potato. Season with thyme, oregano, salt and pepper. Saute for about 10 minutes until slightly softened. Add tomatoes, clam juice, lemon juice and broth. Bring to a boil and then let simmer for about 20 minutes, until potatoes are soft. Add pieces of fish and olives to soup and gently stir. Continue to cook for another 15-20 minutes until fish is cooked through. Taste for salt and pepper and adjust accordingly.
Serve with whole grain bread, crackers or on it own.
Stay inspired to include potatoes into your diet by checking out the US Potato Board's Facebook page or by signing up for the US Potato Board weekly recipe email here.
The US Potato Board is also sponsoring a wonderful giveaway here at Kitchen PLAY
. Simply recreate any
one
recipe from this month's Progressive Party, post about the experience on your blog and provide a link to your post on Kitchen PLAY to enter. All qualifying bloggers in each course will be entered to win $100 (6 prizes total).
The deadline is April 15, 2012.
Please review the complete
contest rules
before entering. Good luck!
(Disclosure: This post was sponsored by Kitchen Play and the US Potato Board. I received compensation for developing a recipe and writing about it. Opinions are always my own.)
Are you following me on Instagram, Twitter, Facebook and Pinterest? If you'd like to subscribe to Aggie's Kitchen and have each post delivered straight to your e-mail box, then please add your email here. Happy cooking!
There are affiliate links in this post. I make small earnings through any purchases made through these links. Thank you for supporting Aggie's Kitchen!