Honey Nut Cocoa Crunch Granola
This post is sponsored by Fisher Nuts.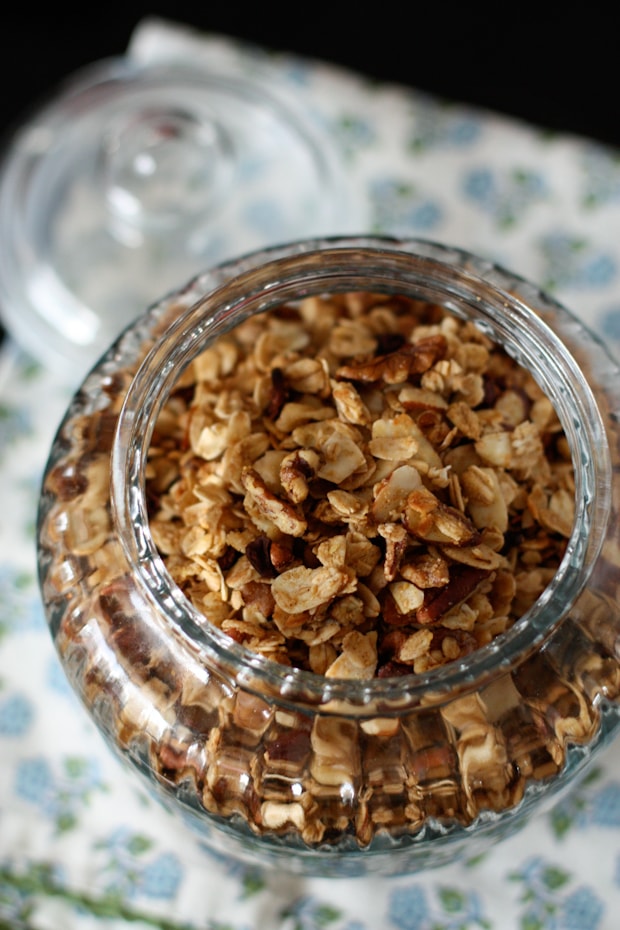 I've been on a granola making kick for the last couple of months. Apparently my kids are into it because they pretty much ask me for granola as a snack almost every afternoon as well as at breakfast. They love having it in a bowl with a bit of Greek yogurt and honestly it couldn't make me happier to hear them ask for it, even when I'm not necessarily in the mood to make it.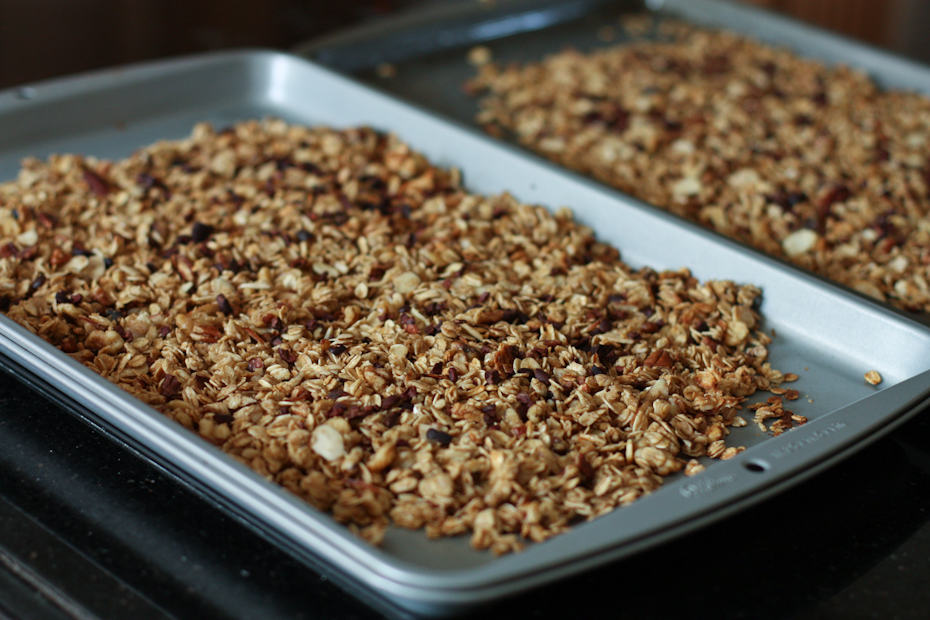 I took the last couple of weeks off from making it but since this week is my daughter's birthday week I decided to surprise the kids with a fresh batch when they get home from school today. When I make our granola I keep it on the counter in a pretty glass jar, it's nice to look at as well as easy to serve – just spoon into a bowl for a quick healthy snack!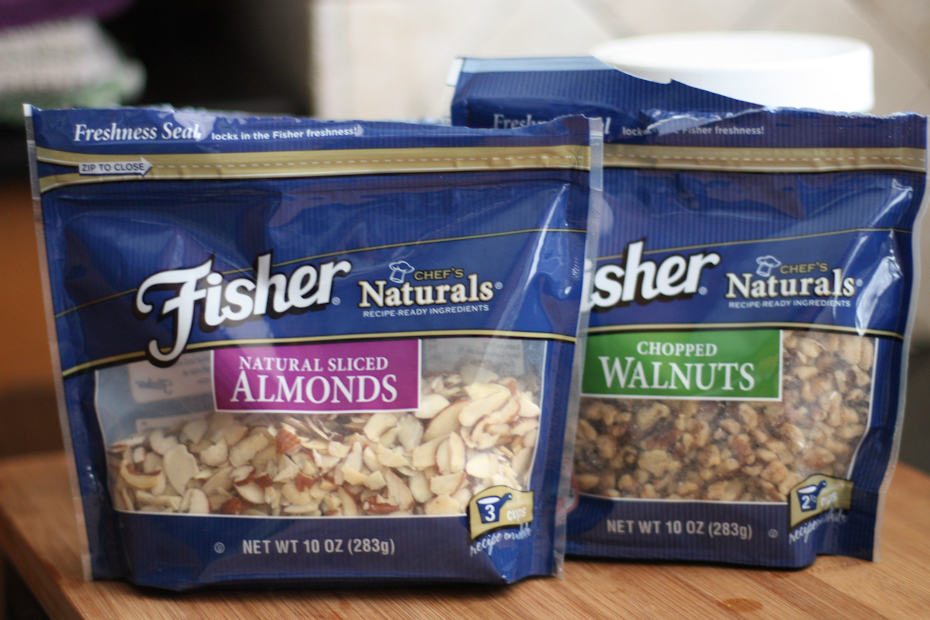 Making granola at home is super simple (if you haven't tried it yet please do!) and each time I make it I try to add something a little different to it to keep things interesting. One thing that always stays the same is the nuts – my granola has to have plenty of nuts in it for texture, protein and nutrients. This time I used honey instead of my normal maple syrup and I added a little dark chocolate for fun.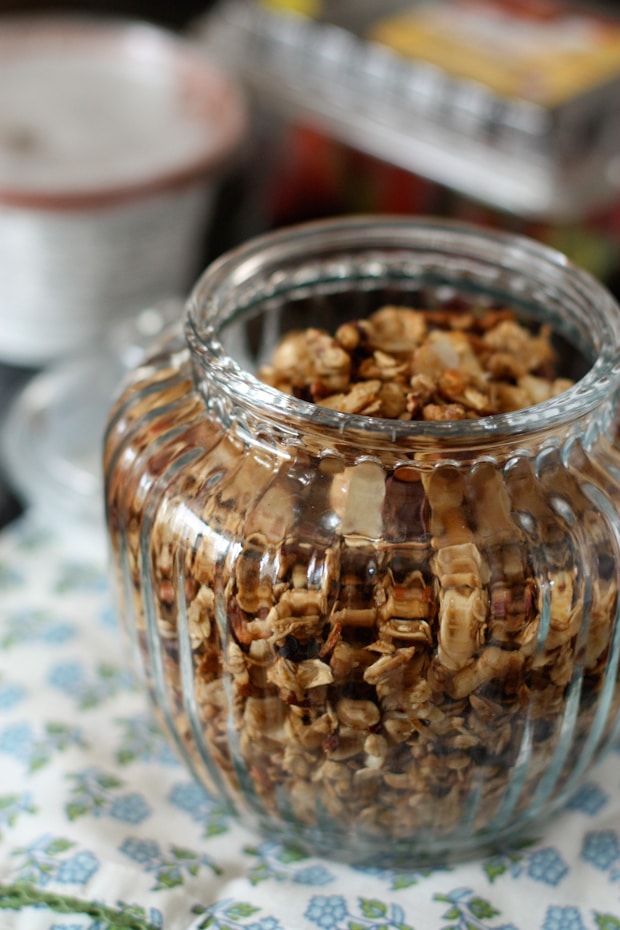 It turned out seriously delicious!
Honey Nut Cocoa Crunch Granola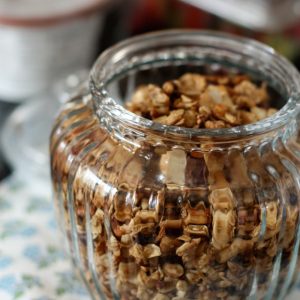 Ingredients:
4 cups old fashioned oats
1/2 cup chopped pecans
1/2 cup chopped walnuts
1/2 cup sliced almonds
3/4 cup honey
3 tablespoons coconut oil
1/2 teaspoon cinnamon
1/4 teaspoon nutmeg
1 teaspoon vanilla
1/4 cup flaxmeal (ground flax seeds)
1/2 cup cocoa nibs or chopped dark chocolate (high cocoa content)
Directions:
Preheat oven to 325. In a small saucepan gently heat honey, coconut oil, cinnamon, nutmeg and vanilla over low heat until combined. To a large mixing bowl, add oats and nuts. Pour honey mixture over oats and nuts and stir until combined.
Bake granola for 8 minutes. At 8 minutes carefully stir granola on baking sheet. Place back into oven and bake for another 4 minutes. Take out granola and set out to cool. After cooling for 5 minutes add your cocoa nibs or dark chocolate pieces. Stir carefully and let cool completely. Store up to one week in an airtight container.

I've partnered up with Fisher Nuts this month to develop a heart healthy recipe using almonds, pecans or walnuts. For this granola I used all three but feel free to use your own combination when making this recipe. Nuts are an important part of a heart-healthy diet since they have plenty of those good fats we keep hearing good stuff about and a smaller amount of the bad fats we need to watch out for. Nuts are also excellent sources of vitamins and minerals, including the antioxidant Vitamin E.
Follow Aggie's Kitchen's board Healthy Breakfasts on Pinterest.
Are you following me on Instagram, Twitter, Facebook and Pinterest? If you'd like to subscribe to Aggie's Kitchen and have each post delivered straight to your e-mail box, then please add your email here. Happy cooking!
There are affiliate links in this post. I make small earnings through any purchases made through these links. Thank you for supporting Aggie's Kitchen!