Holiday Candy Mix
Less than a week to go till Christmas, can you believe it?
Before I show you this awesome (and easy) candy mix, let's get to the giveaway winner first. Thank you so much for all of your wonderful comments, I loved reading them all and loved discovering some "lurkers" out there!
Using Random.org number integrator…the winner of the Bon Appetit magazine subscription is…
Mary Ann of Meet Me in the Kitchen!
Email me your mailing address Mary Ann and I'll get your subscription ordered! Congrats!

Ok, now on to the goodies. For those of you that are baking challenged, like me, this is the perfect holiday treat for you. There is nothing to it, everyone loves it and you'll end up looking like a rock star for making it. I came across this "recipe" for the first time years ago at my first real job out of college. We were having a holiday pot luck and our receptionist brought this in. It was so good and so addicting! I have been making it almost every year since.
Tip: Chew gum while you make this…because if you are like me you will be constantly tasting it…the Chinese noodles are my favorite!! ; )
Holiday Candy Mix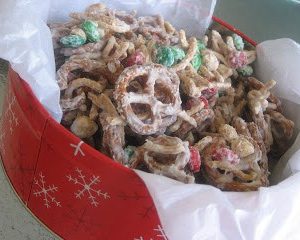 Ingredients:
Pretzel twists
Peanuts (I prefer lightly salted)
Chinese noodles
M&Ms
Rice Chex cereal (subbed Cinnamon Puffins for this batch b/c it was all I had!)
Almond Bark (vanilla flavored)
Directions:
In large bowl, combine pretzels, peanuts, chinese noodles, m&m's, and cereal. It's best to work in smaller batches when making this so break up almond bark into squares and melt half of it in microwave for 45 seconds. Stir, then continue to melt in microwave for 10-20 seconds at a time until completely melted. Add pretzel mix into smaller mixing bowl then pour melted almond bark over mix, a little at a time. Stir very gently with wooden spoon until completely coated. Once mixed and coated, pour onto cookie sheet and spread flat. Continue with the rest of pretzel mix and almond bark. Let dry and harden for about an hour, then break up and package in festive tins or bowls!
I don't have exact amounts but I will tell you for this batch I made I used 1 1lb bag of pretzels, 1 bag of chinese noodles, 1/2 bag m&m's, 1/2 tall jar of peanuts, and a few cups of cereal. I also used 1 entire package of almond bark. This batch made 5 tins for gifts.
I've stored this in air tight containers for a week.

Are you following me on Instagram, Twitter, Facebook and Pinterest? If you'd like to subscribe to Aggie's Kitchen and have each post delivered straight to your e-mail box, then please add your email here. Happy cooking!
There are affiliate links in this post. I make small earnings through any purchases made through these links. Thank you for supporting Aggie's Kitchen!