Healthy New Year Cookbook Giveaway – CLOSED
I think it's safe to say most of us have the same mindset when it comes to eating come the New Year, right? Eat healthier. It is what it is, but we most often find ourselves indulging over the holidays (rightfully so!) and by the time January 1 rolls around, we are feeling pretty lousy and are ready for a fresh, clean start – as well as a miracle to get those holiday pounds to melt off. (Or is this just me? Please tell me it isn't.)
I always find myself motivated to cook healthier meals when I get a new cookbook in my hand. Especially a cookbook focused on healthy or whole food based recipes, like the ones I am featuring here today. And, guess what? Not only am I featuring these awesome healthy cookbooks, but thanks to some generous authors, publishers (and a small gift from me), I'm also giving a copy of each away to one lucky reader to help kick start a new year of good healthy cooking! With a collection like this in your kitchen, you can't help but be inspired to make good choices and cook great meals that your body (and family) will thank you for.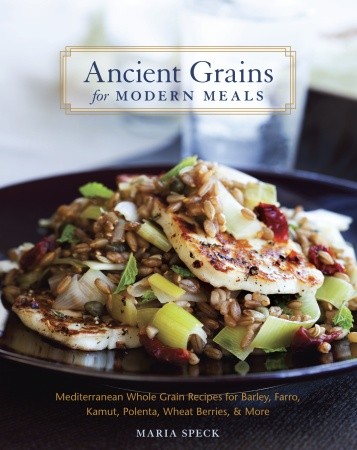 Ancient Grains for Modern Meals – It's hard to believe that it's been over a year since I first reviewed this book and made this Summer Tabouli with Farro recipe. If one of your goals is to incorporate more whole grains into your diet, then this is a cookbook you have to add to your collection. Not only is it filled with straight-forward, fresh and beautiful recipes, but author Maria Speck really takes the time to educate you on the selection, the preparation and tastes of the many different types of whole grains that are becoming more readily available to all of us these days. I started to incorporate more and more whole grains into my diet over the last several years and have noticed a great difference in my health and how I feel after a meal. It's not a secret around here – I love whole grains.
Recipes I can't wait to try: Chewy Almond Butter Bars, Spring Pilaf with Artichokes and Green Peas, Rustic Linguine with Summer Herbs and Olives, Warm Oat Berries with Walnuts and Gorgonzola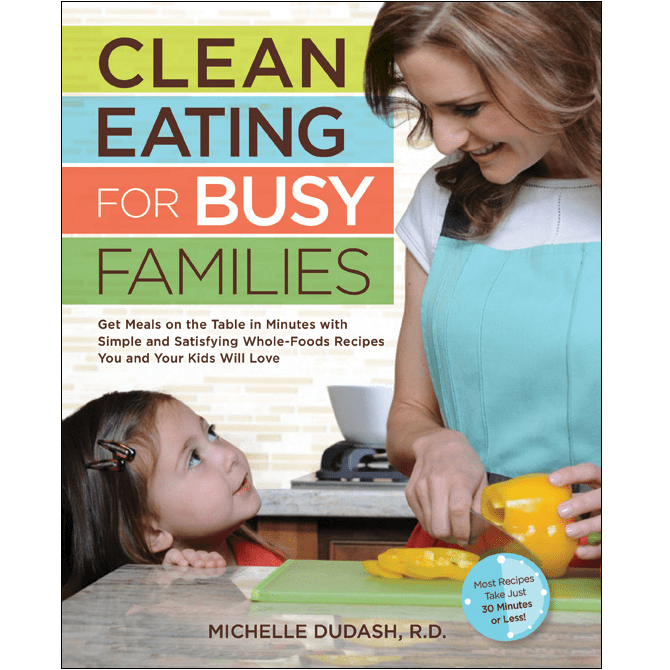 Clean Eating for Busy Families – I just recently discovered this cookbook after my friend Liz posted about it on her instagram as well as her blog. It immediately caught my eye for a few reasons – I love "clean eating", I have a busy family and every recipe sounded absolutely delicious and something that I would make in my own kitchen. Most of us who are truly trying to eat healthy on a regular basis often fall into cooking ruts or burnouts when you just can't think of another healthy family friendly meal on your own, at least I know this happens to me. It's hard to keep everyone happy and healthy at the same time, and when I fall into this rut we end up eating more quickie meals that consist of processed foods and other stuff that's just really not great for us. What I love about Michelle Dudash's book as that most of the recipes take 30 minutes or less and use ingredients that I would normally have on hand. She also includes very helpful shopping lists, tools, tips and words of encouragement throughout her book that can get you on the clean eating track.
Recipes I can't wait to try: Turkey, Vegetable & Oat Mini-Meatloaves with Marinara Sauce, Sizzling Sichuan Shrimp & String Bean Stir Fry, Pinto Bean & Avocado Taquitos, Macaroni & Cheesy Cauliflower Sauce, Orange Peel Beef and Broccoli Stir Fry, Garden Caesar Pasta Salad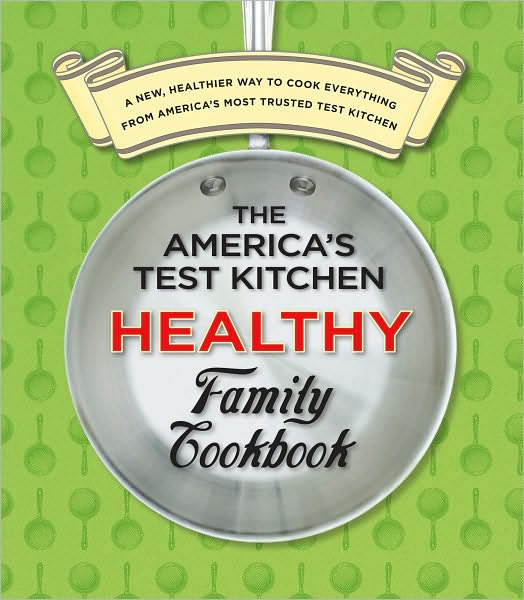 The America's Test Kitchen Healthy Family Cookbook – If you're familiar with American Test Kitchen cookbooks, then you know that you aren't just getting recipes when you bring home one of their books. I have only checked out a couple from the library but am so happy to finally own a copy of this one in particular. This cookbook is chock full of charts, techniques and tips from how to prep and how long to cook different types of vegetables, how to poach salmon, how to prepare spaghetti squash, to how to slice chicken for stir fries. Every page I turn, I learn something new, including what kitchen tools and products have been successfully used in their recipes. This cookbook is a healthy cook's treasure and I am so happy to be sharing it with you all here.
Recipes I can't wait to try: Green Goddess Dip, Lemony Steamed Spa Fish, Pan Seared Shrimp with Tomato and Avocado, Chickpea Cakes with Cucumber Yogurt Sauce, Brown Rice Bowl with Crispy Tofu and Vegetables, Skillet Rice and Beans with Corn and Fresh Tomaotes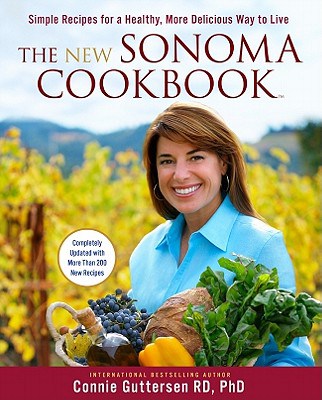 The New Sonoma Cookbook – I've had the honor and the pleasure of working with Connie Guttersen the last few years through our relationship with Bush's Beans. Any time I spend with Connie, I always walk away learning something new as well as with inspiration to cook fresh, seasonal healthy food. This is the concept her cookbook revolves around – a fresh, flavorful and healthy way of eating that can easily, with time, become a natural and effortless way of eating. Connie's approach is very simple, yet effective and powerful. In her book you'll learn about her "smart plate" approach, as well as how to stock a healthy pantry, cook with more flavor and less salt and how to pair together power foods for maximum benefit. I also love her recipes noted as "express" (less than 10 ingredients, under 30 minutes) and "cook 1x – eat 2x" – recipes like this are always welcomed when meal planning during busy weeks.
Recipes I've tried and loved: The Gigi Salad, Creamy Artichoke Dip, Wild Mushroom Tart
Recipes I can't wait to try: Manhattan-Style Chowder, Ground Turkey Picadillo, Sonoma Salmon Burgers, Ricotta Mousse with Berries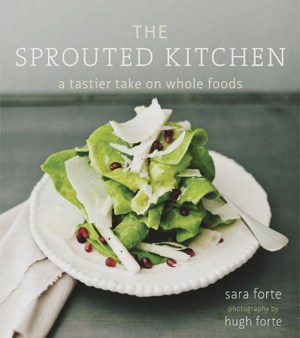 The Sprouted Kitchen – This absolutely gorgeous cookbook was written by blogger Sara Forte (and photographed by her husband Hugh) in an effort to share "…seasonal, produce-focused recipes in an attempt to inspire people to eat well." I would be lying if I didn't tell you that if I had a mission statement for this blog, that would be it. It's always a joy to find a cookbook that you can settle in with and find page after page of food that is just bursting with nutrition and goodness. Sara includes plenty of tips regarding her whole food approach to stocking her kitchen as well as wonderful side notes and stories for each recipe that makes you want to head out to the market to pick up its ingredients. If you appreciate good clean recipes like I do, with a focus on colorful fruits and veggies as the star ingredient, then you will love this cookbook.
Recipes I can't wait to try: Roasted Cauliflower Capellini, Beach Day Tuna Salad, Green Herb Shrimp with Summer Squash Coucous, Ranchero Breakfast Tostadas, Coconut Loaf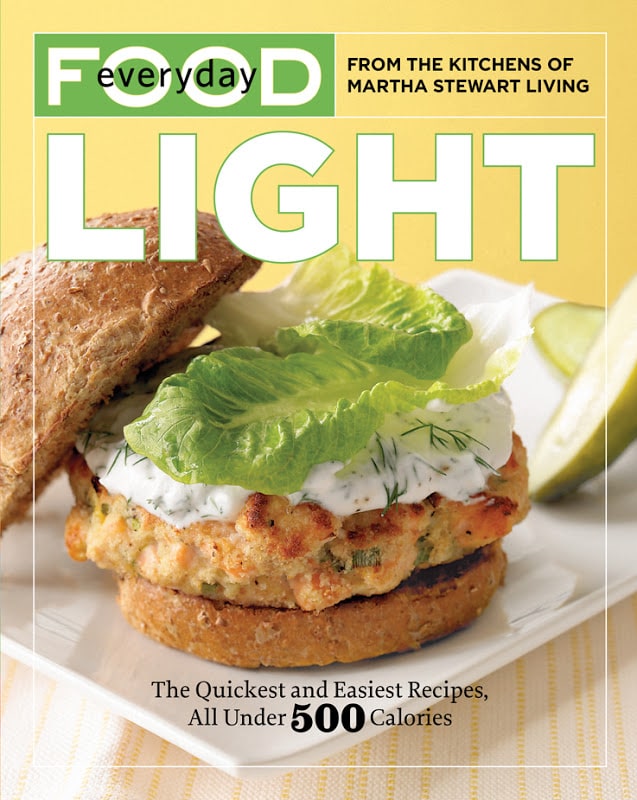 Everyday Food: Light – Over the years, I have found plenty of weeknight meal inspiration from the Everyday Food magazine. The recipes featured in the magazine are always so straight-forward, simple and appealing to any home cook who is constantly looking for new ways to feed their families. I found this cookbook this past summer on my mom's shelf while visiting one day, and after thumbing through it for a few minutes knew that I wanted to "borrow" it. It's categorized by season and full of light and flavorful recipes (all under 500 calories) with plenty of pictures, which is always a good thing. In true Everyday Food fashion, you will also find page after page of best methods (grilling, stir frying, roasting) as well as favorite tools for low calorie cooking. This is a great cookbook for someone who might just be learning to cook as well as someone who is trying to incorporate more healthful meals into their menu.
Recipes I can't wait to try: Celery and Apple Salad with Pecans, Shrimp and Cabbage Low Mein, Brownie Cookies, Spicy Chicken Stir Fry with Peanuts, Spinach with Caramelized Shallots
****************************************************************************************
GIVEAWAY NOW CLOSED – Congrats to our winner Bree!
Giveaway Details:
One lucky reader will receive:
A copy of:

Ancient Grains for Modern Meals
Clean Eating For Busy Families
American Test Kitchen Healthy Cookbook
The Sonoma Cookbook
The Sprouted Kitchen
Everyday Food: Light

Starts today, Wednesday, January 2 and ends Friday, January 11 at 12 noon (EST)
(Sorry, giveaway open to US readers only. Winner will be chosen randomly using Pick Giveaway Winner plugin application – winner will be notified by email and have 48 hours to claim prize or another winner will be selected.)
To enter into the giveaway:
Leave a comment on this post. If you'd like, tell me one healthy habit you would like to obtain this year.
Additional Entries can be earned by:
(leave a separate comment after you complete each item, each comment will count as an entry)
1. "Like" Aggie's Kitchen on Facebook. (if you are already a fan, leave a comment letting me know to count as an entry)
2. Follow @AggiesKitchen on Twitter (if you already follow, leave a comment letting me know to count as an entry)
3. Share about giveaway on Facebook with link to this post.
4. Tweet about giveaway: "I want to win a stack of healthy cookbooks from @aggieskitchen  http://su.pr/1t58Fe #giveaway #healthy
5. Subscribe to Aggie's Kitchen RSS feed. (if you already subscribe, leave a comment letting me know to count as an entry)
6. Follow Aggie's Kitchen on Pinterest. (if you already follow, leave a comment letting me know to count as an entry)
(Disclosure: There are Amazon affiliate links in this post. Some of the cookbooks have been provided to me for review, all of the cookbooks will be provided to you the winner by the author, publisher or myself. All opinions are my own.)
Are you following me on Instagram, Twitter, Facebook and Pinterest? If you'd like to subscribe to Aggie's Kitchen and have each post delivered straight to your e-mail box, then please add your email here. Happy cooking!
There are affiliate links in this post. I make small earnings through any purchases made through these links. Thank you for supporting Aggie's Kitchen!