Grouper Piccata with Sauteed Broccoli Rabe and a big THANK YOU!!
I truly enjoy eating simple, healthy, fresh food. Who doesn't? I made this dinner the other night, and it was exactly what I needed. I must say that lately, my eating hasn't exactly been the healthiest. We've been eating take out more than I'd like to admit, and then between get togethers and the summer holidays, you know how it is. So needless to say, I'm really trying to get it together, back to planning and cooking healthy meals for the family.
Anyway, back to the Grouper Piccata. I make this often using chicken cutlets, but never with fish. I have been trying to play "Use It Up" with my freezer lately, and I have lots of frozen fish that I pick up when its on sale. I prefer fresh, but for some reason don't seem to find anything reasonably priced in the grocery stores. So I've been using frozen fish alot lately and am eating more of it…so whatever works right? If you can get it fresh, great, but if not the frozen stuff (I get it at Publix) is not bad at all.
I love broccoli rabe…I don't really know many people other than those in my family who do. My husband can't stand it, doesn't like the bitter taste. When it's in season, my grandfather grows a ton of it, and we have it all the time. It is so good with sausage and lots of garlic. Recently I saw in a magazine somewhere to use it with sausage in crusty Italian bread to make a sandwich…YUM. I'll have to look for that and try it out (I think it might have been Rachel Ray).
I enjoyed my dinner with a glass (or two) of one of my new favorite wines…Nobilo Sauvignon Blanc. I am not even going to pretend that I know how to "talk" wine and describe it to you…all I know is that I really like this wine! My nephew introduced me to it a few months ago and I've gone through a few bottles since. I have learned that I enjoy drinking Sauvignon Blancs from New Zealand so I am always looking for new ones to try!
Grouper Piccata with Sauteed Broccoli Rabe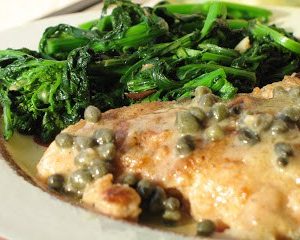 Ingredients:
For the fish:
2 Grouper filets
Seasoned Flour (for dredging - I season usually with salt, pepper, garlic powder - I use whole wheat flour)
Olive Oil (about 1-2 TB for the pan)
1/4 cup white wine
1 TB butter (you can use more, but I am trying to keep it healthy!)
juice from a lemon
1-2 tsp capers
For the broccoli rabe:
1 bunch of broccoli rabe
5-6 cloves garlic, sliced
salt, pepper, red pepper flakes
1-2 TB olive oil
Directions:
For the fish:
Preheat oven to 400 degrees.
Heat oil in non stick - oven safe skillet. Season fish with salt and pepper, then dredge in flour. Shake off any excess flour, then place in skillet. Cook about 4 minutes on each side, till crispy golden brown.
Once fish is browned, add wine, lemon and butter to hot pan. Let simmer for about a minute or so.
Add capers.
Place skillet into oven. Cook for about 10-15 minutes until fish looks flaky and sauce has thickened a bit.
For the broccoli rabe:
Cut stems off of broccoli rabe and rinse. Depending on your preference, you can cut once into smaller pieces or leave whole.
Heat oil in non stick skillet over medium heat. Add garlic and let cook for a few minutes to flavor up the oil. Add broccoli rabe and saute until cooked through. Add salt, pepper, and red pepper flakes to taste.
And before I end this post I want to thank Lisa from Jersey Girl Cooks for giving me an E Award!! Her blog is one of the first cooking blogs I came across and I've been hooked on it ever since. She always has something delicious cooking in her kitchen! Thanks Lisa! 😉
Are you following me on Instagram, Twitter, Facebook and Pinterest? If you'd like to subscribe to Aggie's Kitchen and have each post delivered straight to your e-mail box, then please add your email here. Happy cooking!
There are affiliate links in this post. I make small earnings through any purchases made through these links. Thank you for supporting Aggie's Kitchen!