Grilled Rosemary Swordfish with Capers
(Grilled Rosemary Swordfish with Capers served with Grilled Red Pepper and Squash Salad)
Aaah….I've been missing my blog lately. I haven't been cooking much these past couple of weeks. I think it's because it's August and disgustingly humid hot, and because the kids and I have been keeping busy finishing up the summer before school started. School started this week for us and I officially have two preschoolers now. My two little butterflies love going to school, you won't find them crying at morning drop off…but quite possibly when it's time to go home instead.
Yesterday, during my new found 3 hours of (child-free) freedom, I checked out a local fish market called Lighthouse Seafood in Lake Mary that I've been wanting to check out for a long time. Apparently they have been around for 6 years…I had no idea! I'm sad that I didn't visit them sooner. They have some great stuff in their little shop, most of it caught by their own boats right off our coasts. You would think that wouldn't be so uncommon here in FL, but I have not found many local fish markets in the area that actually catch their own fish. I had a nice chat with the owner Glenda and it turns out she is from the same area in S. Florida that my hubby grew up in, and he actually knows her niece from high school…small world! I love visiting mom and pop shops, I literally walked in and said I wanted to pick up something for dinner and next thing you know we are talking recipes and I left with a beautiful piece of fish.
What I really loved about Lighthouse Seafood – other than the actual seafood – is that they have a wall full of their own recipes to share with their customers! Little things like that really stick with me…you can tell these people really love what they do and take care of their customers too. I'm sending my hubby there for his next blogging assignment soon! Speaking of…it made me smile that so many of you enjoyed his first blog post last week! It was really fun for him (and for me) and I am thrilled that he got into the "cooking thing" and might actually do it again!
Ok, now onto the recipe…I found this recipe on the "recipe wall" at the fish market, when I told Glenda the owner that I wanted to grill some fish for dinner she walked me right over to this recipe…it sounded absolutely delicious!
And it was!!
Grilled Rosemary Swordfish with Capers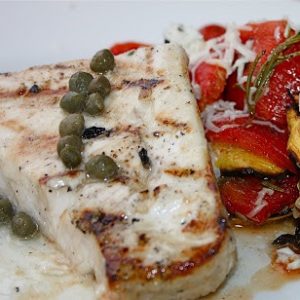 Ingredients:
1/2 cup olive oil
2 sprigs fresh rosemary
3 cloves garlic, peeled and lightly crushed
2 TB lemon juice
1/4 cup dry white wine
4 swordfish steaks
2 tsp capers
Directions:
Heat oil in a small saucepan. Add rosemary and garlic and simmer gently for 5 minutes. Remove from heat and let steep for 10 minutes. Strain oil to remove the garlic and rosemary and combine with lemon juice and white wine in plastic storage bag.
Sprinkle both sides of sword fish with salt and fresh ground pepper. Add swordfish to the marinade, squeeze out excess air and seal, gently combine fish with marinade. Marinate, refrigerated, for 30 minutes.
Heat grill and when ready remove steaks from marinade and pat dry. Reserve marinade. Brush oil onto grill to avoid sticking. Grill 4-5 minutes per side (about 10 minutes per inch of thickness), removing from grill when just slightly undercooked in the middle - the fish will finish cooking on their own.
While the swordfish is being grilled, cook reserved marinade over medium heat until bubbling, whisking to combine. Add capers to sauce. When swordfish is cooked, pour over fish and serve.
(Swordfish can be substituted with any firm grillable fish, such as grouper or mahi.)
Recipe from Lighthouse Seafood in Lake Mary, FL

Are you following me on Instagram, Twitter, Facebook and Pinterest? If you'd like to subscribe to Aggie's Kitchen and have each post delivered straight to your e-mail box, then please add your email here. Happy cooking!
There are affiliate links in this post. I make small earnings through any purchases made through these links. Thank you for supporting Aggie's Kitchen!