Grilled Pizza
Those who know me well, know that pizza is absolutely one of my favorite foods. A perfect dinner for me is good pizza, good wine and possibly some good ice cream afterwards. Doesn't sound bad at all does it?
Although I grew up in a family pizzeria, I never really attempted to make my own pizza at home for some reason. I've watched my dad make probably a million pies over the years, you would think I would know what to do with my eyes closed. But honestly, it wasn't until my Grown Folks Pizza and Ice Cream Social that I started to feel comfortable working with dough. Once I saw my friend Dan toss a disc of pizza dough in the air, I decided that I am going to have to step it up and carry on the pizza making tradition in the family. So I've been practicing. And it's been fun.
Now that I've got the dough handling down, I wanted to try something new. Grilled Pizza. I have heard about it in blogosphere and even watched an episode on it on Grill It With Bobby Flay the other day. But honestly, the thought of it kinda made me nervous.
I'm here to tell you…don't be scared to try this. I was so excited about how my first grilled pizza turned out that I can not wait to make it again! The crust is so crisp that you won't believe you had a part in making it.
Now, I did encounter a slight obstacle while cooking my pizza on the grill. I started off by grilling up the bottom of the pizza so that it would be easier to handle when adding the toppings. I then took the parcooked dough of the grill, added the toppings, placed back on the hot grill rack, and pulled down the cover (all with the help of my sister in law, her husband and a glass of pinot grigio!). The top of the pizza didn't cook up as quickly as I thought it would so to avoid the risk of burning the bottom of the pizza, we put it under the broiler in the oven for a bit to finish it off. We weren't disappointed in the results at all…though I am wondering how I could have cooked that entire pizza on the grill without burning it. Bobby (Flay) grilled up both sides of the pizza before adding any toppings, so I will try that next time. Any advice out there?? Please share…
This pizza did turn out delicious, between the wonderfully light and crispy crust and the fresh toppings it was no doubt a winner. This pizza recipe has been featured before in my Foodbuzz 24 post, but it was so good that I had to share with you again!
Larry's Italian Stallion Pizza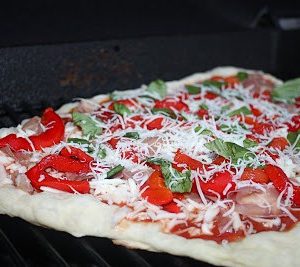 Ingredients:
Pizza Dough (I get mine from Publix bakery)
Olive Oil
Tomato Sauce
Dried Oregano
Mozzarella Cheese
Prosciutto de Parma, chopped
Genoa Salami, chopped (we left this out this time)
Roasted Red Peppers
Asiago Cheese shavings
Fresh Basil
Directions:
Spread out dough to desired shape and size (don't worry about it being perfect). Brush both sides of dough with olive oil to avoid sticking on the grill (you can also spray the grill to be extra safe). Sprinkle dough with salt and pepper (optional). Place dough carefully on preheated grill rack over medium-low indirect heat.
Let dough cook for about 10 minutes, watching carefully for even browning and grill marks. Once you've got your crust nice and crisp, take off grill with large spatula and place onto a baking sheet or pizza stone. Add your pizza sauce, dried oregano, mozzarella and additional toppings. Place in oven, preheated to 400-425 degrees, to finish cooking for about 10 minutes. Pizza is done when cheese and crust are a golden brown.
Oh and P.S….
…one of my recipes is a finalist in MyRecipes' Who Makes the Best Summer Dessert? contest! Please go check it out here and vote for your favorite!! Voting ends Thursday, July 23!
Check out my Pinterest board for more flatbread recipes.
Follow Aggie's Kitchen's board Pizza & Flatbread on Pinterest.
Are you following me on Instagram, Twitter, Facebook and Pinterest? If you'd like to subscribe to Aggie's Kitchen and have each post delivered straight to your e-mail box, then please add your email here. Happy cooking!
There are affiliate links in this post. I make small earnings through any purchases made through these links. Thank you for supporting Aggie's Kitchen!