Cilantro Rice
Rice is not something I make very often. It's just not one of my favorite things. I'm more of a pasta person I guess. Although…have you ever tried Basmati rice? Well, I am becoming a huge fan of this rice. I don't know what makes it so good, but whenever I cook it, it comes out so light and fluffy, just the way I want my rice to be.
I prepared this Cilantro Rice the other day to serve alongside our Cedar Plank Grilled Salmon with Tropical Salsa. It was a perfect side dish. The cilantro and green onions really brightened up the rice and added just enough flavor to keep it from being boring. I also included a "secret ingredient"…I crushed up 3 cloves of garlic and threw them in with the dry rice and water during the cooking process. Nothing wrong with a little garlic right?
Cilantro Rice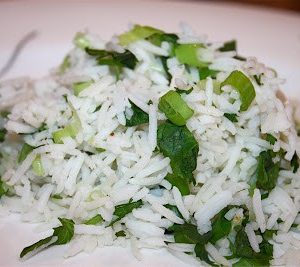 Ingredients:
1 cup Basmati rice, uncooked
2 cups cold water
3 cloves garlic, crushed with the side of your knife
1 tsp olive oil
large handful of fresh cilantro, roughly chopped
2-3 green onions, chopped
salt and pepper to taste
Directions:
Combine rice and water in a large microwavable covered dish (I use my Corning Ware). Add a small drizzle of olive oil and crushed garlic to rice. Place in microwave and cook for 18 minutes. Do not take off lid during cooking process. Once it is cooked, fluff rice with a fork and taste for doneness. (If at this time it's not cooked well enough - it should be - just add a small amount of water and cook for a few more minutes) Toss in chopped cilantro, green onions, salt and pepper.

Are you following me on Instagram, Twitter, Facebook and Pinterest? If you'd like to subscribe to Aggie's Kitchen and have each post delivered straight to your e-mail box, then please add your email here. Happy cooking!
There are affiliate links in this post. I make small earnings through any purchases made through these links. Thank you for supporting Aggie's Kitchen!