Grilled Banana Boats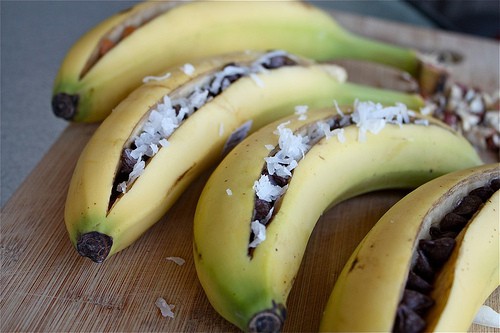 Would you be mad at me for posting this short and sweet like the recipe?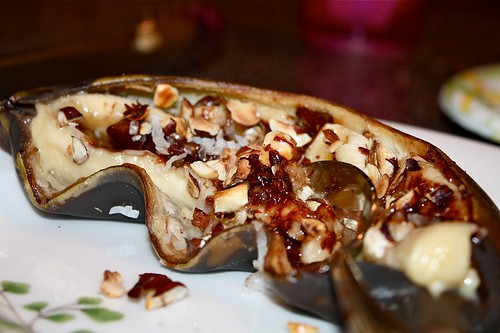 I made these for the family over the weekend after a nice grilled dinner.  I got the idea while flipping through Steamy Kitchen's cookbook…was surprised to find them in there!  What surprised me even more is that I didn't think of them myself!  These guys were so awesome…and such a great way to end a meal…practically guilt free.
Start of by laying your banana on its side, using a pairing knife gently slice through skin and banana making sure to not cut through to the other side.  Once you've made your slice, tuck in your fixings.  You can stuff them with whatever suits you…chocolate candy bars, chocolate chips, butterscotch chips, caramels, coconut, chopped nuts.   The sound of it all is heavenly isn't it?  Place them on hot grill over indirect heat and cook until soft and skins are black.  You have to check on them and touch them a bit.
We used what we had on hand…chocolate chips, coconut and toasted and chopped hazelnuts.  My kids were not as excited as Larry and I were…apparently the "melted" version of chocolate chips were not the same as the solid form.  And for my daughter who for some odd reason does not like chocolate, I took a chance and tried butterscotch chips on hers.  Nah.  So, Larry and I enjoyed ours and theirs….and we were absolutely okay with that.
Are you following me on Instagram, Twitter, Facebook and Pinterest? If you'd like to subscribe to Aggie's Kitchen and have each post delivered straight to your e-mail box, then please add your email here. Happy cooking!
There are affiliate links in this post. I make small earnings through any purchases made through these links. Thank you for supporting Aggie's Kitchen!