Golden Granola Recipe from Jenna Weber's Book, White Jacket Required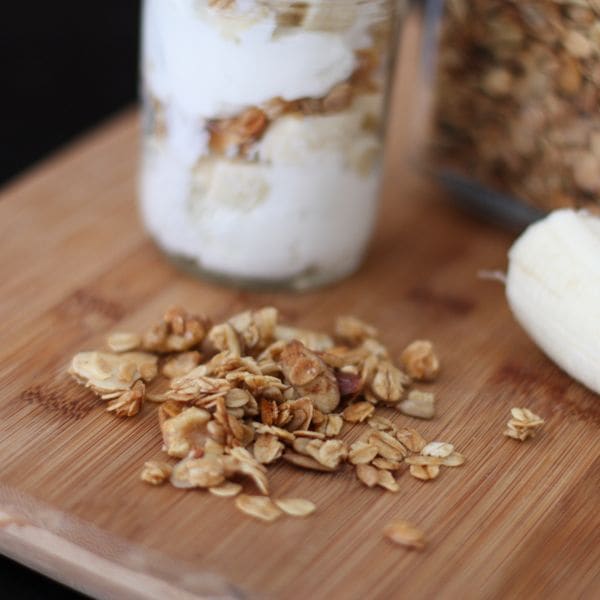 It's been a while since I've written any "what I'm reading" posts, so today I wanted to share with you a book I recently read written by one of my blogger "friends" Jenna of the blog Eat, Live, Run. I've been following Jenna on her blog for a few years now, so I was excited to get my hands on her first book, White Jacket Required.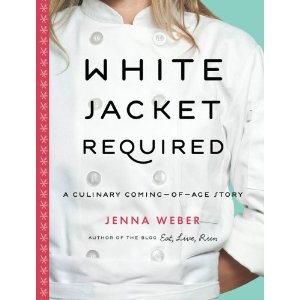 In her book, Jenna tells her "coming of age" story including her experience of entering into culinary school with a vision of becoming a food writer. For the longest time, I've had a secret dream of going to culinary school so I really enjoyed reading about her time there (especially since the school – Le Cordon Bleu – is not far from where I live!). I kind of knew this already, but culinary school is no joke – there is definitely lots of hard work and commitment involved. Reading about it through Jenna's eyes confirmed the fact that my dream will probably not turn into reality any time soon. Unless the school creates a program geared toward "recreational cooks" similar to the one Julia Child went through back in her day…in that case – sign me up! 🙂
What I loved most about Jenna's book is how she intertwined recipes into her chapters, reflecting what she was cooking up during the time or sharing a family favorite meal that her mom would cook for her when she went home (see Julie's post sharing Jenna's favorite recipe – Linguine and Clam Sauce – along with a great interview of Jenna!). There are quite a few recipes I'd love to try from the book, including that pasta dish as well as her Shrimp and Grits.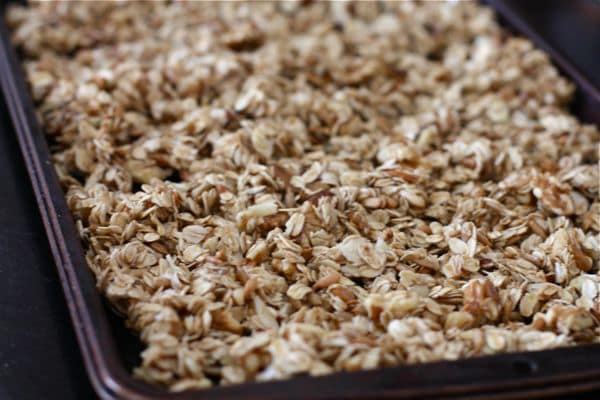 (before going into the oven)
Jenna's Golden Granola recipe caught my eye because she makes it the way I like to make my granola, simply and heavy on the nuts. It's a straight-forward, no fuss recipe – just like granola should be. I was intrigued by the coconut oil that Jenna used in the recipe, an ingredient that I've been trying to cook with more often these days.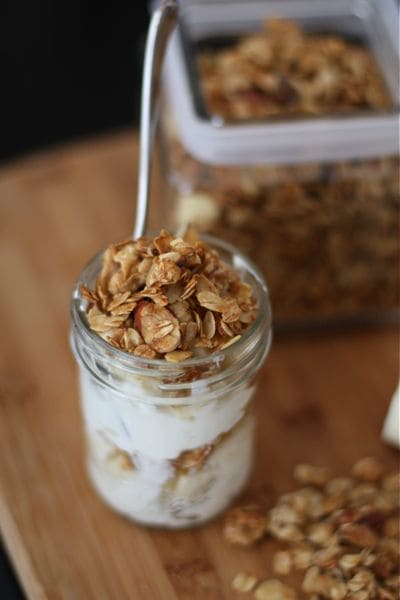 I whipped up a batch of this granola in under 30 minutes and served it up exactly as Jenna suggested – with creamy thick Greek yogurt and chopped bananas. Granola is so adaptable; I easily substituted chopped walnuts since I didn't have any hazelnuts like the recipe calls for. I also scaled back about a 1/4 cup of honey since I prefer my granola a little less sweet.
I love having homemade granola in the house, it's really such a treat. Though, kind of dangerous – I can't keep my hands off of it! This granola recipe is perfect for anyone who wants to make granola but has never tried to before. Once you make homemade granola, I promise you'll never buy it again.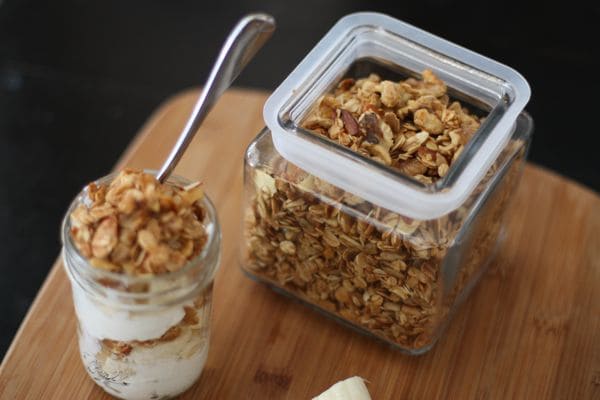 Golden Granola Recipe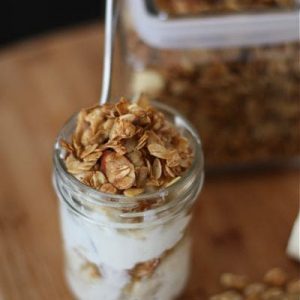 Ingredients:
1 cup maple syrup or honey
3 tablespoons coconut oil
1 teaspoon vanilla extract
2 cups old-fashioned oats
½ cup chopped hazelnuts
½ cup unsalted sunflower seeds
½ cup slivered almonds
2 teaspoons cinnamon
Sprinkle of sea salt
Directions:
Preheat the oven to 325°F and grease a large baking sheet.
In a small saucepan, combine the maple syrup (or honey) and coconut oil and bring to a simmer over low heat. Simmer for about 4 minutes, stirring constantly (do not splash). Remove the pan from the heat, stir in the vanilla extract, and set aside.
In a big bowl, stir together the oats, hazelnuts, sunflower seeds, almonds, cinnamon, and sea salt. Drizzle with the hot syrup and stir well to coat.
Spread granola mixture evenly on prepared baking sheet and bake, stirring frequently, until the granola has turned a golden color, about 20 minutes. Remove from the oven and let cool.
Store the granola in sealed plastic containers in the refrigerator for up to 3 weeks.
Note from Jenna: I like to use lots of nuts in this, but feel free to substitute whatever you like for your own variation. This granola will keep for about three weeks in a sealed plastic container in the fridge, making it a quick and easy breakfast when topped with thick yogurt and banana slices.
Reprinted with permission from White Jacket Required: A Culinary Coming-of-Age Story © 2012 by Jenna Weber, Sterling Epicure, an imprint of Sterling Publishing Co., Inc.
Follow Aggie's Kitchen's board Breakfast on Pinterest.
Are you following me on Instagram, Twitter, Facebook and Pinterest? If you'd like to subscribe to Aggie's Kitchen and have each post delivered straight to your e-mail box, then please add your email here. Happy cooking!
There are affiliate links in this post. I make small earnings through any purchases made through these links. Thank you for supporting Aggie's Kitchen!