Fresh Corn and Quinoa Salad
Fresh Corn and Quinoa Salad is perfect warm weather food. You'll love the flavors as a side dish for grilled meals, or on its own as a vegetarian dish. This post is sponsored by Sunshine Sweet Corn via Kitchen PLAY.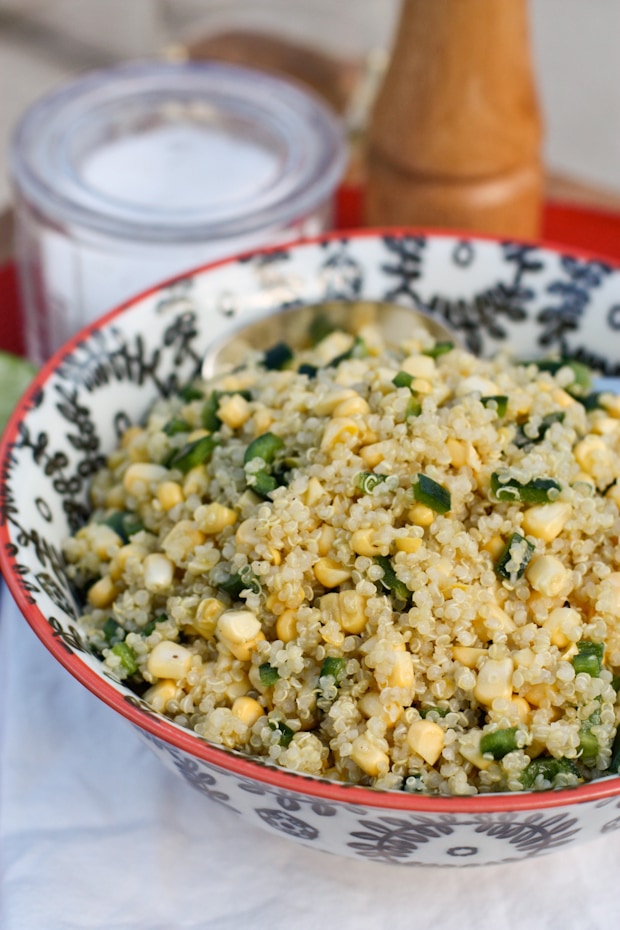 I think it's safe to say that here in the South spring has definitely sprung. Our weather has been delightful, which is a word that has never really exited my mouth before but works perfectly to describe the past month or so here in Florida. It won't be long, though, before the muggy heat starts to set in so I am going to enjoy every single second of our blue skies and slightly less than normal temperatures and humidity for as long as I possibly can.
With our delightful weather comes what I like to refer to as warm weather eating. I crave light and veggie packed foods this time of year. Salads, grain salads and grilled foods to be more specific. Food that satisfies you but doesn't leave you feeling too full, food that you can eat plenty of and still feel good about. Food like this Fresh Corn and Quinoa Salad.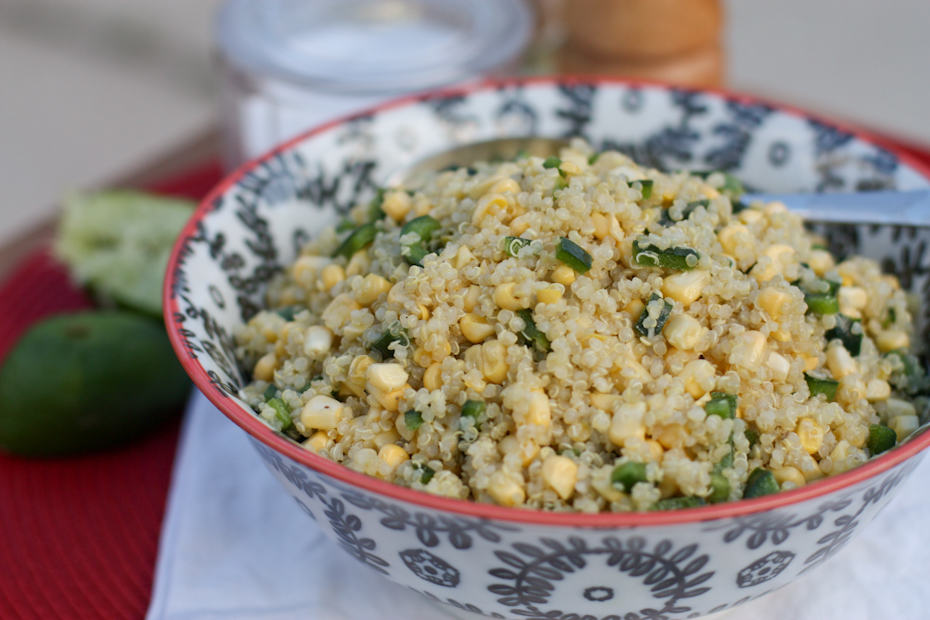 When our local corn display hits our grocery store around this time of year, I get pretty excited. I love hunting for the perfect looking ear of corn, anticipating its sweetness. You just cannot beat good fresh sweet Florida corn – you know it's good and sweet when you can eat it sliced right off the cob. I like to call it nature's candy.
Does anyone eat it raw like that, or am I totally weird? I can't help it, it's that good.
I used raw corn kernels in this salad but feel free to blanch them first if you prefer. This light quinoa salad is full of flavor, from the sweetness from the corn to the slight kick from the poblano peppers, then perfectly balanced out by a honey lime vinaigrette. You'll love it alongside some grilled chicken or shrimp or on its own as a vegetarian lunch. However you enjoy it, I think we can all agree it truly is the perfect "warm weather food" we are all craving right now.
Fresh Corn and Quinoa Salad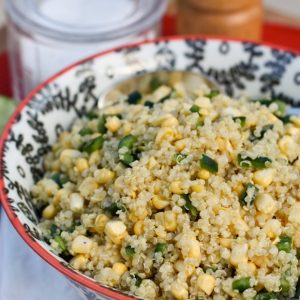 Ingredients:
1 cup quinoa, uncooked
2 cups fresh corn kernels (taken off approximately 4 ears of corn)
2 medium poblano peppers, chopped small
1 jalapeno, minced (optional)
salt and pepper to taste
Honey Lime Garlic Vinaigrette (double the vinaigrette recipe for this salad)
Directions:
Cook quinoa according to directions. Once cooled, fluff with a fork and place in large bowl.
Add fresh corn kernels and peppers to quinoa. Combine gently with a fork while adding 3/4 of dressing to it. Serve immediately at room temperature or after chilling in the refrigerator for two hours.
Notes: This quinoa salad is so versatile! Optional add ins: fresh jalapeno, cubanelle or red bell pepper, black beans, chopped avocado, cilantro. Can be served as a side dish as is or as a main dish with black beans and avocado for additional protein.
Love whole grain salads like I do? Check out these 12 Healthy Whole Grain Salad Recipes including farro, quinoa, wheat berries and brown rice!
Put "A Little Sweet In Your Step" and be inspired by plenty of fresh sweet corn recipes from other Kitchen PLAY bloggers, here on Aggie's Kitchen, Sunshine Sweet Corn as well on my growing Corn Love Pinterest board.
Follow Aggie's Kitchen's board Salads on Pinterest.
Are you following me on Instagram, Twitter, Facebook and Pinterest? If you'd like to subscribe to Aggie's Kitchen and have each post delivered straight to your e-mail box, then please add your email here. Happy cooking!
There are affiliate links in this post. I make small earnings through any purchases made through these links. Thank you for supporting Aggie's Kitchen!